Stihl's Top-Handle Model Takes Cordless Power to the Top … of the Trees
Like Nintendo to Super Mario Brothers, Stihl is one of those brands that are synonymous with a certain product, in this case, chainsaws. Of course, their gas-powered line has been around a lot longer than their cordless models, but the latter is fast becoming an integral part of their fleet. So, we're going to have a look at the Stihl MSA 220 TC-O Chainsaw, a top-handle tool for arborists working high in the trees.
We strongly recommend that you cut a little deeper with our Best Cordless Chainsaws reviews!
Stihl MSA 220 TC-O Performance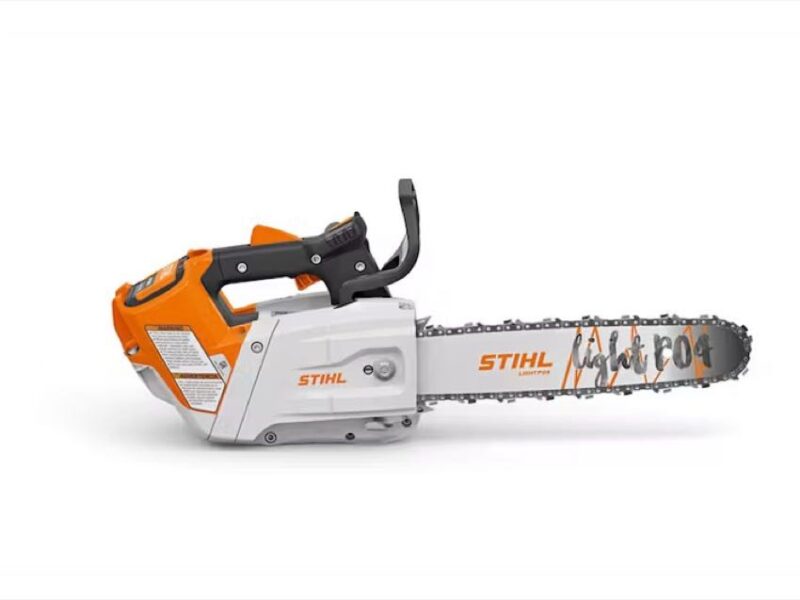 Model: Stihl MSA 220 TC-O
Brushless motor
Quickstop chain brake
Variable speed trigger
Recommended 14-inch guide bar
According to Stihl, this chainsaw is their cordless lineup's most powerful model yet. Indeed, they tell us that, with its brushless motor, this unit gives professional arborists gas-equivalent power and performance.
Furthermore, the folks at Sihl say that it's compatible with their 12-inch and 14-inch Rollomatic E and E-Light guide bars, which are also available on its gas siblings. This should help simplify the jump from gas to battery power, assuming you're in a position to do so.
Moreover, a variable speed trigger enables you to tailor your blade speeds to the precise task at hand. Additionally, the MSA 220 TC-O employs Stihl's Quickstop chain brake to stop the blade's rotation within fractions of a second should you experience kickback.
Stihl MSA 220 TC-O Top-Handle Chainsaw Design
Weight: 6 pounds (bare); 10 pounds (with AP 300 battery)
Side-access chain tensioner
Magnesium motor housing
Ematic lubrication system
Low oil sensor
Captive bar nut
LED display screen
As far as design goes, this chainsaw is light, weighing just 6 pounds bare. Adding the AP 300 battery (sold separately) bumps the total to 10 pounds–still manageable, even when working high up.
What's more, a side-access chain tensioner lets you adjust your chain with a bar wrench. And to lower the risk of dropping or losing the bar nut during chain maintenance, the Stihl MSA 220 TC-O comes equipped with a captive bar nut.
An LED screen shows your settings and provides status updates while you work.
Stihl Cordless Top-Handle Chainsaw Price
This chainsaw retails for $609.99 as a bare tool and includes a 12-inch bar. At the time of publication, no kit configurations appear to be available. Stihl backs this tool with a 3-year warranty.