When I was a kid I lived near the Rocky Mountains of Montana for a couple years with my father. One of his closest friends had a rather large family, and they took us on a salmon snag-fishing adventure that included, among other things, sleeping outside in an honest-to-goodness hand-made American Indian teepee. It was a great time. I remember looking at the wood poles and thinking that it must have taken years to get all those trees perfectly cut and smoothed. Today I think back to those days and wonder what the looks on the face of my dad's friend would be if I had pulled out a GreenWorks 80V chainsaw and offered to cut down some extras.
Cordless tools aren't just "nifty", they're actually getting to a place where they're changing the way we think about getting things done. Sure, I love the nostalgia of hand saws, axes, and yes, even obnoxiously loud gas-powered chainsaws. But could this new breed of tool be the gateway into the elimination of the gas engine for OPE tools? The real test is going to be run-time and power—and that's where I began with respect to the GreenWorks 80V chainsaw model GCS80420. GreenWorks is referring to these new tools as their 80V Pro line. Their focus is to prove—seemingly to professional OPE tool users—that cordless can compete or even supplant gas powered tools for at least some applications.
GreenWorks 80V Chainsaw Features
We reviewed the GreenWorks 40V Brushless Chainsaw last year, and it performed very well—both in run-time and power. This new GreenWorks 80V chainsaw also comes with a DigiPro brushless motor, but it also offers something we've never seen before in a cordless chainsaw: an 18-inch bar and chain. Just this fact alone is a "throw-down" of sorts on the part of GreenWorks towards all other cordless chainsaw manufacturers. There's also an electronic chain brake, just like you'd find on a gas-powered saw, and you get real, metal, aggressive bucking spikes on front to help you gain leverage and make very precise cuts in your wood.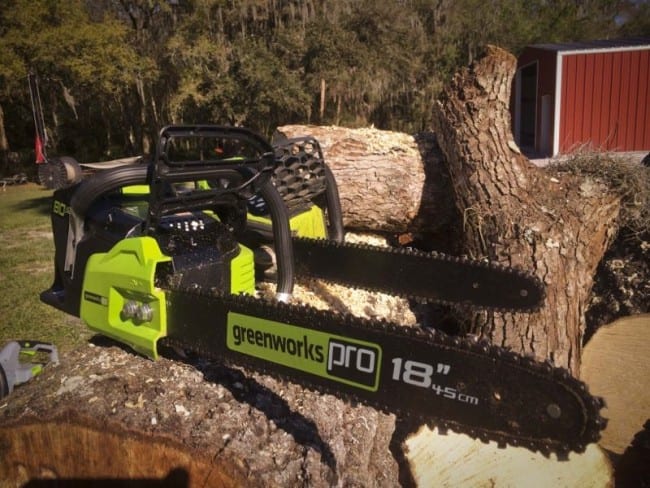 The auto oiler accepts just under 2 ounces of oil, and you can see the level in the translucent window provided, so you'll know when you're running low. If you're like me, you keep a rag lying around to place under your chainsaw when it's stowed away. You'll be pleased to know that you may actually feel comfortable enough with the GreenWorks 80V chainsaw to just set it on a shelf or the floor of your garage without much concern for leaking oil. Compared to the EGO cordless chainsaw, which seems to leak oil like a sieve, this is a huge advantage.
The handle that wraps around the chainsaw is metal, not plastic, and it feels rugged. In fact, this entire chainsaw feels like a heavy duty gas model. What it doesn't feel like, is an ultralite in-tree chainsaw. For that you'll want to stick with a lightweight 12″ or 14″ model that doesn't feel as hefty or unwieldy. It's not that the GreenWorks 80V chainsaw is oversized or awkward, but it feels like a legit machine—capable of cutting as hard as any midsize homeowner chainsaw or smaller-displacement pro model. In fact, it feels somewhere in between an ECHO CS-400 chainsaw, a very capable 40cc model, and the more powerful ECHO Timber Wolf CS-590 Chainsaw. What's unusual is the coupling of the 18″ bar with this saw. Typically you'll have a bit more power (in terms of engine displacement) for a chainsaw bearing a bar of that length. Still, we were easily able to guide cuts with excellent success, slicing through multiple pieces of 16″ diameter oak trunks…but more on that later.
Charging the GreenWorks 80V Batteries
So far, GreenWorks only has the 2.0Ah size battery in the 80V line. With that battery pack, rated at 144Wh (Watt-hours) the 80V rapid charger charges the battery in about 30 minutes. GreenWorks claims the coming 360Wh 5.0 Ah battery will charge in 70 minutes and the 460Wh 6.4 Ah battery will get to full charge in just 90 minutes. Our bet is that both Pros and consumers will want to keep at least a couple of battery packs and chargers around to keep everything topped off and running. If you've got a small yard, however, and you're only concerned with the convenience of cordless OPE equipment, then a single rapid charger and a couple 80V battery packs may be sufficient to keep you going.
In terms of the charging process, there's not much to report—at least not if you've used lithium-ion batteries in the past. The rapid charger manages heat with a built-in fan that cools down the pack. It doesn't sound quite like a jet engine, but it makes some noise while it charges. A single LED lets you know when the battery is charging and when it's finished. You can use it as a desktop charger or hang it on a wall. Like all good lithium-ion systems, if you just need to get the job done you can always place the battery on the charger for 15-20 minutes and remove it early to wrap up that last bit of yard work.
Using the GreenWorks 80V Pro Chainsaw in the Field
My anticipation and expectation was that the GreenWorks 80V Pro chainsaw would outperform its 40V Brushless model, but that wasn't good enough. I wanted to compare more than power. I wanted weight, handling, run-time and even ergonomics. We had already done a 36V Cordless Chainsaw Shootout a little over a year ago, but it was high time to bring a few more contenders for another round-up of testing. It would also help me make a better assessment of the GreenWorks 80V chain saw. I pulled together an EGO 56V cordless chainsaw, the Black & Decker 40V chainsaw, and of course the GreenWorks 40V DigiPro chainsaw and prepared to test them alongside the 80V model to see how it fared and contrasted against each. Before beginning, here's a quick view of those chainsaws' features in a table:
| | | | | |
| --- | --- | --- | --- | --- |
| | GreenWorks 80V Pro | | | Black & Decker 40V |
| MSRP (kit) | $349 | $199 | $299 | $199 |
| Bar length | 18″ | 16″ | 14″ | 12″ |
| Motor | Brushless | Brushless | Brushless | Brushed |
| Chain tensioning | Adjustment screw | Tool-less | Tool-less | Tool-less |
| Chain Oiling | Auto w/inspection | Auto w/inspection | Auto w/inspection | Auto w/inspection |
| Battery | 2.0 Ah, 144 Wh | 4.0 Ah, 146 Wh | 2.0 Ah, 112 Wh | 2.0 Ah, 72 Wh |
| Charge Time | 30 minutes | 120 minutes | 40 minutes | 120 minutes |
| Weight w/battery | 14.8 lbs | 11.6 lbs | 11.1 lbs | 8.3 lbs |
| Warranty | 4 year ltd. | 4 year ltd. | 5 year ltd. | 1 year ltd. |
We had already cut down a bunch of oaks that were present on a 5-acre parcel of land owned by my extended family, so we were flush with a bunch of wood trunks ranging in size from 6-inches to over 16-inches. We didn't waste any time and, after a few test cuts to get a feel for the saw, set to work slicing through some 16-inch diameter sections of tree. The first thing I found was that the GreenWorks 80V chainsaw acts much like a regular chainsaw—expect a lot of performance, but if you push it too hard it will stall out on you. Sure enough, I was over-eager and stalled out the saw driving it quickly into a thick trunk.
Restarting, I dug the bucking spikes into the trunk and angled down the 18-inch blade aggressively, but at a steady pace, allowing the sharp blades to do the work instead of my arms. The result was a nice, clean cut. And the saw felt very controlled—unusually well-controlled. Noting this, I attempted my next cut—this time, just a scant inch away from my last. Without a hitch, the GreenWorks 80V chainsaw plowed through the wood with the precision of a miter saw…this was getting interesting.
GreenWorks 80V vs 40V Chainsaw
Compared to GreenWorks' 40V DigiPro Chainsaw, the new 80V model has around 30% more power—and a lot more cutting capability with the 18″ bar. The other difference is that this new chainsaw feels a lot like a gas model. It starts nearly instantly (as does the 40V DigiPro Brushless model). Compared to the 1 second delay of the Black & Decker 40V Max chainsaw, the 80V GreenWorks feels downright snappy.
It's also got the heft of a serious chainsaw, the build quality of a rugged model, and quality components like the steel bucking spikes and metal wrap-around handle that make you forget you're using a cordless model at all. In fact, that may be one of the drawbacks. The GreenWorks 80V chainsaw is so much like a gas model, Pros may not see the need to risk a switch. You don't really get a lighter weight model or necessarily better performance. Here's what you do get, however. A cordless chainsaw will let you work more quietly than a gas model. Of course, you still have the sound of the chain spinning and the wood being cut—but it's a far cry from the sound a 2-cycle engine roaring to life (just ask my neighbors). You also save on the hassle of having to refuel—at least not with gasoline/oil mixes. With GreenWorks quickly bringing 5 Ah and 6.4 Ah batteries to market this year, run-time should be as good or even better than comparable gas models—and at a much lower cost of operation. Finally, you don't have to worry about winterization. Your tool will be ready to go when you are, and there's nothing you need to do except keep the blade sharp and make sure to add chain oil.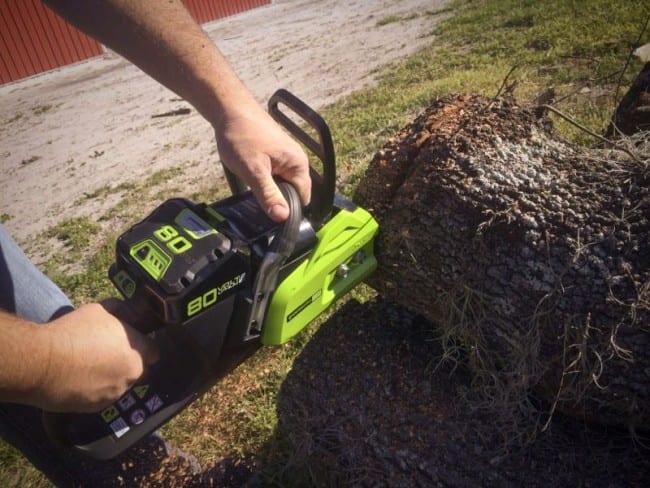 GreenWorks 80V Chainsaw vs EGO 56V Chainsaw
The GreenWorks 80V chainsaw vs the EGO 56V chainsaw was another matter entirely. We liked both saws, through the GreenWorks edged out the EGO 56V in power. The EGO chainsaw will run for a lot longer, however—making more cuts and letting you get more work done. We have to admit, though, the EGO chainsaw looks a bit like a toy. You'll like using it, but it's clear that it's a different kind of tool. I'd call it the Nissan Leaf of chainsaws. GreenWorks takes more traditional approach and has produced a saw that will feel very familiar and comfortable to Pro users and which provides the same performance as a typical compact gas model.
GreenWorks 80V vs Black & Decker 40V Chainsaw
This comparison wasn't much of a comparison, but it was great for perspective. When you use a smaller saw like the Black & Decker 40V Chainsaw, it becomes very apparent that sufficient power is important. The startup delay on the 40V Max chainsaw is a bit disconcerting, and it made the instant-on power of the GreenWorks 80V model refreshing. We felt that the little Black & Decker 40V saw could be great for trimming up smaller trees, but it will have you pulling your hair out when cutting anything over 12-inches in diameter. You're going to have to cut very slowly, or be prepared to stall out quite a bit. When held up against the GreenWorks 80V chainsaw, it's not even in the same league—and since it's priced the same as the better-performing GreenWorks 40V DigiPro chainsaw, it's hard to recommend at all.
GreenWorks 80V Chainsaw Specifications
Model: GCS80420
Certification: ETL
Steel Bucking Spikes
Chain Brake
Bar Length: 18 inch
Chain Pitch: 3/8 inch
Chain Gauge: 0.05 inch
Side Chain Tensioning
Automatic Chain and Bar Oiler
Translucent Oil Tank Volume: 1.9 oz
Wrap Around Handle
Battery: 80V 2.0Ah Lithium Ion Battery 144Wh
Charger: 80V Single Port Rapid Charger
Conclusion
I think you can do a lot more with this chainsaw than cut down some teepee pole trees. GreenWorks has really pushed the segment further into the Pro market with this cordless OPE tool, and it's definitely got our attention. Unless you really need the power of a 59cc or higher chainsaw, the GreenWorks 80V Chainsaw is going to be quite appealing. It has a good amount of power, and the 18″ bar isn't just for show—you truly can cut through a serious amount of tree. GreenWorks definitely has an issue with run-time, which is likely why they're exciting about bringing their higher Wh batteries to market. If you intend to make a lot of cuts, particularly under high torque situations with larger diameter trees, then you're going to need an extra battery or two—at least until the 5.0 Ah and 6.4 Ah batteries become available.
While GreenWorks is positioning this as a Pro saw, there is certainly room for more power (isn't there always?)—but for now, Pros can certainly find a place for a saw like this in their arsenal. Just as professional tree trimmers and arborists will have more than one chainsaw in use on any one job, the expansion of cordless chainsaws into multiple models and applications will be the key to expanding these types of products fully into the pro marketplace. Personally, I can't wait!