It's clear that we've been impressed to-date with most of the tools from the EGO 56V cordless tools line. It's not that battery powered tools are the right solution for every single application. More and more, however, these are the pros and serious DIYers are turning to when they come home to do their landscaping and yard work. The new EGO 56V cordless chainsaw fits that category really well. For a tool like a chainsaw (or chain saw depending upon your preference), a professional will continue to want gas-powered models that offer lots of variation in application, bar length, and features for the multitude of tasks associated with being an arborist or tree trimmer. The home user, however, may appreciate the ease-of-use afforded by a tool that will never require a spark plug change or special fuel stabilizers to carry ti through winter. On top of that, this cordless chainsaw from EGO has enough power to tackle any job an average homeowner is likely to run into—and make that job a whole lot easier.
EGO Chainsaw Build Quality and Features
The first thing you'll notice about the EGO chainsaw is that it doesn't look like any chainsaw you've ever seen—and we've done several cordless chainsaw reviews . It's like the engineers at Chervon (EGO's parent company) simply decided to make a functioning tool and toss conventional design cues out the window. For example, EGO opted to balance the tool by placing the battery underneath the handle in a side-loading position. This offsets the weight of the brushless motor and gives you a better balance when rocking the saw forward and back to make a cut. While the balance is good, they also opted for a ridged plastic area where you'd normally see steel bucking spikes. That doesn't allow you to get the same amount of leverage with this tool as some others we've used, but it also didn't seem to keep us from making any of our cuts successfully. Nevertheless, I'd like to see true bucking spikes on future models.
Like their other 56V tools, the chainsaw has a gray body with black and green accents. The handle of the saw is easy to grip, and wraps down and around the left side of the tool, letting you easily pivot the saw 90 degrees for horizontal cuts, or for making notches when felling trees. Also on the left side is the 5-ounce chain oil reservoir. The lid lacks any sort of tether, so you'll have to take care not to drop or misplace it when filling the tool with chain oil. Just under the cap is an easy-to-read inspection window that lets you see how much oil is remaining in the tool.
The EGO 56V chainsaw also has a functioning chain brake, which I was very happy to see. It not only works as a kickback safety device, but also functions—as most tend to use it—as safety to ensure the saw cannot be activated when you're working on it. While EGO will recommend removing the battery whenever performing any sort of work on the saw, the reality is that having an additional safety mechanism never hurts. It's also what people are accustomed to who use traditional gas-powered saws. When you introduce a new battery-powered system, it's these small, familiar points of reference that facilitate an easier and more comfortable transition between platforms.
EGO boasts a lot of power and runtime out of their cordless chainsaw, partly due to the 56V platform (the kit comes with a 2.0 Ah battery) but also due to the brushless motor system. This type of motor is appearing on some of the newest models in the industry, and it allows the saw to be more efficient. That means it runs cooler and has no brushes—making for less wearable parts on the biggest aspect of the tool: motor itself.
A 14-inch steel Oregon bar and low-kickback chain (with rakers) are used for cutting, and the chain was easily installed by removing the side cover and placing the cutting bar and chain in place. Tensioning is accomplished using the chain tensioning knob or the chain tensioning screw located on the inside front side of the chainsaw chassis.
Specifications
Kit Model: CS1401
Tool Only Model: CS1400
Battery: 56V 2.0 Ah (BA1120)
Charge time: 40 minutes
Brushless motor
14-inch Oregon bar (144MLEA041) and chain (90PX052X)
Chain Pitch: 3/8" (9.5mm)
Chain Gauge: 0.043" (1.1mm)
Speed: 6300 rpm
Automatic oil w/inspection window
Tool-less chain tensioning
Features: Chain brake, hand guard and quick release trigger
Includes: Chainsaw, 14-inch steel Oregon sprocket-tip bar and chain with plastic sheath, 56V 2.0 Ah battery, and standard charger
Weight (with 2.0 Ah battery): 11.1 lbs
Warranty: 5 years limited
Cutting with the EGO Cordless Chainsaw
Aside from the lack of proper bucking spikes, there isn't much adjustment needed to go from using a conventional chainsaw to the EGO 56V battery-powered model. Instead of a pull-start, however, you have the incredibly convenient process of pressing the lock-off button with your thumb and squeezing the trigger switch. There is no power button on this cordless chainsaw like there is with some competing models. Instead, EGO feels (correctly, in our opinion) that snapping the spring-loaded battery in place, pulling the kickback brake towards you, and forcing you to depress the lock-off button is sufficiently safe for activating the chainsaw. Some of the models out there substitute an on/off button for the chain brake—I think EGO went with the right solution that is more familiar and convenient.
Like most smart battery powered chainsaws, the chain used on the EGO 56V model is of the thin kerf variety—in this case, an Oregon chain that measures just 0.043". This gives it less resistance when cutting wood, and lengthens the runtime and cutting-capability of the saw. When running the EGO cordless chainsaw, you'll first be amazed by the sound—it's really quiet. Most of the noise is simply the act of the chain spinning around the blade and the material being removed. It's not dead-silent. Mind you, but removing the sound of cylinders firing makes a huge difference. You almost no longer need to wear hearing protection. In fact, in my non-OSHA-endorsed opinion, you don't for most residential use.
For our testing, we used a 4.0Ah battery with the EGO chainsaw…because we could, and because we think that battery is going to operate the tool at the highest power potential and with the kind of run-time users will expect and appreciate in a cordless tool like this. We cut a combination of cherrywood, live oak, and wet palm trees with the EGO 56V cordless chainsaw…and we cut a lot of each. For endurance and power-testing, we decided to, among other things, fell a 40-foot tall palm tree that was simply in the wrong place at the right time. The base diameter of the tree was 14-inches, and it was still alive, making for an interesting cut. If you've never cut into a palm tree, it's a wet, pulpy, mess of a tree, that will really test the chip-ejection system of any chainsaw. As we began our cut (we notched it in the direction we wanted it and then cut an elevated crosscut on the back side), the EGO chainsaw showered waste material out the bottom like a mini wood chipper. It also powered through cuts like nobody's business. I could get it to stall if I wanted to (something I've been able to accomplish with gas-powered saws as well), but when letting the tool properly pace itself through the cut, the EGO chainsaw's brushless motor had enough power to drive the thin-kerf chain through the material at a fairly quick pace.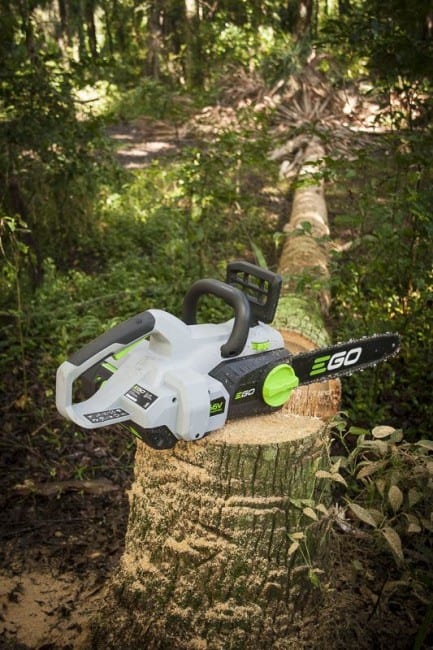 We ran this saw against the Greenworks 40V brushless chainsaw for comparison and the EGO tended to cut a tad faster on the same material, even though the Greenworks had a slightly longer bar. Both saws cut well, but the EGO chainsaw felt like it had a tiny bit more power and speed. It also took a bit more pushing to stall it out (at which point you just pull the saw out of the material and re-engage the trigger to fire it back up). In terms of cut time, we made over 18 cuts through our 40-foot tall 14-inch palm tree on a single charge. When we were done with our cutting, the battery still had plenty of life left on it…so we looked for more to do. Spotting a second, shorter palm tree (but roughly the same diameter) we took it down as well and cut it into manageable lengths. The saw still wasn't dead. This was over 24 cuts through very difficult and larger-diameter trees. These cuts were both quick and easy. The EGO chainsaw really performs like a gas-powered model and I didn't find it difficult adjusting to the blade's short spin-up time and quickly getting to work.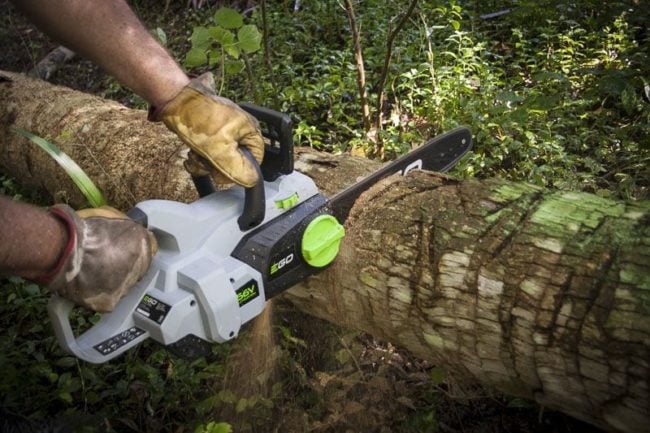 With the power and convenience of this saw, I can't imagine even pros wanting to take a look at it. The thing is, when you're up on a lift and trying to communicate with your man "downstairs", you almost always have to turn off the saw. That means you're often in the air, pulling a starter cord—something that's not a lot of fun, or rife with safety. If you can use a battery-powered chainsaw to make these smaller, elevated cuts, you might just end up with a way to have your cake and eat it too. It's hard to not appreciate the way in which you get instant power with the EGO cordless chainsaw.
Conclusion
The power, ease-of-use, and sheer convenience of this tool makes it a real winner. There are no winterization issues, and you don't need to worry about mixing fuel. About the only complaint we had with the tool was the lack of bucking spikes. If you're already using EGO products, then picking up the bare tool for $199 is practically a steal. Slap one of your 4.0 Ah batteries on it and you'll be off to the races, making dozens of cuts and wondering why anyone would ever want to go back to a gas chainsaw for household use after trying this one.
Price and Availability
You can pick up the EGO 56V Cordless Chainsaw at The Home Depot as a kit (CS1401 w/2.0 Ah battery) for $299, or grab the bare tool (CS1400) for $199.