The Z Grills Backyard Warrior 7002C2E Pellet Smoker Takes You From Pretender To Pitmaster
If you're thinking about retiring your charcoal grill in favor of something a little more innovative, look no further. After using the Z Grills Backyard Warrior Pellet Smoker, you'll have a new favorite grilling method, and you may never go back to the traditional way.
Pros
Consistent temperature
Large hopper capacity
Hopper window
Efficient pellet consumption
Two meat probes
Easy-rolling wheels
Easy-to-read LCD display
Handle doubles as a cord wrap
Cons
No wireless connectivity/control
Doesn't have as many temperature settings as some pellet grills
No front tray
Getting Started with the Z Grills Backyard Warrior Pellet Smoker
When we first gave this grill a shot, we had several things lined up to cook for a large crowd: smoked shotgun shells, burgers and dogs, and Boston butts for pulled pork. Pellet grilling allows you to cook low and slow, hot and fast, or any variation in between. You can control the temperature to get the perfect cook, and its circulating nature lets you smoke, bake, roast, grill, and more.
To start smoking food on your Z Grills smoker, fill the hopper with your choice of wood pellet. Depending on what you're cooking, you can choose the type of pellet you want to use, but for a good all-around option, we recommend the Competition Blend. The hopper can hold up to 24 pounds, which comes in handy when you're cooking something that requires a lot of cooking time, like a brisket.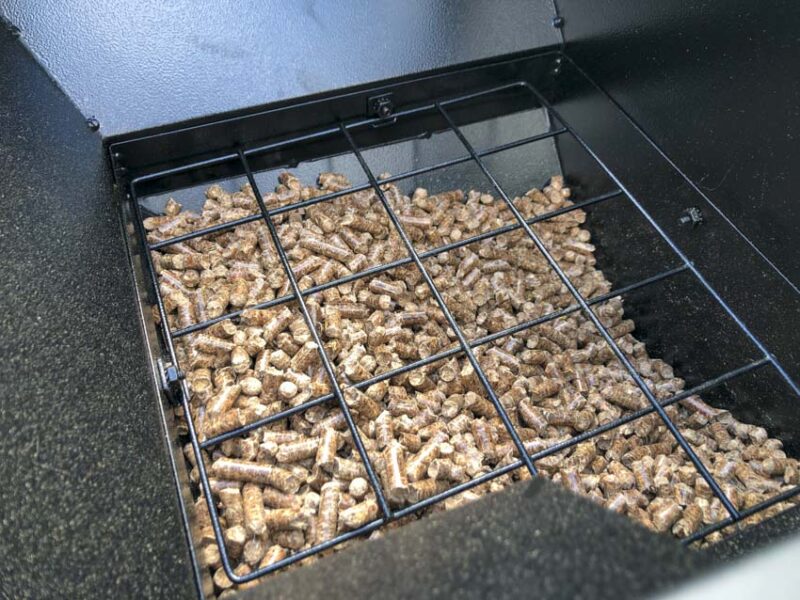 You should plan to use around 1 pound of pellets per hour of cooking time. At lower temps, the smoker will burn through fewer pellets, and vice versa. We did notice that, compared to other pellet grills we've used, this one tends to use pellets more efficiently.
Pro Tip: Before your first cook, do a 30-minute burn-on to help release any shipping impurities. Just set the grill to smoke, give it 30 minutes, and you're ready for grilling!
Cooking with the Z Grills Backyard Warrior Pellet Smoker 7002C2E
Setting and holding the right temperature is also a very simple process. First, turn the dial to smoke while keeping the lid open. After five minutes it should be ignited, at which point you can turn the dial to your desired cooking temperature. The grill takes over from there. It usually takes 10 to 15 minutes to preheat and then you're ready to add your food.
You don't have to worry too much about monitoring the pellets, since the grill automatically self-feeds after you add them the first time. Once you fill the hopper, press the Feed button until you hear some of the pellets drop down into the firebox. From there, the grill's computer takes care of the rest of the work. If you want to raise the temperature after lifting the lid, you can always manually add more pellets by pressing the Feed button again.
Dual Meat Probes
Grilling temperature isn't the only important factor that goes into making sure your food is cooked to perfection. While the grill does keep its temperature (within ~10°F depending on environmental factors), the interior temp of your meat is just as crucial for perfect results. Luckily, this Z Grills smoker includes two internal meat probes for you to utilize.
To use these probes, you plug them into the control panel, run them through the cylinder side grommet, and stick them into the thickest part of the meat. Be careful to avoid being right against any bones, as this can affect temperature readings. If you don't need both, you can use just one.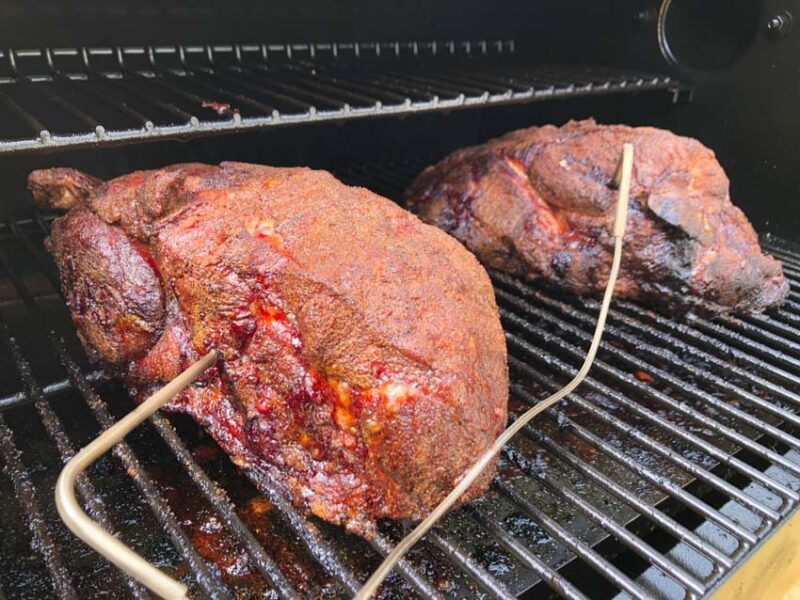 Pro Tip: Cooking at lower temperatures gives you more smoke flavor in your food. If you want a nice, cmoky chicken, cook it at 180°F for an hour, and then turn it up to 350°F until it's cooked through. You'll achieve that smoke flavor with a golden, crispy finish.
Most decent recipes will let you know the perfect internal temperatures to target for what you're cooking. Here are a few guidelines we use for the best results:
Boston butt (for pulled pork): 195° – 205° F
Brisket: 203°F

Chicken: 160° F

Pork tenderloin: 145° F
Medium rare steaks: 135°F
This grill's LCD display shows you the temperature inside the grill, the temperatures each probe is reading, and any error codes. The only things you have to worry about are making sure the hopper is loaded with pellets and removing the meat when it's at the right temperature.
Z Grills Backyard Warrior Pellet Smoker Cooking Space
This grill gives you a total of 697 square inches of cooking space. You have a 26.0 x 19.4-inch main lower section, and a smaller 26.1 x 7.3-inch upper tray, as well as a jerky tray. In total, you can plan on fitting up to 29 burgers, 6 racks of ribs, 5 whole chickens, or 2 whole turkeys. In other words, you can easily feed a pretty big party.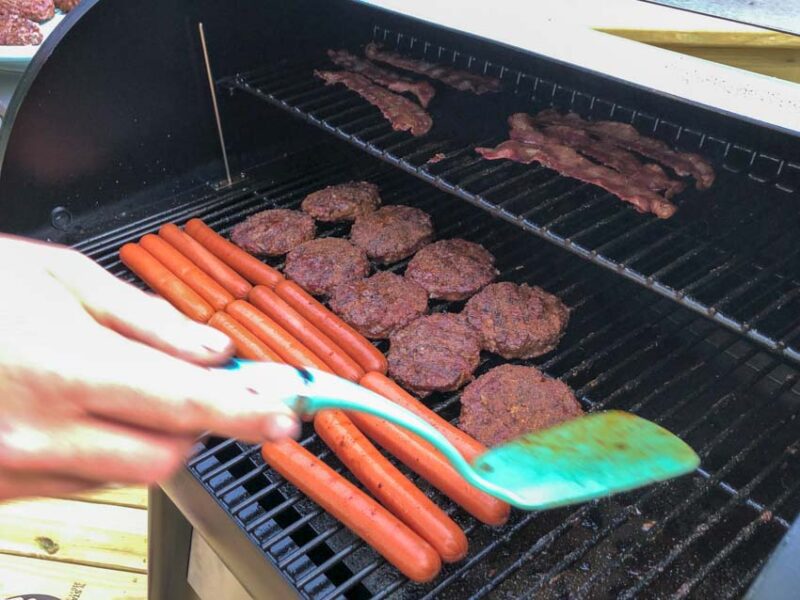 After you're done cooking, turn the temperature dial to shut down. This stops more pellets from being fed and lets the grill go through its shut-down cycle. Once it cools, grab a bucket, and empty as many of the pellets from the rear hopper door as you can. This helps avoid any moisture getting in and swelling up the pellets as they sit.
Maintenance includes dumping the grease bucket, cleaning up the drip tray, and cleaning out any ash buildup between grilling sessions.
Additional Highlights
Hopper window
Easy-rolling wheels
Handle doubles as a cord wrap
Z Grills Backyard Warrior 7002C2E Pellet Smoker Price
We found the best price for this model directly from Z Grills. It retails for $728, but at the time of writing, it's on sale for $549. It includes a grill cover and a 3-year warranty. Make sure to add some pellets to your order so you can get cooking as soon as the grill arrives.
The Bottom Line
The thing that set the Z Grills Backyard Warrior apart from the other pellet smokers we've used is its efficient use of pellets. Taking grilling space into account, we used fewer pounds than we used in both out Traeger and Pit Boss models. Its other features, like the large hopper capacity, dial meat probes, and easy rolling capabilities, just put this model over the top. Plus, the fact that you can get it for under $600 makes this grill an excellent value.