Altoz Has a Fleet of Residential and Commercial ZTM Mowers
Having reviewed the Altoz XC 610 Zi zero-turn mower and the Altoz TRX 660i zero-turn mower, we're familiar with the brand. Altoz continues to announce additional models that expand its line of zero-turn mowers. With a variety of models, engines, deck widths, drive systems, features, and accessories both homeowners and professionals have lots of options. Whether you're taking care of a multitude of accounts or just your own space, the new Altoz lineup seems to have something for everyone.
Altoz XP HD Series Mowers Flagship Models
Altoz built the XP HD Series for heavy-duty professional mowing. This lineup offers you the choice between a Kawasaki FX or Kohler Command Pro engine, which features Hydro-Gear hydrostatic transmissions. This line also features .27″ fabricated steel Aero Decks with easy on/off accessibility to the operator platform. You have your choice of deck sizes as well: 54″, 61″, 66″, and 72″.
Other features of this series include an ultra-rigid operator platform and C-channel frame, highback suspension seats, and SmarTrac Pro controls (solid-state PTO switch, keyless push-to-start ignition, and SoftStart clutch control). The XP HD Series also features a rotational deck-height dial, 12V power outlet, device storage, foldable ROPS, twin 7-gallon fuel tanks, and a cup holder.
Large-capacity collection systems, striping kits, and operator-controlled discharge covers are all accessory options that Altoz offers for the XP HD Series.
Models: XP 540 HD, 610 HD, 660 HD, 720 HD, 610 HDI
Deck sizes: 54/61/66/72 in.
XE Series for Commercial Cutters
The Altoz XE Series zero-turn mowers target commercial cutters, municipalities, and multi-acre estate owners. This commercial-grade series excels at handling expansive acreage and tough terrain.
This zero-turn lawnmower line features the Kawasaki FS 730V engine, Hydro-Gear hydrostatic transmissions, 54- or 61-inch Aero decks with adjustable anti-scalp wheels, and internal baffles. You can also choose to upgrade to the brand's own Independent Front Suspension.
Other features include a device storage compartment, cup holder, 22-inch rear tires, foldable ROPS, electric turn-key ignition, and dual 5-gallon fuel tanks. Premium features, like a 12-way adjustable suspension seat and larger 23-inch tires, are available as optional upgrades.
Models: XE 540, 610, 610 SS
Deck sizes: 54/61 in.
Altoz XC Series Zero-Turn Mowers for Speed and Precision
Altoz XC Series zero-turn mowers emphasize speed and precision for both Pros and multi-acre homeowners. Two engine options are available: the Kawasaki FX 921cc or the Vanguard V-twin EFI 993cc motor.
This series of Altoz Zero-turn Mowers also features the ZT-5400 Hydro-Gear Hydrostatic transmission. It delivers dual range, high/low shifting for a 19 mph top speed. Finish cut Aero Decks come with this series; 61- and 72-inch options are both available. Both deck options feature .27″ fabricated steel, three cutting blades, adjustable anti-scalp wheels, and internal baffles engineered to deliver effective grass lift and discharge.
XC Series mowers all offer a power deck lift with steering arm-mounted controls. This feature lets you adjust the cutting height in 1/4-inch increments from 1.5 to 5 inches, all without having to move your hands from the steering arm.
Lawn striping kits, operator-controlled discharge covers, mulching blades, and large collection systems are all available options for the Altoz XC mowers.
Models: XC 610 Z, 720 Z
Deck sizes: 61/72 in.
XR Series for Homeowners
Homeowners looking for a premium mower that delivers a commercial-quality cut will look to the Altoz XR Series. The three mowers in this series all offer the 4.5-inch-deep Aero Deck, available in 48-inch and 54-inch cutting widths. Five anti-scalp wheels and baffles, along with a variety of blade options, allow you to fine-tune the deck to tackle varying conditions and grass types.
This line features the Kawasaki FR 691V, an air-cooled, 691cc, 90-degree V-twin engine. A ZT-3100 Hydro-Gear hydrostatic transmission propels the mower at a top speed of 8 mph. It also offers an easily accessible external oil filter for easier routine maintenance.
For optimal comfort and control, the XR 540 SS model offers the Altoz Independent Front Suspension as a standard feature. The other two models in the line can be upgraded with this feature via bolt-on accessory application. All mowers in the series feature an adjustable mid-back seat with thick cushions and large bolsters.
Models: XR 480/540/540 SS
Deck sizes: 48/54 in.
Altoz TRX Series with All-Terrain Track System
The TRX Series, featuring rear torsion axle suspension and an 11-inch-wide Turf- or All-Terrain track, sets the gold standard for Altoz mowers. Altoz has designed the TRX Series to maintain acreage, hillsides, lowlands, orchards, groves, and solar fields.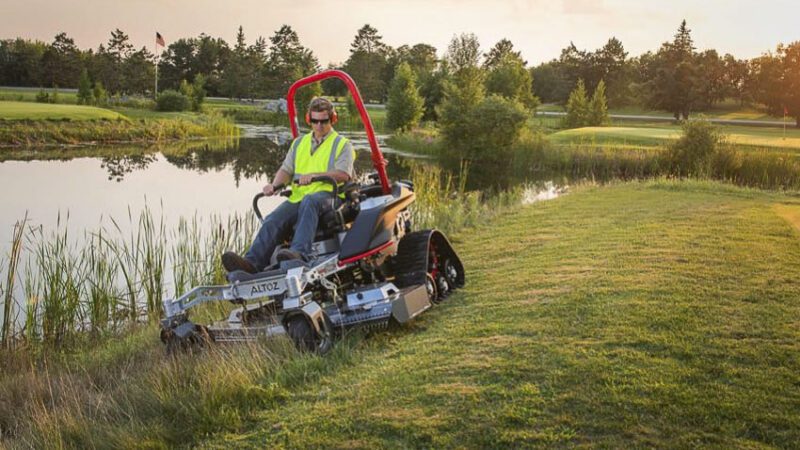 For the roughest terrain, Altoz offers an all-terrain deck option for the TR 766i that tackles rough-cutting applications. It features six swing blades and measures in at 66 inches. The other two models in the line offer 54-inch and 61-inch finish cut Aero Deck options.
The TRX 354 and 561 models feature a Kawasaki FX series engine. These engines come with Critical Power SAE certification. They offer lower emissions, a lot of power, and carbureted operation. The TRX 766i model features the Vanguard 6137 engine with Over Head Valve tech and EFI.
The TRX Series features Hydro-Gear hydrostatic transmissions. Heat-dissipating aluminum Aero Deck spindles offer better deck performance in rougher terrain. Adjustable ROPS and seatbelts keep operators safe, while highback suspension seats keep them comfortable. SmarTrac Pro controls are included with the TRX Series mowers as well.
Models: TRX 354/561 i/766 i
Deck sizes: 54/61/66 in.
If you wanted a stand-on version of the Altoz Tracked zero-turn mower, you now have an option. The Altoz TSX 561i melds professional-grade power with high-tech engineering. As the world's first stand-on tracked zero-turn mower, the TSX 561i gives landscapers better control and stability when mowing difficult lawns. This includes hills, tight spaces, and any other conditions that could prove difficult when mowing commercial properties.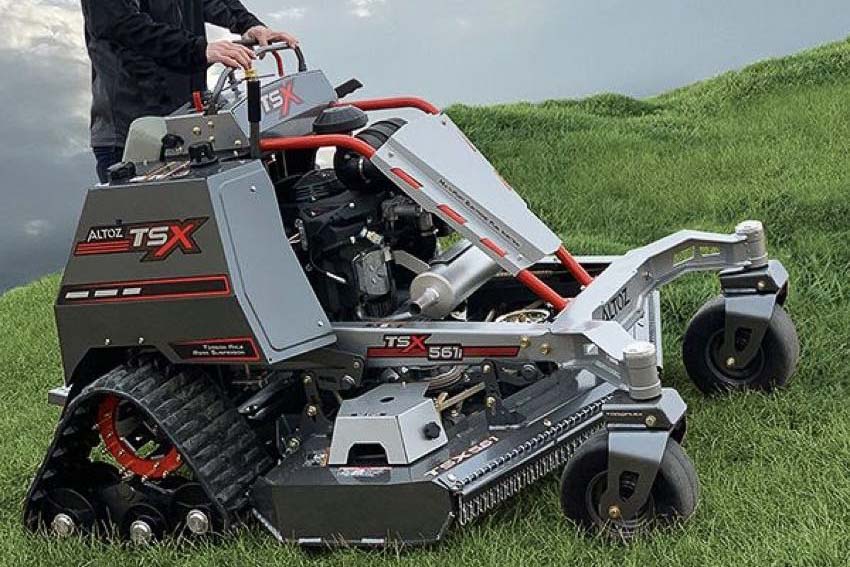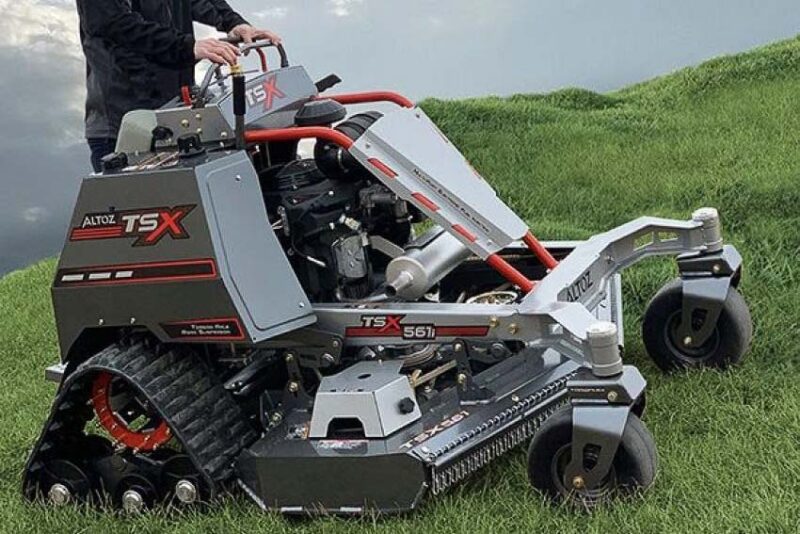 Models: TSX 561 i
Deck sizes: 61 in.
Overall, Altoz seems to now possess enough zero-turn mowers to meet a variety of needs and applications for both large landowners and professional/commercial landscapers. For more information about Altoz Zero Turn mowers, check out the company's website.