You can find and buy deck screws with an almost endless variety of coatings, thread styles, and drive types. The key is matching the right screw to the material you intend to fasten. The best screws for composite decking may not be the same ones you use on pressure-treated wood decks. We help you sort it all out.
Editor's Note: Check out the Camo EdgeXMetal deck clips system.
Types of Materials and Coatings Used in Deck Screws
Deck screws come in many different sizes and types for all sorts of decking applications. Some include coatings specifically designed to tackle the rigors of pressure-treated decking boards and framing. Others include features designed to minimize issues with composite decking.
When it comes to finding and using the best decking screws, the coatings and materials used in the construction of the screw really matter. Stainless steel deck screws, for example, provide maximum protection against corrosion. Builders use these extensively in caustic materials like PT or in areas prone to salt water.
Still more decking screws use coatings to give them additional corrosion resistance. As an example, Grip-Rite has some decking screws that feature a PrimeGuard Plus coating. It includes a lifetime guarantee against rust and corrosion. Certain Deckmate screws use a lifetime polymer coating and Everbilt screws use a bonded material. Each of these screws provides protection against not just the elements, but also the lumber or materials in which the screw might reside for decades.
Regardless of what type of exterior decking screws you use, use one clearly designed for the decking material. Most professionals prefer stainless steel over other types, however coated screws have grown in popularity. You can also match the colors of the screw to the color of the decking boards for better aesthetics.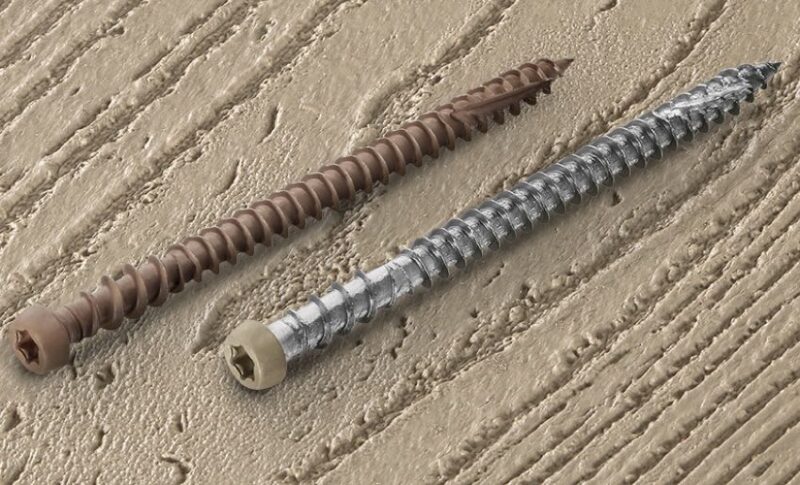 The Best Decking Screw Drive Type
Sometimes the color or material—or even the store you're at—determines the best decking screw for your project. If you have a choice and plan ahead, however, avoid Philips head screws. Both square drive and Torx (star drive) provide much better bit engagement. That makes less camout—and less camout means less corrosion on the top of the screw.
Aside from Philips, coated screws typically use Torx or star drive (T-25). You get a very confident start and the bit tends to stay embedded securely in the fastener while you drive the screw into the board.
Editor's Note: The heads of decking screws tend to strip when bits wear down, so change them out periodically. Use a cordless impact driver when driving deck screws as it helps drive the screws more securely and consistently. Manufacturers use many different bit types to differentiate their products from the competition. We don't care—use the type that makes sense for your needs and budget.
Decking Screw Thread Designs
Screws used to be much simpler. These days, manufacturers of the best decking screws vary the thread design as well as coatings. These different types of decking screw threads each offer advantages when dealing with various deck boards and materials.
Standard Threads

Many manufacturers make coated decking screws with standard threads. The least expensive decking screws come this way and they work well for many basic applications—but you can do better. If you can afford to, move on to one of the better technologies to avoid issues down the road.
Self-Starting Cut Point

When you need to screw into pressure-treated decking boards, having a self-starting screw (Type 17) cut point helps resist splitting. Any time you split a board you add a new location for water to intrude. It also looks unprofessional, so take every opportunity to eliminate this potential issue with 5/4 deck boards.
Dual-Threaded Design
We really think the very best decking screws use some form of dual-thread design. This design lowers the required torque when you start driving the screw. It then ends with a tighter thread which helps pull the top board down to the joist.
Along with the dual-threads on these screws, some also include some form of textured head that helps countersink the head into the board.
Reverse Threads Reduce Mushrooming

Another common issue particular to screwing down composite decking boards involves mushrooming. That happens when the area around the head of the screw rises as you drive it into the board. Manufacturers add a reverse thread near the top of these screws to lower that raised "mushroom". On top of that, a concave face helps pushes the raised material back down so you end up with a nice flush finish.
Our Top Picks
We figured that after giving you all the ins and outs of the tech and coatings we should probably pick some screws that we prefer over others. Our top picks follow and include the reasons why we prefer them over other brands and types of screws. Keep in mind that not all retailers include every product, so if you can't find these, try to locate something similar.
Best Deck Screw for Pressure-Treated Wood
Everbilt Exterior Wood Screws
For use with pressure-treated decking boards, we love these screws. The tip and course threads help prevent splitting when you start your drive. The T-25 star drive avoids camout so you spend more time driving screws and less trying to make a solid connection.
Best Deck Screw for Composite Boards
Grip-Rite Star-Drive Deck Screws

You can find these Grip-Rite screws in brown, tan, and gray. Grip-Rite Star-Drive Deck Screws include several features we want for installing composite decking boards. Easy-drive coarse threads start quickly and drive smoothly. A tight reverse thread and small pan-head all but eliminates mushrooming in composite materials. That small head works great when you don't want to break the surface coating of certain composite decking materials featuring a laminate-type layer.
These star drive screws come in 2-1/2″ or 3″ lengths. We used these screws on a composite decking project and loved the finished (and color-matched!) look. You barely see these screws once installed properly.
Best Stainless Steel Deck Screws
Deckmate Square Drive Stainless Steel Deck Screws
Sometimes you just want (or need) stainless screws. Deckmate Square Drive Stainless Steel Deck Screws have excellent quality and include a nice split tip. Made of 305 stainless steel, they hold up so that the heads don't easily strip while driving.
These are the best decking screws for installation in and near harsh environments like those found in coastal regions.
Why You Can Trust Pro Tool Reviews
Ever check out a "review" site and you can't tell if they actually tested the tools or if they're just "recommending" the Amazon top sellers?
That's not us. We only recommend what we'd actually use, even if we don't earn a commission from it. It's all about giving you a legitimate recommendation and our honest opinion of each product.
We've been in business since 2008 covering tools, writing reviews, and reporting on industry news in the construction, automotive, and lawn care industries. Our Pro reviewers work in the trades and have the skills and experience to know whether tools can perform well in the field.
Each year, we bring in and review more than 250 individual products. Our team will put our hands on hundreds of additional tools at media events and trade shows throughout the year.
We consult with innovators in the technology and design of tools to gain a broader grasp of where these products fit and how they work.