The Omnivore Grill Takes Flat Top Cooking Outside
Are you an omnivore? If so, this one's for you. And because it's been a little while since OPE has explored a grill, we're excited about taking a look at the Blackstone Culinary Omnivore griddle grill.
So, without further ado, here is the griddle competition to our favorite Traeger Ironwood Pellet Smoker Grill.
Blackstone Culinary Omnivore Performance & Design
Up front, it bears reminding that the Blackstone Culinary Omnivore is not your typical grill. Indeed, it's all in a name, which is painfully long. Nevertheless, we'll say it once here (and this thing gets its own line).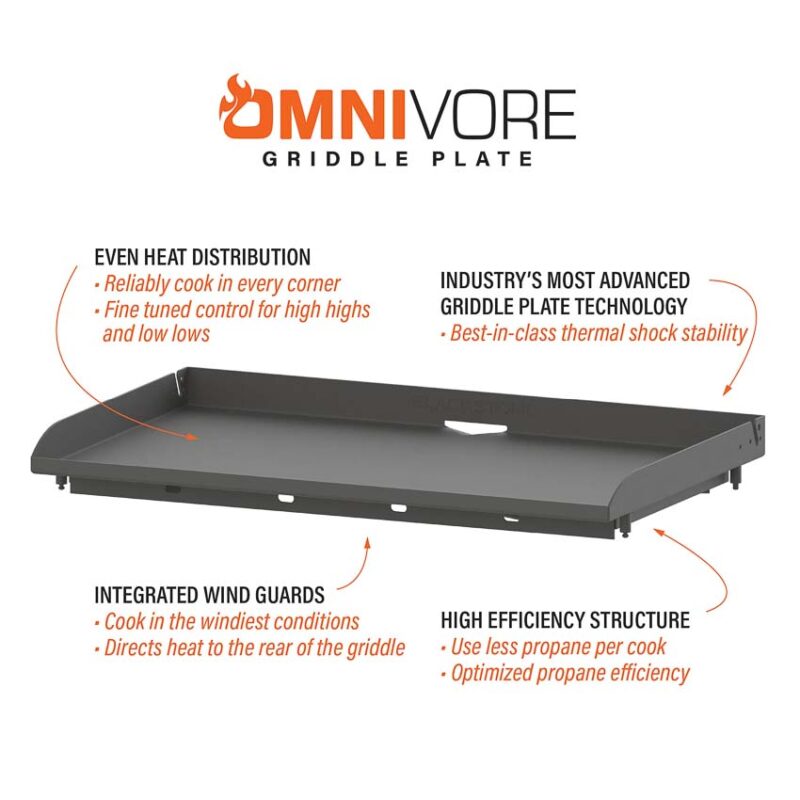 The Blackstone 36″ Culinary Omnivore Cabinet Griddle with Side Table 4-Burner Liquid Propane Flat Top Grill.
Let's have a glance at the features.
Features
Model: Blackstone 5580
Electronic push-button ignition
Patented rotate-and-remove hood
36″ patented Omnivore griddle plate
Patented rear-grease management system
Cabinet storage, folding side shelf, tool hooks
To start with, we'll take the figurative route. The Blackstone Culinary Omnivore is essentially an outdoor kitchen, turning your deck or patio into a diner of sorts.
In terms of features, perhaps the most important item is the 36″ flat-top griddle. Our staff is thinking bacon, sausage, thinly sliced ham, diner-style burgers, eggs, and maybe even a few stacks of pancakes.
Hungry yet?
What's more, the griddle is proprietary. This patented cooktop has some interesting facets.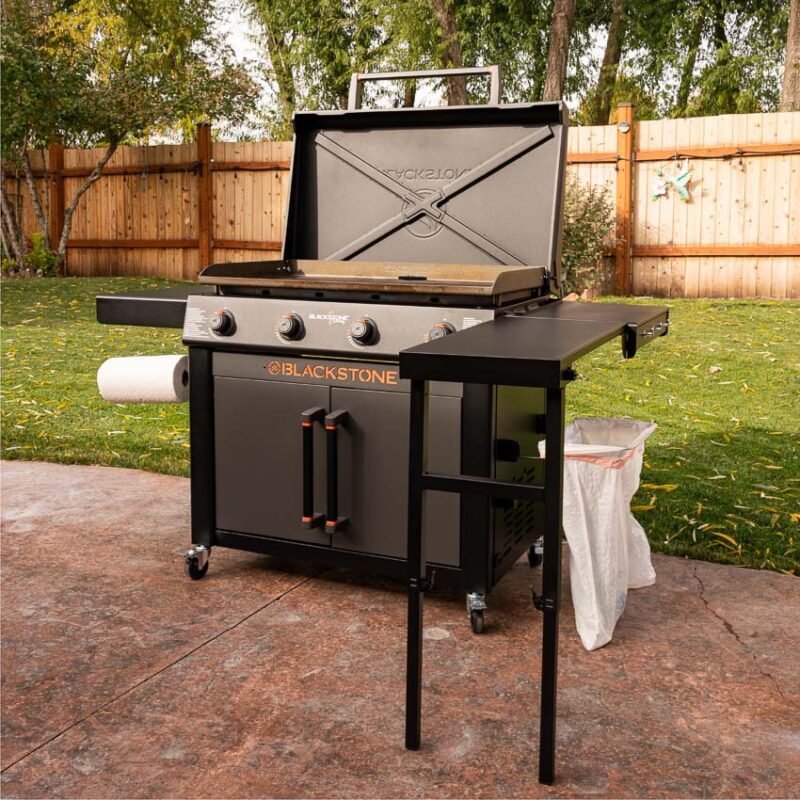 According to the manufacturer, one of them is a wind guard designed and tested to recover faster, prevent warping, and use less fuel to maintain high heat.
Another notable component on the Blackstone Culinary Omnivore is a side table extension, which apparently can more than double your prep space and create an L-shaped, counter-height table. A family member can double as a sous chef chopping vegetables and other toppings and sides.
Weight: 179.76 lbs.
4 Main Burners: 38,000 BTU
Cooking area: 768 sq. in.
As far as the cooking aspects go, the note-worthy part is the build quality. As Blackstone describes it, the grill's "complex construction" yields improved heat retention and distribution, requires fewer BTUs to maintain temperatures, and ultimately saves propane.
Blackstone Culinary Omnivore Price
Exclusive to Lowe's, this model retails for $599 and comes with a 1-year limited warranty.