The Echo Battery-Powered Leaf Blower Surpasses Its Handheld Gas-Powered Counterparts
No doubt, the OPE market has its fair share of competition. Nonetheless, there are those brands that have achieved iconic status with respect to specific products. In the world of leaf blowers, Echo is one of them. The company made history in 1975 when it introduced the world's first backpack blower, the PB-9. Ever since, they've done an admirable job of breaking new ground and keeping up with industry trends like the shift to batter power. The Echo DPB-2500 battery-powered leaf blower puts them yet another step forward on that path.
While this isn't Echo's first run at a battery-powered leaf blower, it is shaping up as their most capable handheld model, so far. We're taking a closer look at the Echo DPB-2500 leaf blower to highlight some of the key features so you can decide if it's right for you.
Echo Battery-Powered Leaf Blower Performance
Max Airflow: 526 CFM
Max Air Speed: 151 mph
Noise Rating: 78 dB (high), 81 dB (turbo)
Runtime: 16 minutes, 8 seconds (high), 9 minutes, 29 seconds (turbo)
Force Rating: 13.4 N (high), 17.4 N (turbo)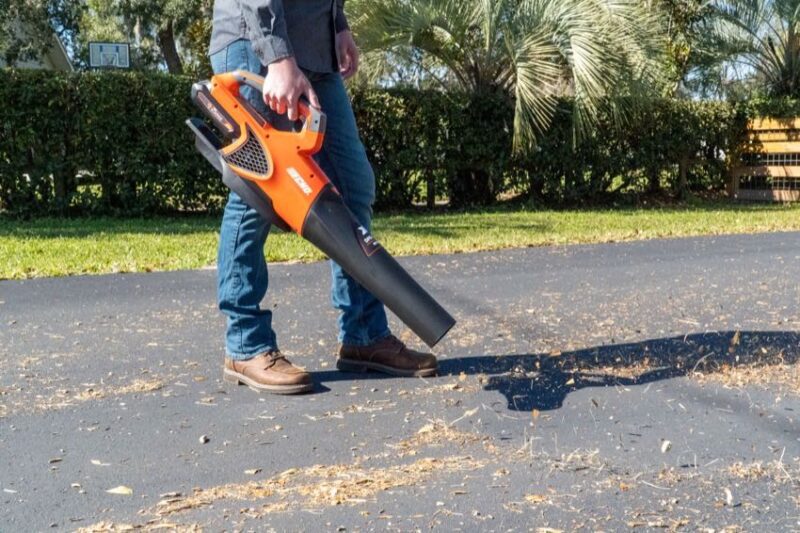 Right out of the gate, it's clear that Echo's 56V battery-powered blower is no slouch, even compared to their handheld gas-powered alternatives. In terms of power, the DPB-2500's brushless motor churns out 549 CFM, producing just over 17 Newtons of blowing force using the Turbo mode. These stats land this model at the top of Echo's handheld blower leaderboard—not bad for a cordless blower!
Echo Battery-Powered Leaf Blower Design Notes
Model: ECHO DPB-2500
Weight: 5.6 lbs. (bare), 7.8 lbs. (with 2.5Ah battery)
Length: 35 inches
Tether-ready for sling assist
Dual air intakes for ambidextrous carry
Compatible with all Echo Force batteries
The Echo eForce X-Series blower is designed with both residential lawn enthusiasts and landscaping Pros in mind. Its handle features a smooth rubber overmold for a firm grip and the nozzle naturally angles downward at a comfortable 45° angle.
Echo utilizes a variable speed trigger for maximum control and a turbo mode for tackling more stubborn debris. They also include a thumb-operated cruise control dial to give your fingers a break during extended use.
Additional Features
Includes concentrator nozzle
Integrated anchor point in the base for vertical storage
Echo Battery-Powered Leaf Blower Price
This Echo eForce leaf blower is available for $229 as a kit from your local Home Depot. It includes a 2.5Ah battery and a single port charger. Additionally, Echo backs this kit with a 5-year residential warranty or a 2-year commercial warranty based on the application.
Click here to register your tool with Echo for fast and easy customer support.
The Bottom Line
The Echo 56V battery-power leaf blower shows big improvements in airspeed, runtime, and overall performance. With that said, it's not without its limitations. Clearing your driveway and sidewalks won't take long but removing autumn leaves may prove more difficult based solely on runtime, so, you may want a spare battery on hand. Regardless, the DPB-2500 is a great option for the weekend warrior as well as Pros looking for a capable alternative to gas-powered blowers.