The Echo DSRM-2600 eForce Battery-Powered String Trimmer hit the market at the right time. Spring is around the corner, and if you're in the southern climes, you're probably ready to put this 56V cordless power tool to work now.
This addition to Echo's product line should satisfy prosumers and professionals alike. Indeed, the eForce covers both performance and runtime. And as we discovered, the proof is in the details.
Echo eForce Battery-Powered String Trimmer Performance
Cutting Swath: 17 in.
Runtime: 25 min. (high) w/5Ah battery
Line Type: 0.080, 0.095 in.
Feed Type: Bump feed
Cutting Modes: 3-mode
Measuring the no-load speed with a tachometer, the trimmer produced 5,700 RPMs on high, 5,000 on medium, and 4,300 on low. These results are commensurate with the expected output of an equivalent 25cc gas-powered unit, which is nothing to sneeze at for a battery-powered trimmer.
When paired with an even higher-quality line, like Echo's Black Diamond , the eForce adequately tackles thick grass and recalcitrant overgrowth.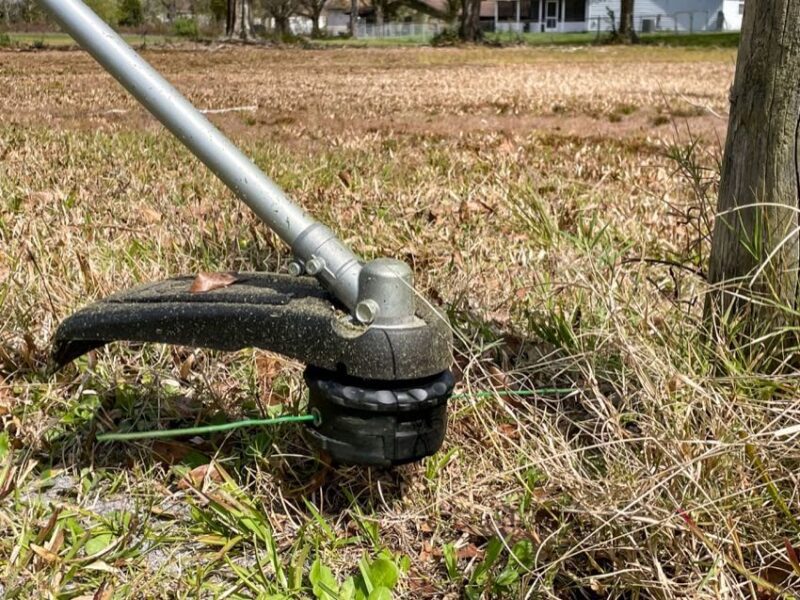 Likewise, the kitted 5.0Ah battery makes for an impressive amount of trigger time. The DSRM-2600 ran for exactly 25 minutes on high during testing.
Echo also states that the eForce Battery-Powered String Trimmer can provide 54 minutes of runtime on low, which is helpful with lighter trimming during regular maintenance cuts.
Echo DSRM-2600 eForce Battery-Powered String Trimmer Design
Model: Echo DSRM-2600
Power Source: Echo eForce 56V battery
Weight: 7.9 lbs. (bare), 12.0 lbs. (with 5.0Ah battery)
Total Length: 74 in.
Spool Capacity: 20 ft. (0.080 or 0.095)
Another stand-out performance aspect is the Echo 56V string trimmer's low vibration levels and ease of control. Specifically, the rear-mounted motor transfers the majority of the weight away from the head, lightening it for better maneuverability. Also, it opens this trimmer to attachment-capable possibilities without a complete redesign.
We're equally pleased with the near-effortless line changes thanks to Echo's Speed-Feed 400 cutting head. Unlike traditional trimmer heads, there are no tedious disassembly procedures needed for spool refills. Just feed the line through the trimmer head, then twist clockwise to load the line in a matter of seconds.
Additional Features
Variable-speed trigger
MAXOUT technology delivers fade-free power
Echo eForce Battery-Powered String Trimmer Price
Better still, the eForce Battery-Powered String Trimmer is available in different configurations to suit a number of applications, depending on your specific demands. There's the standard model (DSRM-2600C2), an attachment-capable variation (DPAS-2600BC1), and a bicycle handle model (DSRM-2600UC2).
The kit options retail for $399.99, $419.99, and $449.99, respectively, at The Home Depot. And, they're all backed by 5-year consumer and 2-year commercial warranties.
The Bottom Line
This trimmer may not be the most powerful unit of its kind that we've ever tested and reviewed, but this thing will no doubt get the job done. The large cutting swath, excellent runtime, and gas-comparable performance make this an admirable option for tough trimming tasks. So, if you're thinking about hopping on over to battery power, the amazing staff at OPE (don't mind the gratuitous self-congratulation) suggests that you check out the Echo eForce Battery-Powered String Trimmer.
Check out the Echo website for more information on their warranty