The EGO FN1800 Fan Promises to Cool You Down with Battery-Powered Misting
We're no stranger to cordless fans. Today's cordless tool batteries provide ample runtime for these products so you can stay cool both on and off the jobsite. We wanted to see if the EGO FN1800 18″ cordless misting fan would present a viable and ergonomic solution for conveniently keeping us cool without running out of juice.
Pros
Plenty of runtime
Two efficient modes
Transports easily from place to place
Tons of directionality for airflow
Quiet
Cons
Only works off battery power (no hybrid outlet option)
EGO FN1800 18″ Misting Fan Airflow
Internal testing at EGO revealed the FN1800 misting fan moves 5000 CFM of air. Air speed coming off the blades tops out at over 20 MPH. EGO claims it gets as much as two times the airflow of similar 20-inch box fans. Surprisingly, EGO doesn't stop at the expected Low, Medium, High fan speed settings. Instead, you get six different speeds to get you from Low (1500 CFM) to High (5000 CFM) once you active the Turbo mode.
To take some air speed measurements, we pulled out our trusty anemometer . We then took measurements from 5 feet away with the EGO misting fan set to Low, Medium, High, and Turbo speeds to see what you can expect to get when sitting close by to the fan.
Here's what we measured:
Low: 3.1 MPH
Medium: 5.3 MPH
High: 8.0 MPH
Turbo: 10.0 MPH
We next wanted to see what the effective range of the fan was. To do this we set it to its highest speed—Turbo—and started measuring airspeed as we backed away from the fan. We did this until the measurement dropped down to 2.5 MPH (the equivalent of a close proximity with the fan in Low speed). Our results put us at an impressive 25 feet away!
Testing Runtime
The EGO ArcLithium 56V batteries give the brand a unique advantage over some other manufacturers. The platform lets them drive the fan with more power, plus the battery platform provides plenty of runtime if needed—depending on which size pack you choose. To get runtime results, we paired the EGO misting fan with a 5.0Ah battery. Then we testing its runtiome in both High and Turbo modes.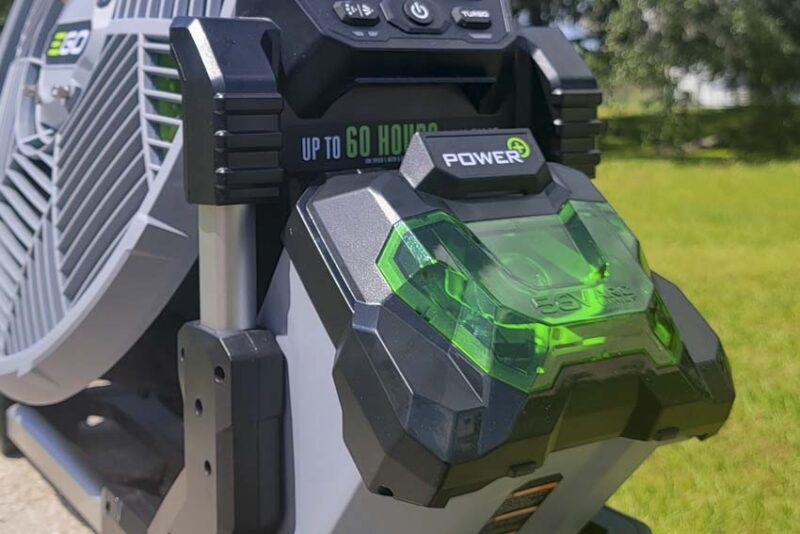 For this test we used fan-only mode without any misting functionality. Here are the results:
High: 4 hrs, 16 min, 20 sec
Turbo: 2 hrs, 51 min, 22 sec
Rather than test again in Low speed, we relied on EGO's numbers. They claim up to 60 hours of continuous runtime with a 5.0Ah battery. Perhaps our relunctance to personally verify this now makes sense. Even if they're off by 10%, that's a ton of runtime!
One major drawback to us is that EGO didn't make this a hybrid power source product. Where some other jobsite fans let you bypass the battery and use an extension cord for unlimited power, EGO forces you to use a 56V battery. Be sure to bring along an extra battery if you plan to use this for longer than our testing shows for a single pack. Of course, if you happen to be one of those users with access to a 10Ah or 12Ah 56V battery pack, you may never miss having a coded option.
Misting Functionality
The EGO FN1800 18″ 56V cordless misting fan uses just four centrally-located nozzles to deliver what we might consider "theme park-level" misting action. Taking this fan to your kids' baseball or soccer game, tailgating parties, or beach days will be a sure-fire way to turn heads and generate some conversation. Of course, it works just as well on the jobsite or the patio while you cook out.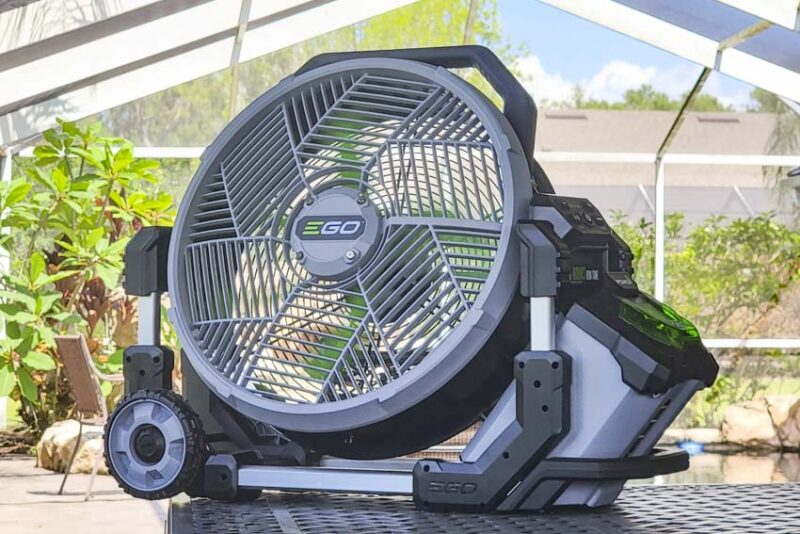 EGO claims this misting fan can cooling an area up to 540 square feet. Engaging the misting functionality simply entails dropping the weighted intake filter into a bucket. Then, you just one of the two available misting modes.
Two Misting Modes
Intermittent misting mode – This turns the pump on and off at specific intervals to prioritize water and battery efficiency
Continuous mode – This mode results in continuous misting action while the fan operates.
Expect to use 3 gallons of water per hour when using Continuous mode. You use less than half of that (around 1.2 gallons) in Intermittent misting mode. Provided you can fill up a 5-gallon bucket, you're set for as much as 4 hours or more of misting.
Additional EGO FN1800 Misting Fan Highlights
Quieter than many refridgerators (just 68 dBA in High, 72 dBA in Turbo)
Telescopic handle, top carry handle, and rubber-molded wheels make transport easier
Weighs just over 28 pounds with a 5.0Ah battery
EGO 18″ 56V Cordless Misting Fan Price
Look for the misting fan online or in-store at your favorite EGO retailer. It retails for $249.99 and includes a 5-year warranty. At the time of writing, no kit option is available.
The Bottom Line
After a fair amount of poking, prodding, and testing, the EGO cordless misting fan proved it not only had an impressive amount of airflow, it could also keep up the work for well over 4 hours in High! There's no question that the development team at EGO knocked it out of the park with the FN1800. Pop this out at the next baseball game or soccer match, and everyone around you will quickly ask you where you got it. If this is the type of lifestyle product we can expect from EGO, then we hope the company continues on this path with many more releases in the near future.
EGO 56V Cordless Misting Fan Specifications
Model: EGO FN1800
Power: 56V ArcLithium battery
Blade diameter: 18 in.
Fan speed: 5 standard and Turbo
Noise Level: 67 dB(high), 72 dB(Turbo)
Air volume: 1500–5000 CFM
Max air speed: 23.5 MPH
Misting water volume: 1.2 GPH (intermittent), 3.0 GPH (continuous)
Runtime (Low/High/Turbo): 60/4.27/2.85 hrs (using 5.0Ah battery)
Adjustable 225° pivot
Warranty: 5 years
Price: $249.99 (tool only)