Clear Snow More Comfortably With EGO's 21-Inch Auger-Propelled Snow Blower
We reviewed the initial dual-battery EGO 21-inch snow blower all the way back in 2017. Since then, EGO has continued to develop and improve its battery and motor technology and apply it to its snow blowers. We got our hands on the EGO SNT2125AP snow blower to see what it has to offer and what's changed since the first iteration. Now, we're just waiting on it to snow in central Florida…
EGO 21-Inch Auger-Propelled Snow Blower Performance
Controls and Capacity
The start-up procedure and control panel on this snow blower are very reminiscent of our favorite EGO lawn mowers. To turn it on, you press and hold the large power button. Pulling down the presence bar activated the snow blower's heavy-duty rubber auger.
Speaking of the auger, it also acts as the drive to give this machine a self-propelled mechanism. You use the lever in the center of the handle to control the auger's RPMs, which controls the throw distance of the snow as well as the speed of the machine.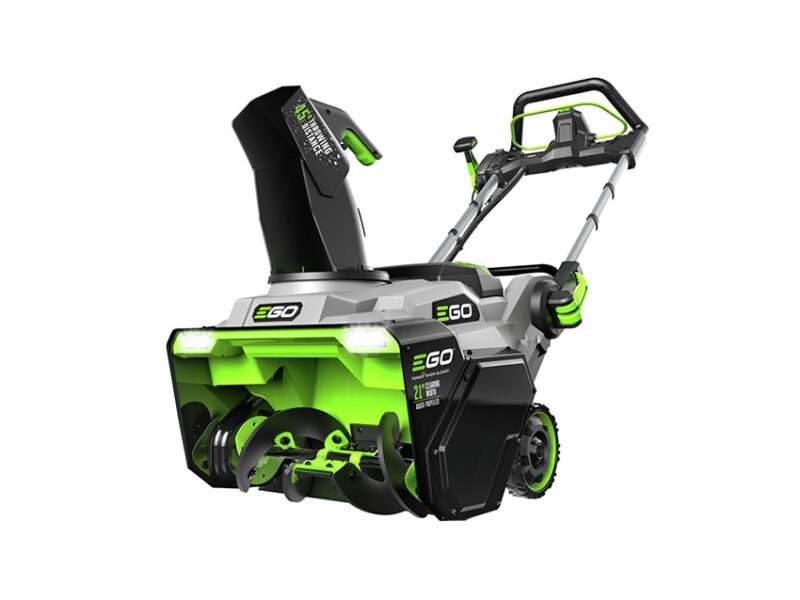 This snow blower has a 21-inch wide intake and can tackle snow up to 13 inches deep in a single pass. EGO also tells us the SNT2125 can throw snow as far as 45 feet, which is pretty impressive for a single-stage system. The SNT2103 had a maximum throw distance of 35 feet, so that's a fairly nice increase.
Additionally, this snow blower is a Peak Power system. You can operate it with either one battery or two. Using two batteries allows you to get more runtime and a more efficient power draw. Both battery ports are active, so you don't have to worry about manually switching out the batteries; the electronics take care of that.
Adjustable Throw
You have a lever on the right side of the handle that directs the throw up to 200° to the left or right. This gives you the advantage of staying at the helm to direct snow discharge with one hand, saving you time and energy.
If you want to adjust the throw pitch, that's another story. Like most snow blowers, this adjustment happens at the chute itself, so manual moving is necessary rather than using a control deck on the handle.
EGO 21-Inch Auger-Propelled Snow Blower Notes
Creature Comforts
Along with the main features, EGO also added a few extra details to make your experience more convenient. You have a pair of bright LED headlights that case a beam about 5 feet wide. We can definitely see this coming in handy to illuminate a dark sidewalk or driveway if you're working with little to no light. You can control these LEDs with the power button on the control deck.
Additionally, there are integrated hand warmers on either side of the grip to keep your hands and fingers nice and toasty while you work. Press the button on the control deck to turn them on.
You can turn both the LED lights and the hand warmers on without engaging the auger.
Additional Features
Scraper bar behind the auger
Folding handle for easy storage
EGO 21-Inch Auger-Propelled Snow Blower Price
Look for this EGO 21-Inch snow blower in stores this season. Expect to pay $999 for a kit that includes two 7.5Ah batteries and a charger or $599 for the bare tool if you're already on the EGO 56V platform. It comes with a 5-year limited tool warranty as well as a 3-year battery warranty.
The Bottom Line
If you're dreading the process of firing up your gas snow blower after it's been sitting all summer and fall, the EGO 56V 21-inch electric snow blower is a great candidate to kick those pains to the curb. It's dramatically quieter and lighter than a traditional gas model, plus, you have instant power at the touch of a button. If you live in an area with noise ordinances or just don't want to wake your sleeping neighbors, this is the one for you.
Click here to check out EGO's full lineup.
EGO 21-Inch Auger-Propelled Snow Blower Specifications
Model: EGO SNT2125AP
Power Source: Two EGO 56V batteries
Snow Throw: Up to 45 ft.
Stage: Single-Stage
Max Snow Clearing Depth: 10 in.
Auger Diameter: 8.5 in.
Intake Height: 13 in.
Clearing Width: 21 in.
Paddle Material: Heavy-duty rubber
Chute Rotation: 200°
Drive Type: Push with auger assistance
Weight: 79 lbs.
Warranty: 5-year limited
Price: $599 (bare), $999 (kit)