Take On Your Seasonal Tree Work With The Green Machine 62V 16-Inch Chainsaw
We love battery-powered chainsaws. They let you get to work quickly and are perfect for storm cleanup. Regardless of your reason for considering a battery-powered saw, we want to know if the Green Machine 62V 16-inch chainsaw provides enough power and convenience to make the switch. We tried it out on several small jobs to see how it held up against both comparable gas chainsaws and other battery-powered solutions.
Green Machine 62V 16-inch Chainsaw Weight and Balance
Right away we loved the balance and ergonomics of the Green Machine GMCS6200. Before adding the 4Ah battery, the saw weighs around 9.5 pounds. Add the kitted 62V battery and you increase the weight to 13.25 pounds. Based on other chainsaws we've used, that still feels competitive.
If you don't need to cut thicker branches and don't need a ton of runtime, consider reaching for the 2.5Ah battery if you have one on hand. Any weight you can take off works in your favor when using these saws to trim limbs and smaller-diameter branches.
Chain Tensioning Dial
The chain tensioning system Green Machine uses on their 16-inch chainsaw feels practical and works well. It's tool-free, something we frequently see with chainsaws geared toward homeowners. It works by turning the inner dial counterclockwise—just enough to loosen the bar. Next, you turn the outer dial counterclockwise to loosen the chain.
Reverse both processes to lock everything down. It took very little time to adjust the chain tension and we got right back to work, checking it periodically.
Bucking Spikes
Unfortunately, Green Machine went with plastic "bucking spikes" that are more like ridges. Not unusual for a homeowner saw, we still prefer metal bucking spikes. They simply bite into the wood better and give you more control while making larger cuts in particular.
Additional Features
Automatic chain oiler
Electronic chain brake
Green Machine 62V 16-inch Chainsaw Cutting Performance
The 62V Green Machine battery powers a brushless motor . The 0.043 gauge chain spins at a maximum 20 m/s chain speed. That fall into the average of what we typically find with 16-inch battery-powered chainsaws. Like many chainsaws we test, the bar and chain are both made by Oregon. As a result, you can find replacement chains and bars at many hardware stores .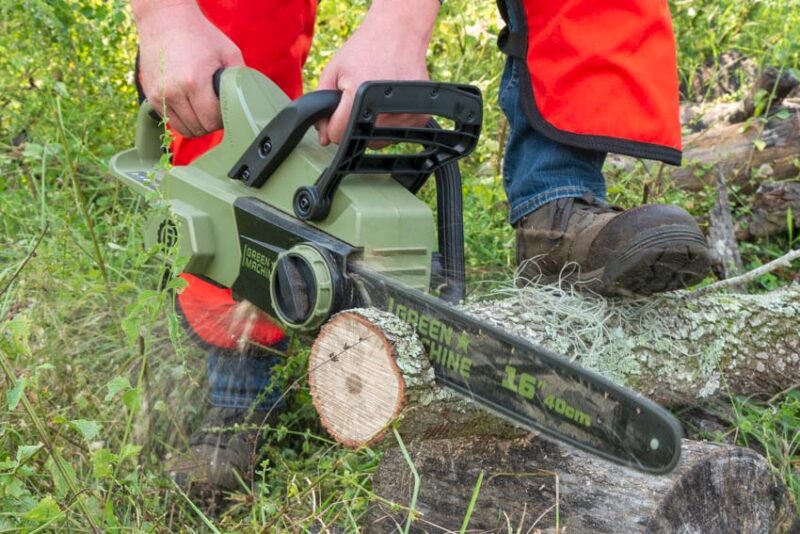 We liked the responsiveness of the chainsaw trigger. You pull it, and it reaches max speed very quickly. We managed to cut through 11-inch thick logs without any difficulty. While some of the higher-priced battery-powered chainsaws we've tested have quite a bit more torque, that typically meant we just needed to slow down our pace and let the saw work.
If you don't force the tool, it will successfully get through most of what you might encounter with post-storm limbing and seasonal tree maintenance.
Pro Tip: Remember to sharpen your chainsaw chain in order to get the best performance out it.
Green Machine 62V 16-inch Chainsaw Price
You can pick up this chainsaw at Home Depot. It retails for $293 as a kit and includes a 4.0Ah battery and charger. Green Machine backs it with a 5-year limited tool warranty and a 3-year limited battery warranty.
The Bottom Line
The Green Machine 62V 16-inch chainsaw works well as a homeowner-targeted tool. We like the familiar design, and it should excel at handling seasonal tree maintenance and light storm cleanup and prep. Lastly, while we've tested more powerful battery-powered 16-inch chainsaws, Green Machine makes a competent and value-priced tool that works perfectly well for many residential applications.
Green Machine GMCS6200 62V 16-Inch Chainsaw Specifications
Model: GMCS6200
Power Source: Green Machine 62V battery
Bar: Oregon 16 in.
Weight: 9.5 lbs. (bare), 13.25 lbs. (with 4.0Ah battery)
Runtime: 45 minutes
Chain Pitch: 3/8 in.
Chain Length: 66 link
Bar Size: Medium
Chain Gauge: 0.325 in.
Chain Speed: 20 mps
Warranty: 5-year limited tool warranty, 3-year limited battery warranty
Price: $293 (kit)