Greenworks 24V Battery-Powered Inflator Fills Up To 160 PSI
We love our outdoor power equipment. However, when brands come up with a battery platform that works across a lot of other tools and products—it makes it easier to expand your system. As a case in point, we got to try out the Greenworks 24V battery-powered inflator. This cordless inflator represents just one of the many lifestyle products Greenworks Tools has available on their 24V battery platform. Landscapers need to manage and inflate lots of tires—so we wanted to see if this tool could help.
Greenworks 24V Battery-Powered Inflator Design Notes
Both 12V and Battery Power
Great for inflating tractor and zero-turn tires, we can't help but appreciate the 12V connectivity. After all, dead batteries occur regularly—we like that you have another option with this Greenworks 24V inflator. So while you can use any Greenworks 24V battery to run this tool, you can also plug the inflator into your vehicle's 12V outlet should you need to. The 9-foot DC cord stores right in the bottom of the base.
A Compact and Lightweight Design
Some inflators feature a drill-style D-handle design and others take up a lot of space. For a battery-powered solution, the Greenworks 24V inflator falls somewhere in the middle. It weighs just under 5 pounds including the 2.0Ah battery we tested with. At 8.5 inches tall and 9.5 inches wide you can fit it just about anywhere—making it great for trailers, trucks, SUVs, or anything with a trunk or toolbox. The flexible handle gives you an easy, if unusual, grab and carry point.
Included Accessories and LED Light
The Greenworks 24V battery-powered inflator stores everything right on the tool for easy access. The left side gives you access to the high-pressure hose wrap as well as three adapters. You get a brass Presta adapter (not plastic!), a pinch valve adapter, and a sports ball needle.
Lastly, the low-pressure hose detaches completely and wraps around the base of the inflator body for easy storage.
An integrated LED light lets you actually see what you're doing when you need to inflate a tire in the dark. As a potential emergency-use tool, we love this feature.
Turning it on takes a simple press of a button on the left side of the control panel. While not as bright as a high-lumen flashlight, it delivers good close-range lighting for the task at hand.
Using the Greenworks 24V Battery-Powered Inflator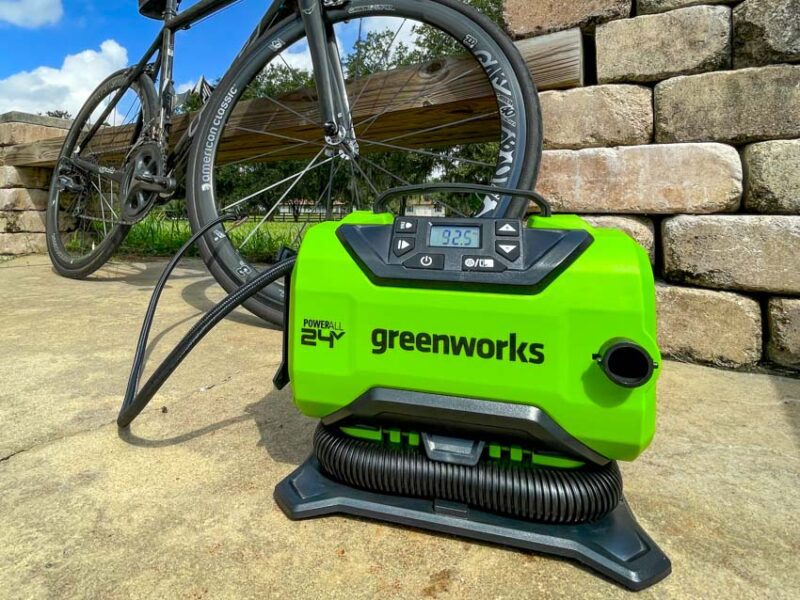 The Greenworks 24V battery-powered inflator supports pressures up to 160 PSI. We used it to top off vehicle tires, zero-turn mower tires, and even high-pressure bicycle tires. It will take a car tire from 28 to 35 PSI in less than 2 minutes.
The controls function intuitively. First, turn on the inflator and then use the + or – buttons to set your desired pressure on the (backlit) LCD display. Pressing the "play" button begins the inflating.
An auto-fill shut-off function lets you set the desired PSI. Once the Greenworks 24V inflator reaches the target pressure, it stops inflating.
We doubt you'll need the full 160 PSI capability of this inflator. Larger trucks might need 100 PSI and road bike tires can get up to 120 PSI. The high capacity gives us confidence that it can handle those lower pressures with ease.
High Volume, Low-Pressure Air
Use the Mode selection button (tire/mattress icon) to switch between high and low-pressure functions. The detachable low-pressure hose lets you use this tool to fill air mattresses, inner tubes, or just about anything else you can think of.
Note: Switching the high-volume, low-pressure hose onto the side intake port lets you quickly deflate items.
Greenworks 24V Battery-Powered Inflator Price
This Greenworks portable battery-powered inflator kit retails for $119.99 and includes a 2.0Ah battery and charger. While available on Amazon, Greenworks offered it at a lower price directly. Greenworks includes a 3-year limited tool warranty and a 3-year battery warranty.
The Bottom Line
The Greenworks 24V battery-powered inflator has your bases covered really well. From a higher-than-average PSI range to its LED light and dual power sources, it's a versatile inflator that we can easily recommend for landscapers—or anyone else for that matter.
Click here to check out some last-minute deals from Greenworks.
Greenworks INF24B210 24V Cordless Inflator Specifications
Model: Greenworks INF24B210
Power Source: Greenworks 24V battery or 12V vehicle power outlet
Weight: 4.0 lbs (bare), 4.9 lbs (with 2.0Ah battery)
Max Pressure: 160 PSI
Digital Display
LED Light
Deflator
Warranty: 3-year Limited
$Price: $119.99