KIOTI Tractor expands one of their more popular lines by adding several more models to choose from. Four new ROPS (Rollover Protection System) models and two new cab models join the KIOTI Tractor CK10SE Series. The two cab models, CK3510SE HC and CK4010SE HC, were actually added to the lineup in late 2017. Joining now are the CK3510SE, CK4010SE, CK3510SE HST and CK4010SE HST models in the ROPS variety.  These added models bring even more options and flexibility for users of all kinds.
"The CK10SE Series gives customers a powerful, yet comfortable workhorse," said Peter Dong-Kyun Kim, president and CEO of Daedong-USA, Inc. KIOTI Tractor Division. "These tractors are ready for any job; and with the versatility in model options, they are perfect for any user."
KIOTI Tractor CK10SE Series Power and Options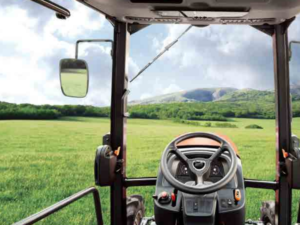 Powered by three-cylinder, inline vertical Daedong diesel engines, options are available from 34.9 to 39.6 hp. Features like hydrostatic power steering, rear independent PTO, and mechanically actuated 4WD are standard on all KIOTI Tractor CK10SE series models. Depending on your ground clearance needs, KIOTI offers three tire options to help you traverse your terrain.
Related Content: Keen Utility Baltimore work boots that perform, stay dry, and easy on the budget.
The two new HST models also include cruise control and linked pedal to aid in fuel economy during longer runs. The cabs on the new CK3510SE HC and CK4010SE HC offer a 360-degree view of your workspace with very little-to-no blind spots. These virtually all glass cabs also include standard A/C, lights all the way around, as well as powered windshield wipers on front and back.
Optional Equipment
Options for the KIOTI Tractor CK10SE Series include a mid-PTO kit rated at 2,000 rpm. This mid-PTO opens the door for powering options like the SB66 front mount snow blower, KL4030 front-end loader, and the KB2476L backhoe. Furthermore, a host of implements are available for quickly attaching to the Category I three-point hitch on the KIOTI Tractor CK10SE series.
For more information on these new KIOTI Tractor CK10SE Series models, click here .