Hooyman 40V Cordless Pole Saw Cuts Down on Seasonal Tree Trimming
Hooyman outdoor tools hit the scene and raised our interest as soon as we learned of them. Our experience with the brand's cutting, digging, and striking tools has been positive so far. The Hooyman 40V cordless pole saw was the first battery-powered tool in the lineup we had gotten our hands on. We wanted to see if this first product would hold its own against the competition.
Pros
Quick cutting
Well-balanced
Good weight distribution
Oversized trigger
Angled head design
Collapses to 4 feet
Cons
Difficult-to-access chain tensioning screw
Hooyman 40V Cordless Pole Saw Design Notes
Full-Hand Trigger
The full-size trigger on the Hooyman 40V pole saw lets you grasp it with your whole hand. That spreads the force over a larger area. Hand fatigue makes a job harder—particularly when the work is overhead. This oversized trigger design helps avoid that.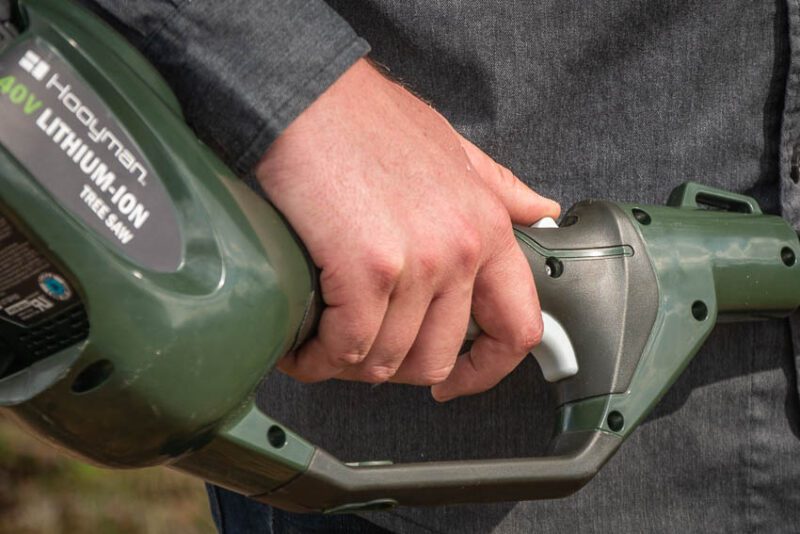 Three Piece Construction
The Hooyman 40V pole saw features an aluminum shaft that breaks down into three pieces. That lets you store away this tool much easier than if you had to find a place to put it while fully assembled. It used threaded couplers to connect each piece. They also add some rigidity to the entire pole.
The design feels robust overall—just be sure not to lose the center section! The kit even includes a zippered storage bag to hold everything together once you break it back down.
Auto Oiler
As you'd expect, the Hooyman 40V pole saw uses an auto-oiling system similar to a regular chainsaw. The reservoir holds just a few ounces of bar and chain oil and the translucent tank gauge lets you see when you need to add more. Like most (all?) pole saws, expect it to leak if you don't empty out the oil before you put up the saw.
Chain Tensioning
Chain tensioning takes a bit more effort on this saw than we'd like—though it's not atypical. You unscrew the dial on the side to loosen the system and then turn the tensioner screw on the front of the motor housing using a flathead screwdriver. While you technically have one on the scrench, the location of the tensioner makes it rather hard to access using that T-shaped tool. After making the adjustments, tighten the dial back up to secure the bar in place.
Additional Features
4-foot storage bag
Lanyard loop
Hooyman 40V Cordless Pole Saw Performance
We met up with our resident rancher and country music star, Eli Mosley , to trim some low-hanging oak branches. They were encroaching on his cow pens and needed to be removed. These particular branches ranged in size from 2 to 4 inches in diameter. To us, this made for the perfect testing ground for the 8-inch bar on the Hooyman.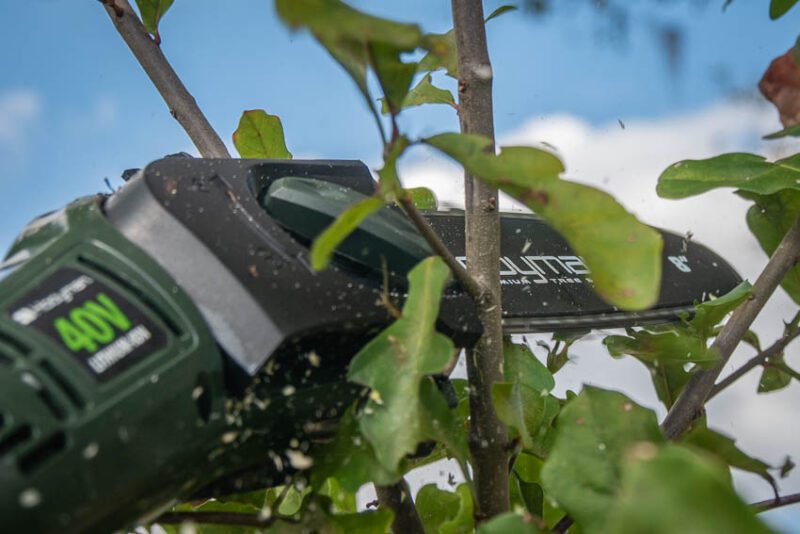 The angled head design on the Hooyman 40V pole saw gave us excellent leverage and access. Not all pole saws use this design—we prefer it. The vertical cut angle results in a safer and more predictable drop when cutting overhead tree limbs.
Hooyman's sharp standard chain quickly cut through the hard oak branches. It also did a great job clearing out chips and debris as it cut and without getting clogged up.
With a pole saw, you want the tool to do the work. Smooth cutting without having to apply a lot of downward force makes the job easier—and ensures you don't abuse the tool or chain. Keeping your chain sharp and topping off your bar oil ensures you won't have any issues when making cuts.
Overall, we liked the performance of the Hooyman 40V pole saw. It falls in the average range compared to other models we've tested to date. More powerful than entry-level models, it's not quite as powerful or capable as some of the pro models we've used.
Hooyman 40V Cordless Pole Saw Price
The Hooyman 40V pole saw retails for $324.99 on their brand product page and we found it online for closer to $230. Their kit includes the saw, one extension, a battery, and a charger.
The Bottom Line
Hooyman's cordless pole saw is a great fit for seasonal tree trimming around your home or acreage. It has plenty of muscle cut through hardwoods. Aside from its quirky tensioner screw, it's very easy to use, and its smaller storage footprint is appealing.
Specifications
Model: Hooyman PB40V-S
Power Source: Hooyman 40V System
Max Reach: 10 ft.
Bar Length: 8 in.
Weight: 9.7 lbs
Warranty: 1 year
Price: $229.99