No Boundary Wires–The 450X Automower Uses Husqvarna's EPOS System for Wire-Free Mowing
Especially if you're into science fiction, autonomous mowers are just plain cool (the R2D2s of the OPE galaxy), but most also come with hassles like property boundary wires. On second thought, we do know of one that doesn't—the Husqvarna 450X EPOS Automower.
This is the brand's first residential robotic Automower that works without the need for a boundary wire. We wanted to dive into this thing to explore its core technology.
Husqvarna 450X EPOS Overview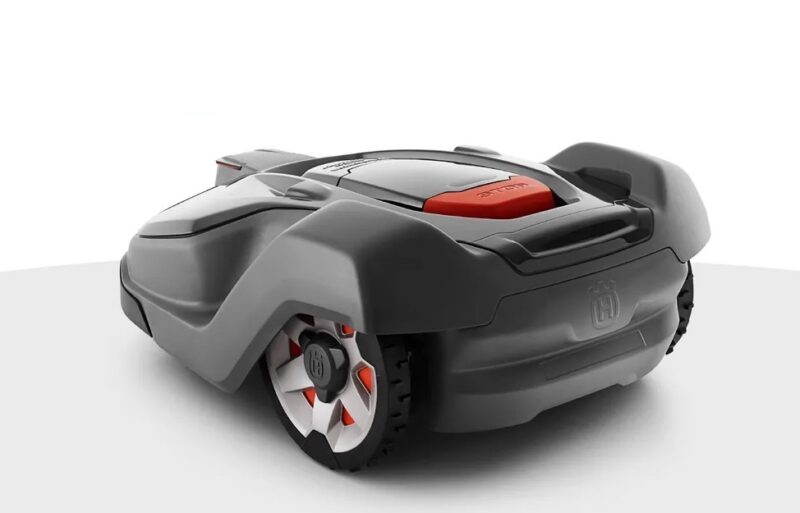 Model: Husqvarna 450X EPOS
Dimensions (LxWxH): 29.5 x 24.8 x 13.8 inches
Weight: 34.6 pounds
Ideal for lawns up to 1.25 acres
Mows 2,240 square feet per hour
Utilizes Husqvarna's EPOS
Cutting width: 9.45 inches
Cutting heights: 0.8 – 2.4 inches
Electric height adjustment
LED headlights
Built-in object sensors avoid hard collisions
Quiet operation
Automower Connect app gives you remote control
As noted above, the 450X EPOS is Husqvarna's first wire-free automower. To establish where it needs to go and where it can be, this unit utilizes the manufacturer's proprietary EPOS (Exact Positioning Operating System) technology.
So, here's a quick breakdown of what it is and what it does.
EPOS employs an extremely precise satellite navigation system that creates virtual boundaries for professional-grade robotic mowers. The result is positional accuracy of up to 1.18 inches (practically pin-point).
450X Performance and Design
When it's in action, the 450X Automower cuts 9.45-inch swaths and can mow up to 2,240 square feet per hour. According to Husqvarna, such performance is ideal for lawns up to 1.25 acres.
Driving its cutting performance are three pivoting razor blades. You can set the cutting height anywhere from 0.8 inches to 2.4 inches.
Husqvarna also offers a 450XH EPOS model that gives you higher cutting adjustments from 2 inches to 3.6 inches.
In terms of runtime, you should get about 3.5 hours (210 minutes) per charge. What's more, it handles the recharge process by itself, heading back to the docking station when it detects a low battery.
And, if necessary, the 450X can be back out on the lawn after just one hour of charging.
Husqvarna 450X EPOS Price
This autonomous mower retails for $4,999.99. It includes the Automower, a charging station and 33-foot cable, a power supply unit, and an EPOS reference station. Additionally, Husqvarna backs the 450X with a 2-year warranty.