The X-COM Active Takes Communications to the Next Level
When you're working as a team, high in the trees, communication is everything. It's also difficult to do when your teammates are spread across a worksite and, what's more, when you're all running power equipment. This is precisely the challenge that the Husqvarna X-COM Active communication system seeks to overcome.
Husqvarna X-COM Active Design Breakdown
Now, Star Wars fans may see flashes of snowspeeder pilot Zev Senesca the moment they lay eyes on the Husqvarna X-COM Active. After all, it looks a lot like his helmet and isn't too far off from the overall color scheme (the flight suit, at least).
But in all seriousness, when it comes to this gear, Husqvarna definitely went to the drawing board with features in mind.
To start with, the X-COM Active communication system accommodates up to 10 team members. More importantly, however, is what those team members can do with it.
For one, this model is a full duplex intercom/hearing protection system, meaning that it acts more like a phone than it does a walkie-talkie. In other words, multiple individuals can transmit at the same time as if in a normal conversation.
In terms of range, the Husqvarna X-COM Active enables teammates to spread out as far as a 1/4 mile. And, if they want to break into smaller groups, you can also open up to three private channels.
Some additional features include Bluetooth 5.2 compatibility. This enables you to listen to your favorite music or Podcast. You can even take phone calls.
And of course, arborists are traditionally all-weather workers, which means that their communication/safety system has to be as well. In this case, the Husqvarna X-COM Active is IP45 rated and built to withstand rain, wind, cold, and heat.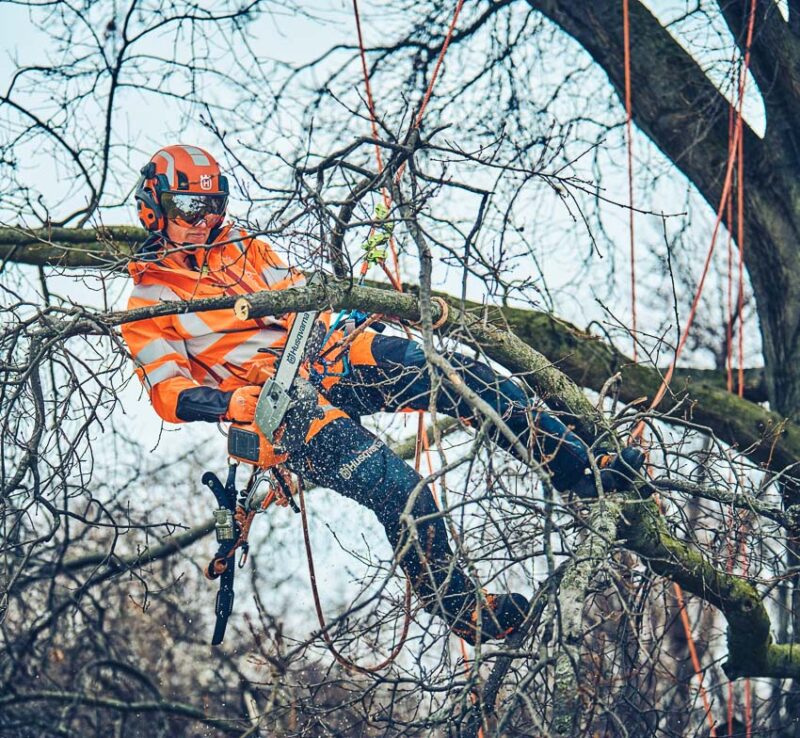 Features
Model: Husqvarna X-COM Active
Full duplex intercom
Communicate w/ up to 10 teammates
Range: 1/4 mile
Open up to three private channels
Bluetooth 5.2 compatible
Be sure to check out our articles on the Stihl Forestry Helmet System and the Buckingham BuckTree Agility Saddle!
Husqvarna X-COM Active Price & Availability
The X-COM Active will come in two versions–headband and helmet mount–both will start to roll out globally in August 2023.