Back in October, we got the chance to play around out at the GIE Expo in Louisville, KY, where everybody who is anybody in the world of outdoor power equipment came to show off their newest product line. One of the more fun exhibits we took a look at was put on by Spartan Mowers, one of the newer names in commercial grade mowing equipment. From everything we could tell by watching mowers tearing up the field, it looked like the Spartan mowers had plenty of hustle. On the top end of their mower line is the Spartan SRT Series. It includes the same features as their RZ and RT Series mowers, but with added Smart Ride Technology as well.
The Ride
Smart Ride Technology improves the overall quality of the ride. In fact, Spartan likens a ride in their SRT mowers to that of a sports car; less jostling makes for a smoother driving experience. The SRT package includes middle and back elastomer Tecspak dampeners in the seat and neoprene cushioning for shock absorption. It also includes Spartan's improved radial front tires that allow twice as much flex of the torsional axel. The rear tires have been designed specifically for Spartan mowers and tooled to leave fewer tire marks while increasing traction.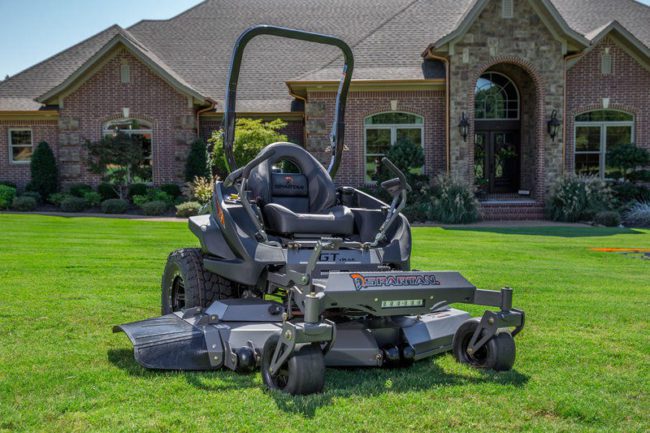 The Spartan SRT Series mowers also feature GT Trac, which provides improved incline traction, balance, and control. A custom-built, adjustable seat comes standard, as well as Spartan's patent-pending parking brake system.
The Rest
But a smooth ride doesn't mean a whole lot if the mower doesn't function all that well. Thankfully, Spartan didn't just focus on the ride, but also looked to improve and simplify the whole mowing experience. The Spartan SRT Series features a turn-dial height control for easy, painless cutting height adjustment from the seat.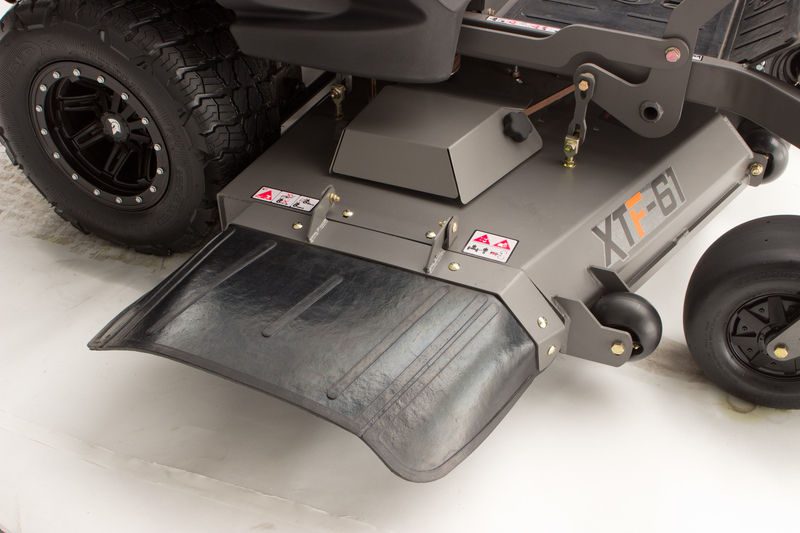 They also feature a 6″ deep extreme turf flow (XTF) deck, which has a deep front to rear for better performance. It has front and rear baffling for increased durability, and 7 gauge steel with a reinforced leading edge and attach points. It features a quick adjust leveling system as well as a plastic bumper to protect from rubbing.
The Spartan SRT Series also features a simplistic design that keeps the job uncomplicated. Spartan utilizes a simple belt design with large idlers, minimal angles, and constant belt angles to ensure a long belt life. The wiring system is plug-and-play, and these mowers feature a simple push-start instrument panel. The ergonomic cockpit features cup and phone holders, as well as a 12v port.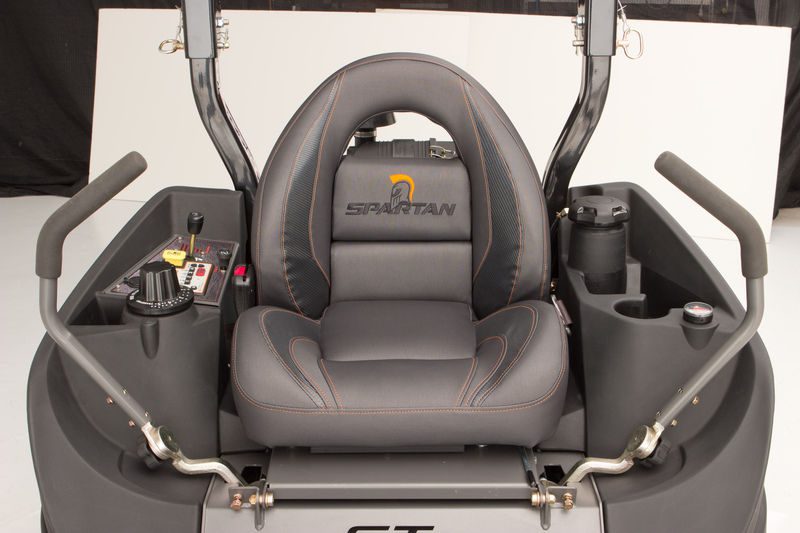 These mowers start out at $7,589 for the base model. You can, however, visit the Spartan website  to customize your own Spartan mower. The Sparta SRT Series mowers come with a 3 Year Engine Warranty, 2 Year Full Warranty, and a Lifetime Warranty on the leading edge of the deck.
Spartan SRT Series Mowers Features
GT Trac for precision traction, balance, and control
Smart Ride Technology – Improved with new radial front tires has two times the flex of the torsional axle
Seat adjustable for operator weight
Upgraded custom-built seats
Tecspak Elastomer dampeners with 360 Floating Seat System
Patent-Pending ergonomic foot brake
Soft Ride rear radial tires
Change on-the-go precision deck height control with shock assisted deck foot lift
6″ deep, reinforced 7 gauge XTF (Extreme Turf Flow)
One-piece, seven gauge deck with baffling
Long lasting belt design with large idlers and minimal belt angles. Belts keep a constant tension to maximize belt life
Ergonomic cockpit – includes storage, cup holder, phone holder, and 12V outlet
Folding ROPS
Perfectly balanced with a low center of gravity
Plug and play wiring system
Simple push-start instrument panel
Eleven-gauge steel tube frame
Vibration Control deck system
Easy maintenance access
Receiver hitch-welded into main frame rail
For a full list of specs and features, download the Spartan catalog at SpartanMowers.com .