EGO Commercial Series lawn tools are aimed at the professional landscaper and lawn care market. The EGO 56V power plus system has proven to be among the top in the industry for homeowner battery-powered lawncare tools. Included in the new lineup are the backpack battery, harness, string-trimmer/brush-cutter, hedge trimmer, and blower. This dip in the Commercial pool may be new for the US, but it seems that the UK has already received them.
https://www.instagram.com/p/BpCrG79BUWb/
With more and more noise and pollution ordinances being implemented in our communities, this provides a great opportunity for the EGO Commercial Series line of tools. As communities elect to become quieter and less smokey, how do the lawn care professionals cope? They turn to battery-powered tools that supplement their gas-powered equivalents. But, does the EGO Commercial Series enable these same Pros to turn away from gas altogether? Doubtful, in my opinion, but we are getting closer.
EGO Commercial Series 56V Lineup
Different from the existing onboard battery line of homeowner tools, these new EGO Commercial Series tools all utilize power coming from a 56-volt backpack battery. The individual tools are tethered to the backpack battery through a transferrable power cord.
Related Read: GIE Expo 2018
EGO Commercial Series Battery Pack (BAX1500)
1568WH capacity at 56-volts, with 28Ah (amp hours)
1200 cycles
Commercial 120-volt charger
Retractable carrying handle
LED Fuel gauge
Air vents cool the battery
12-volt and USB charging ports
Industrial cable and plug
IP56 weatherproofing
Weight: 19.8 pounds (without the harness)
Harness and battery pack sold separately
Available: Spring 2019
MSRP: $1299.99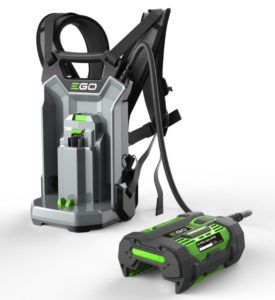 EGO Commercial Series Battery Pack Harness (AFH1500)
Model: AFH1500
Designed to be comfortable and sturdy during long hours
IP56 weatherproofing
EGO Commercial Series 120-volt charger (CHX5500)
Rapid-mode: charge battery in 210 minutes (3-1/2 hours)
Normal charging: 420 minutes (7 hours)
LED charging/diagnostics indicator
Available: Spring 2019
MSRP: $99.99
EGO Commercial Series 15-inch String Trimmer (STX3800)
Model: STX3800
Brushless motor with up to 330 minutes runtime
Brush Cutter Included
Aluminum motor housing
"D" handle with safety barrier
Carbon fiber shaft: extremely strong but very light
Heavy duty gearbox
Variable speed trigger with lock-off lever
Uses 0.095 line with manual wind/bump feed head.
IP56 weatherproofing
Weight: 14.3 lbs
Available: Spring 2019
MSRP: $399.99
600 CFM Blower (LBX6000)
EGO Commercial Series LBX6000 Blower

Model: LBX6000

Brushless motor with up to 350 minutes runtime
Four-level mode selector with boost
Variable speed trigger
Easy attachment and detachment of the tube
Narrow and cone nozzles
Maximum air volume: 600 CFM
Maximum air velocity: 132 mph.
IP56 weatherproofing
Hanging hook for storage
Weight: 5.9 lbs
Available: Spring 2019
MSRP: $399.99
EGO Commercial Series 25-1/2-inch Hedge Trimmer (HTX6500)
HTX650 Hedge Trimmer

Model: HTX6500

Brushless motor
Runtime: 420 minutes
Laser-cut diamond ground blades
Metal cutter guard
Blade tip protector
Serviceable gearbox
Cut capacity: 1-1/4-inches with a dual-action
IP56 weatherproofing
Weight: 8.5 lbs
Available: Spring 2019
MSRP: $399.99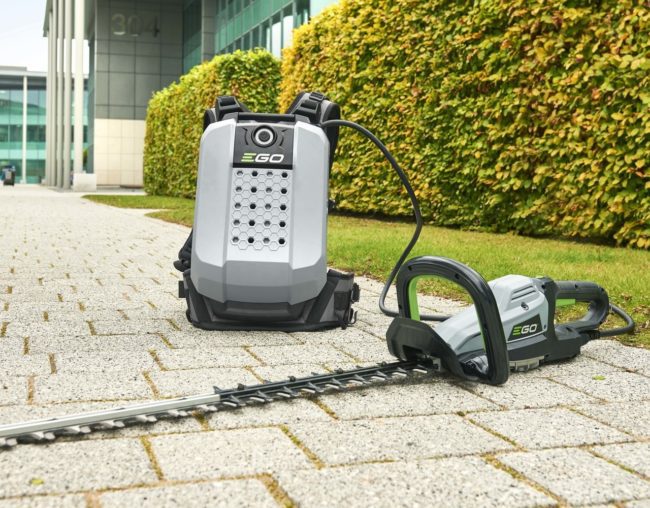 Wall-mount Storage Rack (AWH1500)
EGO Wall Mount

Model: AWH1500

Available: Spring 2019
MSRP: $49.99
Our Thoughts
We're always excited to see innovation with battery-powered lawn care tools. EGO has a proven system that works very well, and it makes sense to make a move into the commercial market. Our concern here is the requirement of a backpack to power all your tools. Fall and Winter may not matter, but Spring and Summer in Florida, that's another story. We'll get our hands on some of these soon and give them a good shakedown, and it's still deep in the 90s here in Central Florida.
The complete EGO Commercial Series is due to hit the shelves in the Spring of 2019, and the prices have now been released. There are no details on the EGO Powerplus site yet, concerning the EGO Commercial Series. We had a few moments to hold them when we were at GIE Expo, and we hope to get some real units to test soon. Be sure to keep up with us on social media, so you get the latest news.
Editor's Note: This article originally published on September 6, 2018.