Ridgid Gears Up for Spring With Its 18V 14-Inch String Trimmer
Over the years, Ridgid has earned a solid reputation for sturdy, dependable power tools native to the workshop and job site environments. They've also moved into OPE territory with products like the Ridgid R01201 18V Battery-Powered String Trimmer.
Here's what we found after putting it through the paces.
Ridgid 18V String Trimmer Performance
No-Load Speed: 0-5200/6200 RPM
Line Size: 0.095 in.
Max Cutting Swath: 14 in.
Feed Type: Bump
Like other trimmers, the R01201 has two cutting modes that give you a no-load speed range of 5200 to 6200 RPM. The modes themselves allow the operator to select either maximum power or a more conservative setting for longer runtime.
For a residential model, these are impressive speeds that, combined with the 0.095″ line and 14″ cutting swath, make this trimmer a worthy adversary to challenges like moderate overgrowth.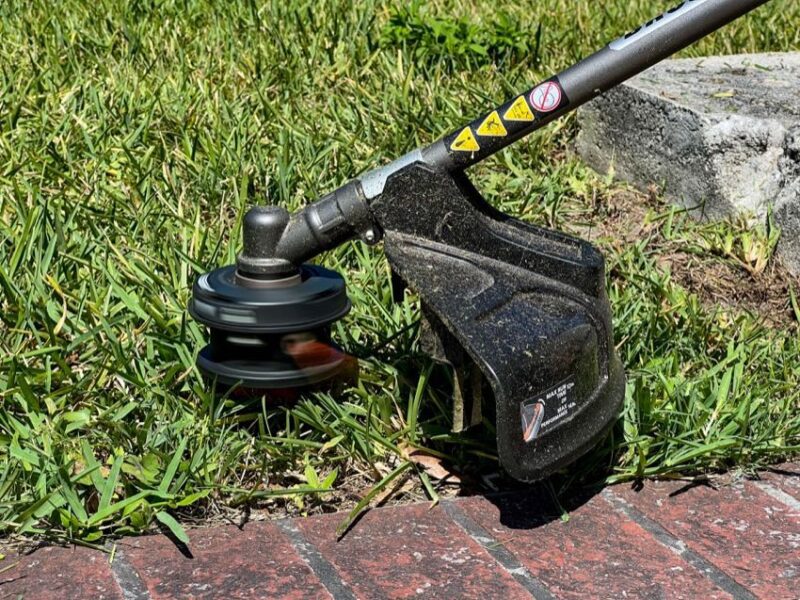 Based on our tests, the Ridgid 18V String Trimmer performed well with St. Augustine and Bahia grass around our shop. And while the RPMs did drop when we hit more fibrous grass and weeds, a few extra passes did the trick.
Ridgid 18V String Trimmer Design
Model: Ridgid R01201
Power Source: Ridgid 18V battery
Overall Length: 71-1/2 in.
Shaft Type: Straight
Weight: 7.9 lbs. (bare), 9.5 lbs. (with 4.0Ah battery)
Straight away, certain design features stood out.
For example, the Ridgid R01201's rear-mounted brushless motor and universal direct drive connection come with a useful advantage. Because this design doesn't need a cord running through the shaft to the head, you can separate the unit into two pieces for compact storage.
Please note, however, that this model is not attachment capable.
Moving on, the trimmer's handle was another plus. The R01201 features a textured rubber overmold that enhances grip and control.
Additionally, the three-finger trigger houses a spring-loaded safety that prevents accidental activation during transport.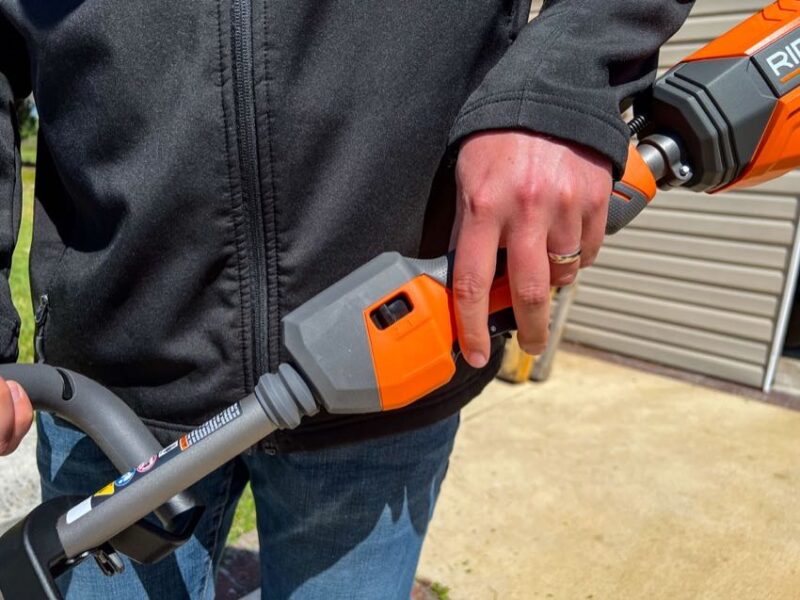 The Ridgid R01201 18V String Trimmer weighs in at 10 pounds with the kitted 4.0Ah battery. Given that most of that weight is in the back, the operator can easily maneuver the trimmer head in tight spaces and around landscaping.
Line changes on this unit are quite simple thanks to Ridgid's speed load head. Just feed the line through the trimmer head and use either the included tool or your hand to wind the spool clockwise. As a result, disassembly requirements are minimal.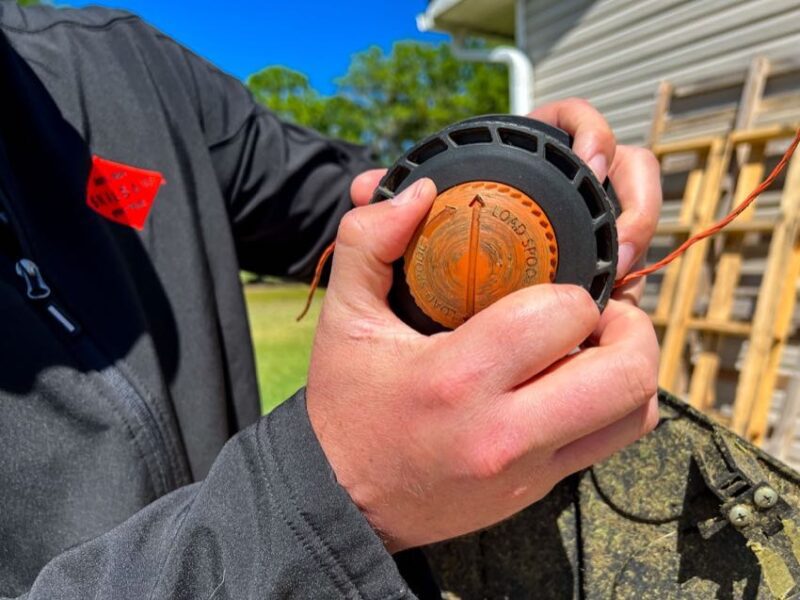 If, at some point, you do need to disassemble the trimmer head, twist the head to the "unlock" position and pull it apart. This allows access to the internal spool for maintenance or clearing tangled line.
Additional Features
Adjustable line cutter
Compatible with all Ridgid 18V batteries
Ridgid R01201 18V String Trimmer Price
As a kit, the R01201 retails for $249 at The Home Depot. This includes the trimmer, an 18V 4.0Ah battery, and a single-port charger. If you already have batteries, you can pick up the tool-only package for $189.
Each option comes with a Lifetime Service Agreement with registration within 90 days of purchase.
The Bottom Line
On the whole, this model's performance and specs are noteworthy. We like that this first-generation unit has the power to run 0.095-inch line, and with a quick-load head, no less.
In short, the Ridgid 18V Battery-Powered String Trimmer might be a tad pricy compared to others in its class, but it makes up for it in valuable features and thoughtful design.
Click here to register your Ridgid 18V tools!