Ryobi Bolsters Its OPE Fleet with the 18V Whisper Series Chainsaw
When it comes to hand-held OPE, Ryobi has a sweeping product line rich in a variety of task-related solutions. Enter the Ryobi 18V Whisper Series 12-inch chainsaw.
By all appearances, Ryobi seems to have put significant time and design resources into these products. In point of fact, the model we're about to discuss is the third 12-inch chainsaw currently available, but as part of the Whisper Series, the P2570 definitely gives us a few things to talk about.
Ryobi 18V Whisper Series 12-inch Chainsaw Performance
Model: P2570
Battery: Ryobi 18V ONE+ 6Ah Lithium-ion
Motor: Brushless
Chain speed: 12.5 mps
Cutting Capability: Up to 10″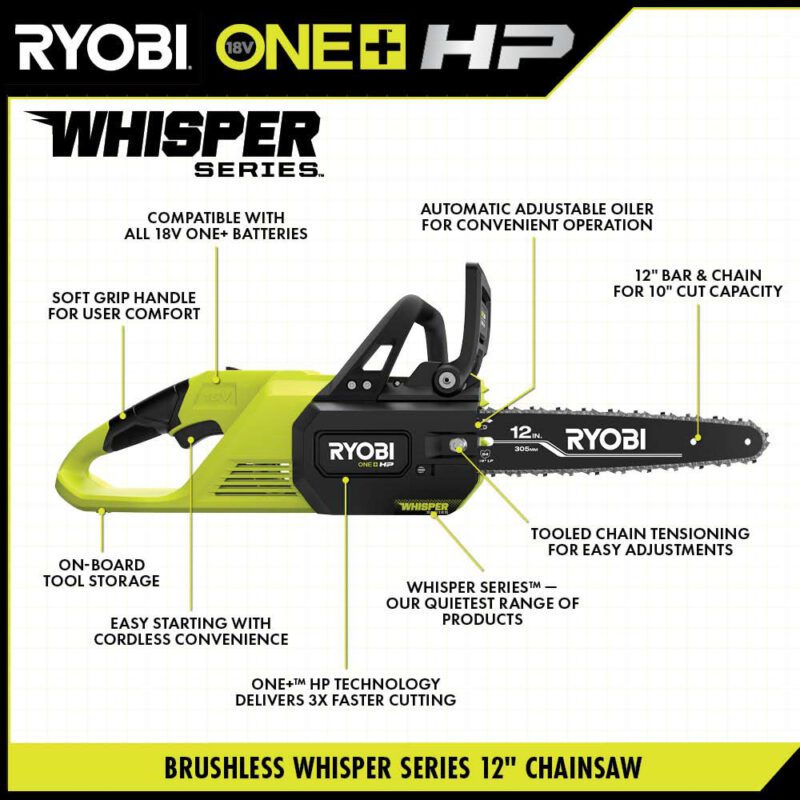 Let's begin our performance tour with the most conspicuous feature of all, and that's the Whisper Series technology. As Ryobi describes it, this system uses a variety of proprietary design elements that, collectively, make Whisper Series equipment their quietest range of products.
And when Ryobi refers to a "range of products" they mean it. The Whisper Series encompasses everything from lawn mowers and chainsaws to pressure washers and leaf blowers.
Editor's Note: Dive into OPE's product coverage and reviews for more on Ryobi's Whisper Series family. Read about the 40V Whisper Series 2000 PSI Pressure Washer and the 40V Whisper Series Leaf Blower.
But there are other things going on here, as well. For instance, word is that the Ryobi 18V Whisper Series 12-inch chainsaw isn't just quiet, it's fast.
Its high-efficiency brushless motor–along with the 12″ bar–helps the P2570 cut three times quicker than other units. On top of that, it can handle limbs 10″ in circumference.
Design Features and Specs
Automatic adjustable oiler
Tooled chain tensioning
On-board tool storage
Anyone who's ever used a chainsaw has at least some idea of just how annoying oiling can be. It's messy, and it's one more thing you have to do.
Ryobi's designers must have felt the same way because they added an adjustable oiling system that keep things well lubricated without you having to routinely worry about it. Tooled chain tensioning likewise makes things a little simpler.
Additional specs for the 18V Whisper Series 12-inch chainsaw include:
Bar Length: 12″
Chain Gauge: .043
Weight: 8.7 lbs.
Price
The P2570 comes with a chain, scabbard, scrench , and an 18V ONE+ 6Ah Lithium-ion battery and charger. It retails for $249 and carries a 3-year limited manufacturer warranty.