If you're anything like me, at some point you might have wondered about the difference between straight shaft vs curved shaft string trimmers or weedeaters. Most folks might tend to think that one string trimmer design was the same as any other. I've worked on a few lawn crews over the years—as well as having spent years maintaining my own lawn. You may be tempted to think that one trimmer design works exactly the same as the other.
You'd be wrong.
In our recent best string trimmer review article, we featured exclusively straight shaft models. There's a reason for that. It's the preferred form factor for cordless at present. While some curve models do exist, manufacturers don't give them as much attention. We'll try to articulate why that might be the case in this article.
The Inner Workings of Straight vs Curved Shaft Weedeaters
String trimmer shafts differ in both form and function. In both curved and straight shaft gas trimmers, a motor connects to a cutting head by way of a shaft. The shaft on both models is going to be where the handle and the throttle are mounted. Within the metal shaft, a drive cable runs the length of the shaft, spun by the engine, and turns the cutting head at the other end of the trimmer.
The curve of the shaft, or lack thereof, influences the construction of the drive cable. In a model like the Makita brushless curved shaft string trimmer, the drive cable needs to be flexible to accommodate the curve in the shaft. This has a direct effect on the durability of the cable, as the drive cable constantly bends and spins within the metal shaft. This shouldn't be too much of a concern with light or moderate use. However, there is an entire market for replacing those flexible drive shafts. Professional users will probably look for more durability.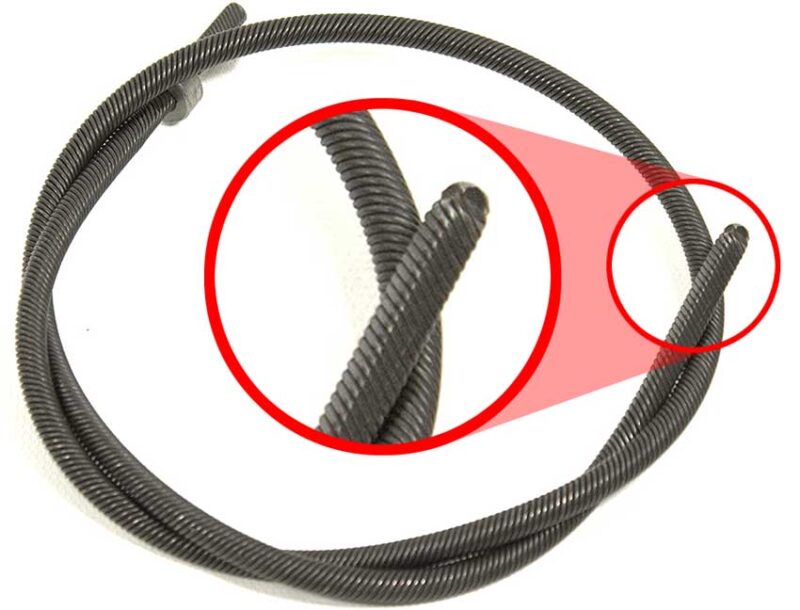 In a straight shaft system like the EGO Power Head string trimmer, the drive cable accomplishes the same function, but since there is no curve to account for, the cable is less vulnerable to breakage. Straight shaft string trimmers can employ a variety of driving mechanisms, from steel cables to solid steel driveshafts. Because the drive cable/shaft experiences less bending, straight shaft trimmers tend to hold up better over time.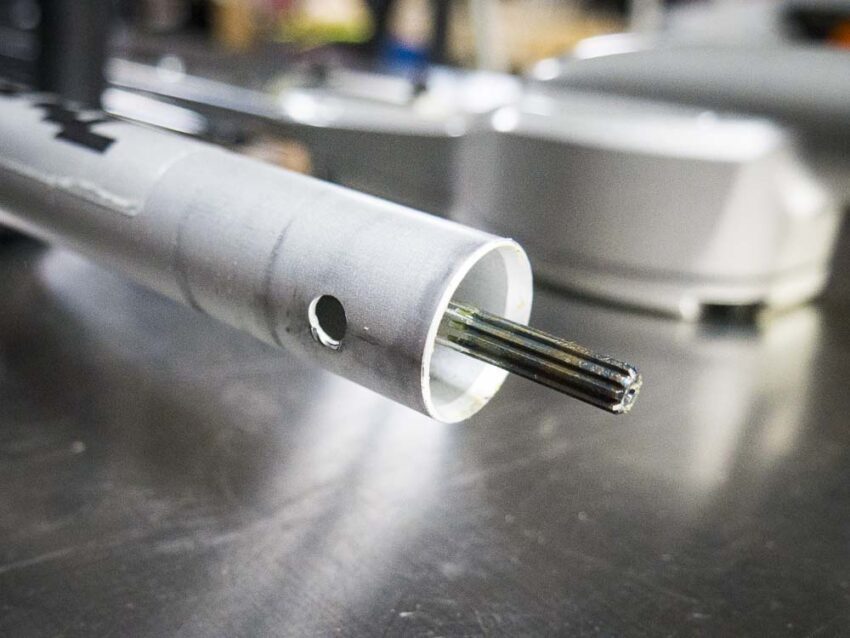 Straight Shaft vs Curved Shaft String Trimmers Pros and Cons
Aside from the aforementioned durability considerations, both the curved shaft and the straight shaft design have their own respective pros and cons to consider.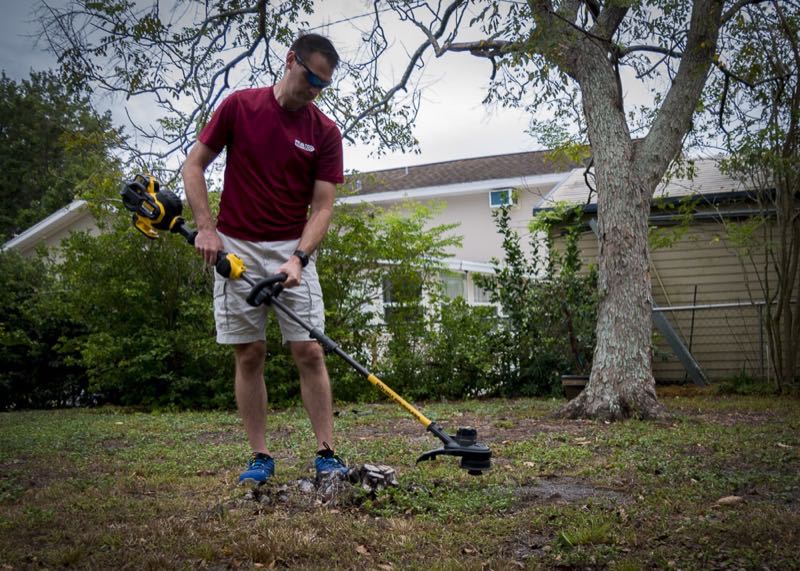 Pros and Cons of Curved Shaft String Trimmers
A curved shaft usually means a shorter shaft. This results in a lighter string trimmer, which can be beneficial for longer jobs. Curved shaft trimmers also tend to feel well-balanced, which helps with maneuverability in close areas. Because of their reduced length and weight, curved shaft trimmers might be the preferred option for shorter folks, as well as people who only have a smaller area to manage. You can manage yards that require less heavy-duty trimming more quickly and easily with this design. Curved shaft string trimmers also tend to cost less than their straight shaft counterparts.
The curved shaft design does have its cons, though. For one, taller people will be forced to bend over, which can become uncomfortable. The curved shaft can also get in the way when trying to get under lawn furniture, decks, or underbrush.
Also, because of the arched driveline, a curved shaft trimmer generates less torque (and thus cutting power) than a straight shaft would allow. As previously stated, the lifespan of the drive cable typically loses to a straight shaft. Due to the curve, a cable driveline remains the only option for the curved shaft user. In fact, the available options generally become very limited with this string trimmer. Curved shafts usually won't accommodate attachments, and users tend to be relegated to the world of lighter duty nylon string. These negatives likely won't outweigh (see what we did there?) the benefits of reduced weight for casual users.
Pros of Curved Shaft Trimmers
Better ergonomics for shorter users
Typically lighter weight
Excellent reach against walls, fences, and other boundaries
Overall less expensive (accompanied by typically lower performance)
Available as an option for two-piece powerhead models
Cons of Curved Shaft Trimmers
Not as user-friendly for taller users
Curved shafts experience greater wear over time
Cannot reach underneath decks, bushes, and other obstacles
Less effective at edging
Pros and Cons of Straight Shaft String Trimmers
The straight shaft trimmer or weedeater design is more functional. First of all, the straight shaft will be longer, which extends the reach. Taller people will quickly appreciate this. Also, a straight driveline generates less vibration, and because of a lower gear reduction, straight shaft trimmers generate more torque.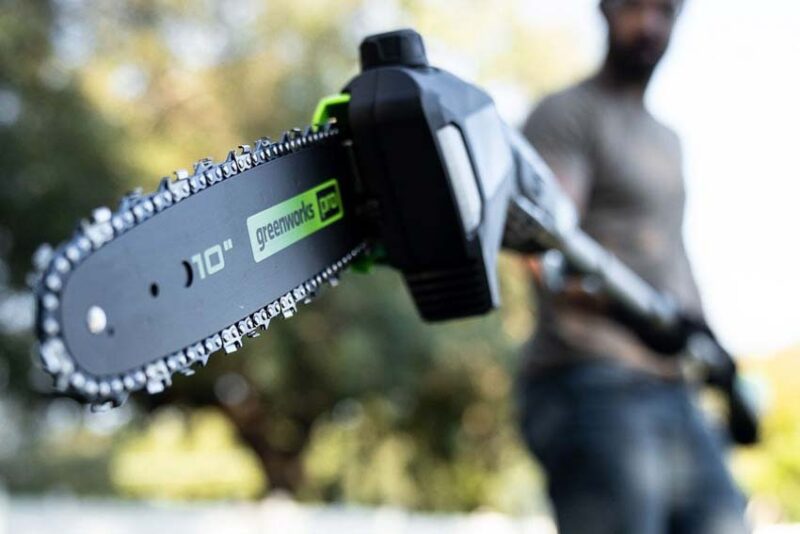 Sometimes the straight shaft vs curved shaft debate doesn't need to happen. Two-piece powerhead units allow for more flexible use. These attachment-capable tools can choose the greater torque and power of a straight shaft string trimmer or the ergonomics of a curved shaft.
Manufacturers make many accessories for these power heads. Additionally, these tools tend to support larger string gauges. Metal and plastic cutting blades can even replace trimmer line should the need ever arise. These tools also let you replace the weedeater head with a pole saw, edger, articulating hedge trimmer, power brush—even a cultivator for tilling soil.
In the straight shaft vs curved shaft string trimmers argument, the extended straight shaft string trimmer typically weighs more and feels less balanced than curved. Because professionals are likely to use straight over curved shafts, the increased quality of the components also drives up the price. Pro-grade models tend to include more features, further affecting the price point.
Pros of Straight Shaft Trimmers
Better ergonomics for taller users
Excellent reach underneath decks, bushes, and other obstacles
Typically found with higher-performance models
Available as an option for two-piece powerhead models
More effective at edging
Cons of Straight Shaft Trimmers
Not as user-friendly for shorter users
Straight Shaft vs Curved Shaft Weedeaters – Pro or Homeowner?
For the lawn care professional, or even serious landscaping enthusiasts, the question of straight shaft vs curved shaft weedeater matters. Having the right tool for the job at hand helps streamline the work. Around here, we find obvious benefits to "working smarter, not harder".
Professionals Almost Always Choose Straight Shaft
Straight shaft string trimmers or weedeaters make a lot of sense for those requiring a more functional and durable option. Professionals who pick up a trimmer 15 times a day will, no doubt, benefit from the increased durability and power a straight shaft provides. When time is money, the ability to move through a job quickly becomes paramount. And, with the extended reach a straight shaft provides, you'll likely spend less time bending over. This will save you some stress on your lower back. Additionally, some straight shaft trimmers that utilize a separate powerhead can accommodate a variety of additional applications.
Curved Shaft Designs Favor Homeowners
Curved shaft string trimmers mostly appeal to homeowners not looking to use these tools daily. They also work better for users who don't have a lot of ground to cover. A lighter and more balanced unit provides better maneuverability, provided you don't need to get underneath obstacles. Those who might be "vertically challenged" also might appreciate a string trimmer that isn't as tall as they are. If your trimming needs focus primarily on grass and weeds, a curved shaft weedeater could stand out as a "smarter" option. This weighs even further considering the lower average cost of curved shaft weedeaters.
OK, Sum It Up Already!
To summarize the straight shaft vs curved shaft string trimmers argument…both have their benefits and their weaknesses. However, when considering straight shaft vs curved shaft string trimmers, your intentions matter. Do you work with these tools daily? Are you a casual homeowner with a small yard? Are you tall or short? Figure that out, and you're well on your way.