Can the Toro Robotic Lawn Mower Replace Your Lawn Serice?
Over the years, we've kept our eye on how far autonomous robotic lawnmowers have progressed in the market. While the Roomba transformed vacuuming from a manual chore to an automated robotic experience, lawns have trailed behind somewhat. Toro hopes to change that with its robotic lawn mower by implementing state-of-the-art technology. We have to admit, they seem a bit lacking in specifics at this point. We can, however, tell you everything we know so far.
Toro Robotic Lawn Mower – The Big Deal
We know robotic lawn mowers aren't new. Most, however, rely on underground boundary wires. Unlike a Roomba which maps your house on its own (or has walls to run into to keep it in line), boundary wires equate to an often expensive installation hassle.
The Toro robotic lawn mower promises autonomous functionality. It will map out and localize your yard using multiple integrated cameras.
If Toro pulls this off, that would make for a very different sort of robotic mowing experience. It would almost certainly be more favorable and appealing to consumers looking for a "plug-and-play" solution.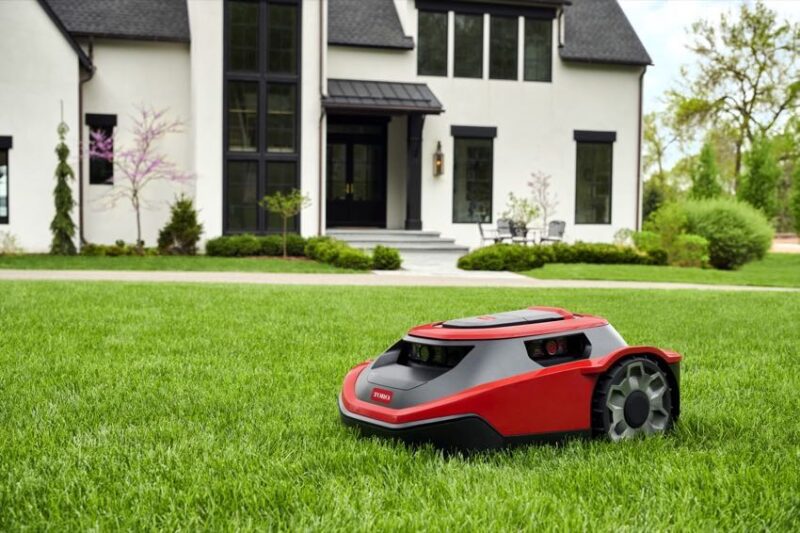 Toro Robotic Lawn Mower Technology
Notably, Toro claims the camera technology on their robotic lawn mower is the industry's first vision-based localization system. From what we currently see in the residential space, we'd agree.
Also, Toro designed these mowers to navigate tight spaces and get around structures like trees and landscaping—all without boundary wires. Additionally, the autonomous technology lets it move across driveways, sidewalks, and other surfaces without difficulty. Toro further designed these robotic mowers to handle hills (presumably 25-35 percent gradients or less) with its slope-friendly cutting capabilities.
App-Based Control and Monitoring
As you might expect, Toro also includes app-functionality for monitoring and tracking their mowers as well as for setting mowing schedules. With the app, you can also customize the settings for your Toro robotic lawn mowers.
The app can even vary your cutting times based on weather patterns. While a robotic lawn mower can certainly cut in the rain, it doesn't produce the best results and causes a lot of build-up under the deck.
Additional Features
Autonomous lawn mower navigation without the need for an underground boundary wire
Quiet
Grass height control
SmartZone settings
Theft-proof and GPS features
Parting Thoughts
Toro isn't first to the game with respect to an autonomous lawn mower. However, taking the multi-camera approach piques our interest. We will have to wait and see if this technology surpasses LiDAR and similar technologies. The idea of skipping boundary wires—which seem to suffer regularly from breaks and faults—definitely appeals to us.
Toro clearly doesn't have everything finalized. The company didn't provide us with additional info at this time. That means, pricing, cut height, runtime, and battery capacity are all still unknown. We don't even have a model number yet.
One thing we do know—Toro has been working with GPS navigation on mowers for years. Their GeoLink Solutions feature gives autonomous mowing capabilities to golf courses. That technology debuted in early 2020 at the Golf Industry Show in Orlando.
Toro Autonomous Robotic Lawn Mower Price and Availability
Even though no price has been specified thus far, we expect to hear updates before the estimated Spring 2023 release. Toro should begin taking pre-orders beginning in the Fall of 2022. You can find out more by visiting Toro's webpage for its Robotic Lawn Mower.