Husqvarna Launches New Generation of Chainsaw with 572 XP
Husqvarna is introducing a new line of saws that have been completely redesigned and built from the ground up. This new lineup offers a user-centric design that keeps the tree care Pro in mind with a balanced body, low vibration, and excellent maneuverability. The Husqvarna 572 XP, one of the brand's new 70cc models, is spearheading the new chainsaw line.
10-Second Summary
New 572 XP model sees a 12% increase to cutting capacity
Wide usable RPM range
Improved cooling capacity
State of the art filtration system improves engine performance and longevity
Best power-to-weight ratio of any Husqvarna saw; 14.5 lb saw comes equipped with 5.8 hp engine
MSRP: $999
What About These New Saws?
"We are not just launching new saws –weare launching an entirely new generation of chainsaws which are the culmination of 60 years of innovation in technology and engineering to provide forestry and tree care professionals with the best saws to cut more, better and longer. We are redefining the 50cc and 70cc segments by setting a new standard for performance, durability, and maneuverability."

-Earl Bennett, President of Husqvarna Brand Division North America
What's the Big Deal?
The Husqvarna 572 XP, representative of the new line of chainsaws, includes a higher cutting capacity, improved cooling system, new filtration system, AutoTune, low vibration, and better power weight ratios. What does all of that look like? Let's take a look.
The 572 XP has a 12% higher cutting capacity than previous models. The new engine design offers a wider RPM range (max 9,900 RPM) for the best possible performance even under heavier loads. This makes the saw even more productive, even when using longer guide bars. Cranking out 5.8 hp and 4.5 Nm of torque at 14.5 lbs., it has the best power-to-weight ratio of any comparable Husqvarna model.
Husqvarna has also improved the cooling system here. They've optimized this system to increase the reliability and extend the engine life.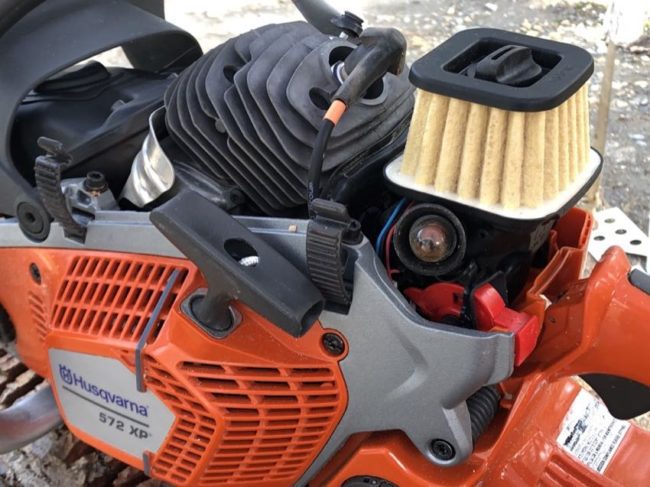 Improvements to the air filtration system have also been made. Now standard, the 572 XP also comes with a large surface heavy-duty filter. Not only do you get longer and better filtration, but this improvement results in a healthier engine that can handle longer working hours.
Finally, the Husqvarna 572 XP also features the brand's AutoTune technology, which ensures a correctly tuned engine setting. With an air/fuel mix adjustment that is 10x faster than previous Husqvarna saws, you get better engine performance in any condition.
Husqvarna 572 XP Chainsaw Specs
Cylinder Displacement: 70.6 cm³/4.3 cu. inch
Power Output: 5.8 hp
Max Power Speed: 9900 rpm
Fuel Consumption: 429 g/kWh
Idling Speed: 2700 rpm
Torque Max: 4.5 Nm
Oil Tank Volume: 0.7 US pint
Oil Pump Type: Adjustable Flow, No Flow at Idle
Weight: 14.5 lbs
Vibration at Front Handle: 5.0 m/s²
Vibration at Rear Handle: 4.1 m/s²
Sound Pressure Level at Operator's Ear: 107 dB(A)
Recommended Bar Length: 15″-28″
MSRP: $999