The DeWalt carbon fiber axe features a hollow composite handle and carbon fiber overstrike zone. With a hybrid head, it sits in a class of axes that can split or fell effectively. It's a great design for occasional use, but I want to know if carbon fiber and composite can really stand up to the task.
10-Second Summary
Model: DeWalt DWHT56033
36″ handle
4.5-pound head
Carbon fiber overstrike zone
Scalloped cutting edges
Lightweight hollow composite handle
Price: ~$50
  DeWalt Carbon Fiber Axe Key Features
Carbon Fiber Composite Overstrike: Dewalt uses carbon fiber reinforcement on the upper part of the handle where axes have a tendency to break if you miss the mark.
Scalloped Cutting Edges: These grooves in the side of the blade allow you bury the head of the DeWalt carbon fiber axe deep into the wood with less surface area for it to grab hold of when it doesn't split. This helps you get it back out easier.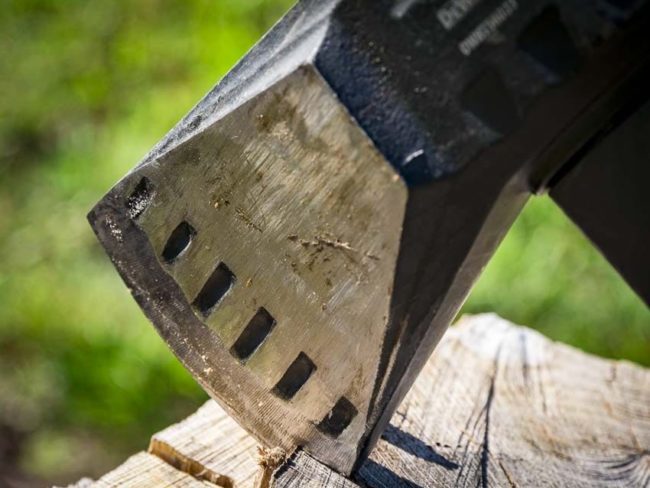 Hollow Handle: Rather than the traditional wood handle, DeWalt opts for a hollow, fiberglass composite with this axe. It has less weight and you can generate some serious wood splitting force with less fatigue.
Wide-Set Head: This type of design screams "log splitter," but it can pull double duty and do some felling as well.
Final Thoughts
At around $50, the DeWalt Carbon Fiber Axe is about the going rate for what you'd expect to pay for a decent splitting axe. That leaves the questions as to whether all those features have a tangible benefit.
The bottom line is that it does. It's light enough to reduce fatigue and sturdy enough that I'm not worried about breaking it. This axe won't replace a maul for splitting and true felling axe for taking trees down, but it's a nice design for occasional use for either.
I'd keep this on your lawn care truck to use as an everyday "just in case" axe. It also works well as a hybrid axe for homeowners that don't have a lot of splitting and felling to do during the year.
Where I like this the most is for foresters that need to hike in from the truck. Its light weight makes is an excellent supplement to the chainsaw you're also hiking in.
DeWalt Carbon Fiber Axe Specifications
Model: DeWalt DWHT56033

Grip Material:  

Thermoplastic Rubber

Height: 36″
Weight: 4.5 lbs.
Warranty: Lifetime Limited
Price: $51.06