Worx Introduces Attachment-Capable Trimmer and High Capacity Power Share Pro Battery
Worx just announced a whole stable of helpful products for the discriminating homeowner who wants to tighten up their lawn without breaking the bank to do it. The Worx Nitro 40V Driveshare System lets you swap out the string trimmer head with any of the other available Driveshare attachments: a hedge trimmer, a brush cutter, a pole saw, and an edger. Coupled with the upgraded Power Share Pro High Capacity battery, you have all the tools you need to keep your yard in shipshape.
Worx on the Attachment System
The trimmer's system approach eliminates the need to purchase five separate tools. This is a multi-functional product, without the compromises. The attachments offer incredible performance allowing users to attack pretty much anything on their property.

Pete Denley, WORX Senior Product Manager.
The Worx Nitro Driveshare Lineup
The Worx Nitro 40V Power Share Pro Driveshare marks the company's first foray into attachment-capable string trimming. Its powerhead features a split-shaft design that connects to the grass trimmer and the other four universal attachments. It even works with other major brand's universal attachments. It features a variable speed trigger and an Eco Mode to maximize your runtime.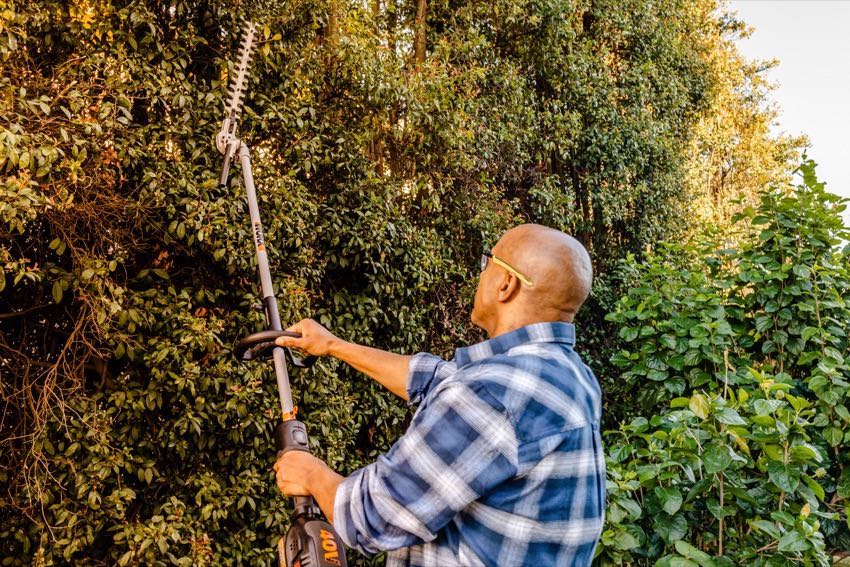 The available Worx Nitro 17″ Hedge Trimmer attachment has dual-action cutting blades. The 10-position head gives you maximum performance from just about any angle, letting you trim and shape the way you want. Worx designed the hedge trimmers for minimal vibration to help mitigate any fatigue during extended use. Worx also designed the Driveshare Hedge Trimmers with nearly an inch of cut capacity, and with a 10 ft. reach, you can trim without a ladder.
The Worx Nitro Driveshare 9″ Brush Cutter Attachment features a high-speed steel blade that can quickly hack through thick brush at up to 6,700 rpm. It features a longer shaft to give you better reach into dense brush.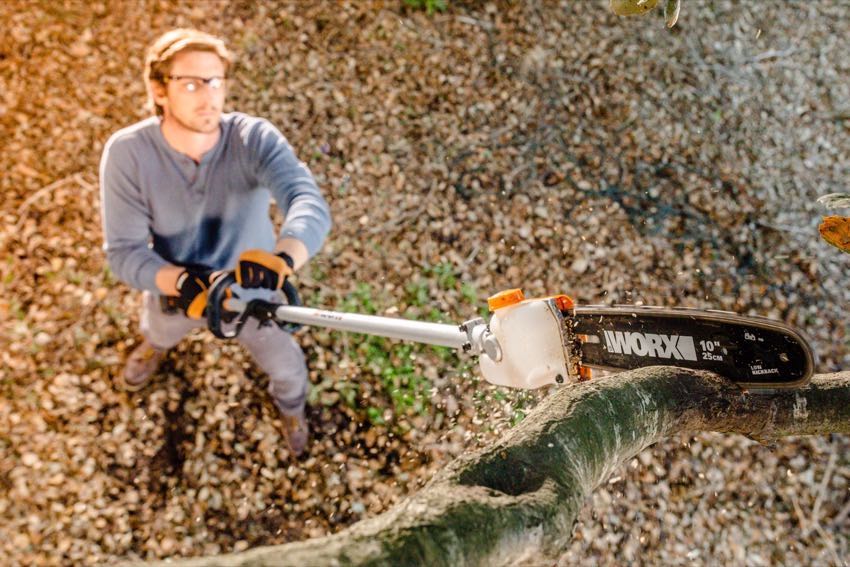 Worx also has a Nitro Powerdrive 10″ Pole Saw Attachment available. This saw has an extended reach of 12.5 feet to help you thin out trees and bushes. It only weighs 4.06 lbs., and it features automatic chain lubrication for long bar and chain life. With a 55.8 ft/sec chain speed and a 3/8″ pitch, this pole saw can get work done quickly.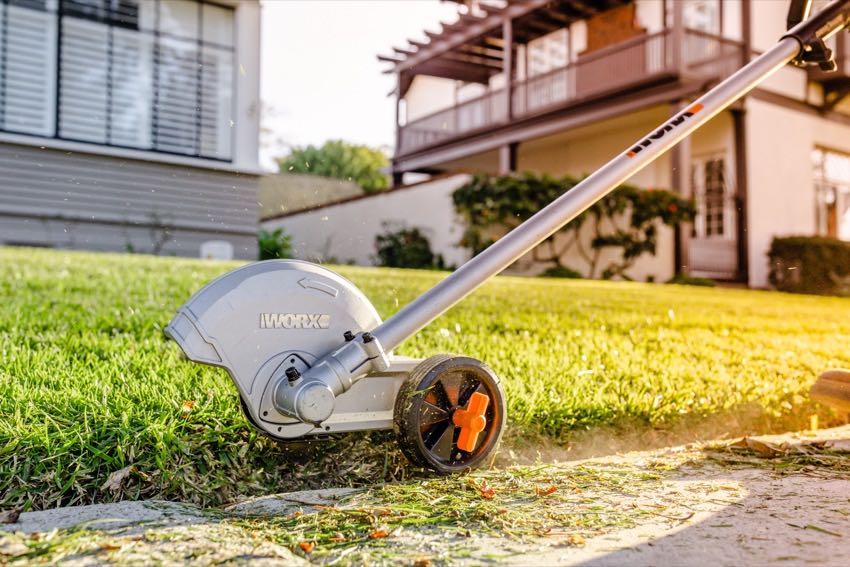 Finally, the Worx Nitro Driveshare Lawn Edger Attachment delivers clean, straight edges for a manicured look along your driveways, sidewalks, and hardscapes. It has an 8″ blade that cuts to a 2.5″ depth. A rear adjustable guide wheel keeps your lines straight.
Worx Power Share Pro Batteries
Worx has designed the system with a brushless motor that's powered by two of the new 20V Power Share Pro 4.0Ah batteries. These upgraded batteries give you improved power protection and runtime via the intelligent battery management system and cell-cooling technology. This tech has each individual cell wrapped in thermoplastic material that dissipates heat and maximizes the tool's power and performance.
Though these batteries have been specially designed for use with the Nitro line of tools, they also work with other lawn and garden tools in the Power Share program. The batteries in the Power Share Pro lineup feature charge level indicators. Worx's dual-port charger brings both batteries back to a full charge in two hours.
The Worx Nitro Driveshare system includes the 15″ grass trimmer, which uses a bump-feed line advance system and a dual-exit trimmer head. It also uses 0.095″ line.
Pricing
You can pick up the Worx Nitro 40V Driveshare system either directly through the Worx website or through any number of retailers. The "starter pack" (WG186), if you will, includes the 15″ String Trimmer and powerhead, as well as two of the 20V Power Share Pro 4.0Ah batteries and 4A Dual Charger. It will run you $329.99, and it comes with Worx's 5-year warranty.
As far as the attachments go, as well as a bare tool option, you can purchase all of those separately. The lineup looks like this:
WG186.9 Worx Nitro 40V Driveshare 15″ String Trimmer Bare Tool – $219.99
WA0220 Worx Nitro 17″ Hedge Trimmer Attachment – $99.99
WA0221 Worx Nitro 10″ Brush Cutter Attachment- $69.99
WA0222 Worx Nitro 10″ Pole Saw Attachment – $99.99
WA0223 Worx Nitro Lawn Edger Attachment – $89.99
Worx Nitro 40V Driveshare String Trimmer Specs
Model: Worx WG186
Voltage: 40V Max (2 x 20V Max)
Motor: Brushless
Cutting Diameter: 15 in.
Line Diameter: 0.095 in.
Cutting Line Length: 20 ft.
Cutting Head Type: Dual-Exit with Easy Load
Weight: 11.9 lbs.; 8.8 lbs. (bare tool)
Warranty: 5 years
Price: $329.99