Green Machine Aluminum Shaft String Trimmer Offers Excellent Value
So far, our impression of the Green Machine line of outdoor power equipment has proven positive. Most recently, we got our hands on the Green Machine Aluminum Shaft String Trimmer. We wanted to see if this consumer-oriented trimmer operated with enough power to prove a worthy solution for homeowners looking for both power and value.
Green Machine String Trimmer Design
Designed with a straight aluminum shaft, the Green Machine string trimmer measures 70 inches from the head to the battery. At 9.9 pounds (including the 2.5Ah battery) it falls on the lighter side of string trimmers we've tested. It also felt very balanced in the hand. We attribute that to the front-mounted brushless motor which counters the weight of the rear-mounted battery.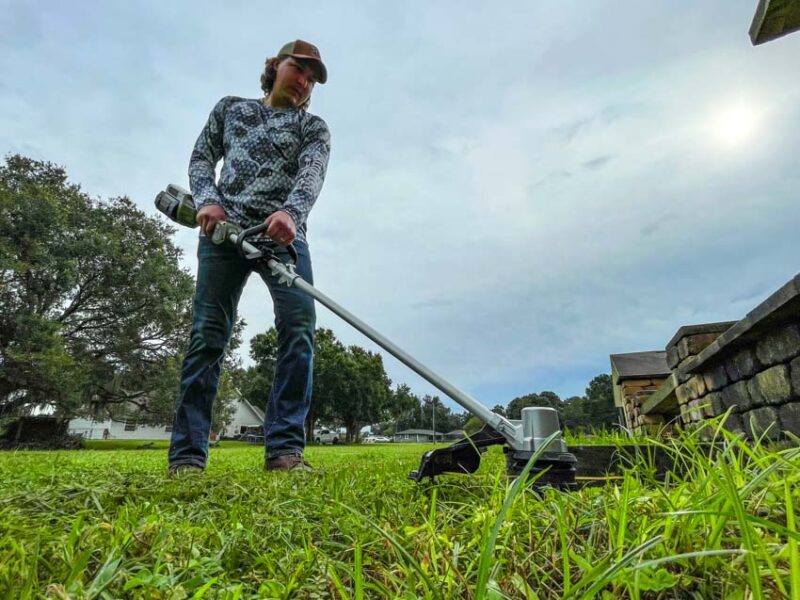 Line Changes
Changing the line on string trimmers can be hit or miss. In this case, the Green Machine Aluminum shaft trimmer scores a big win. To add or replace the trimmer line just feed 13 feet of new string through the eyelets. It supports up to 0.095″ line, however at that size we recommend feeding no more than 10-11 feet into the spool.
Center the string so that both sides measure equal length. Then, turn the cap counterclockwise to wind it into the spool. We like that you don't need to disassemble the head to wind the line by hand.
Green Machine String Trimmer Cutting Performance
Green Machine uses a brushless motor which, when using 0.095-inch line, runs at a maximum of 6300 RPM on Sport mode. The trimmer also gives you an Econ mode that drops the speed and increases runtime. Use that for lighter trimming and dry grasses.
We love Echo Black Diamond trimmer line, and this string trimmer did a good job feeding that through the bump head.
A variable speed trigger lets you feather the maximum trimmer speed as needed. This works in both Sport and Econ modes. The safety felt easy to press, but the tool definitely favors the right-handed.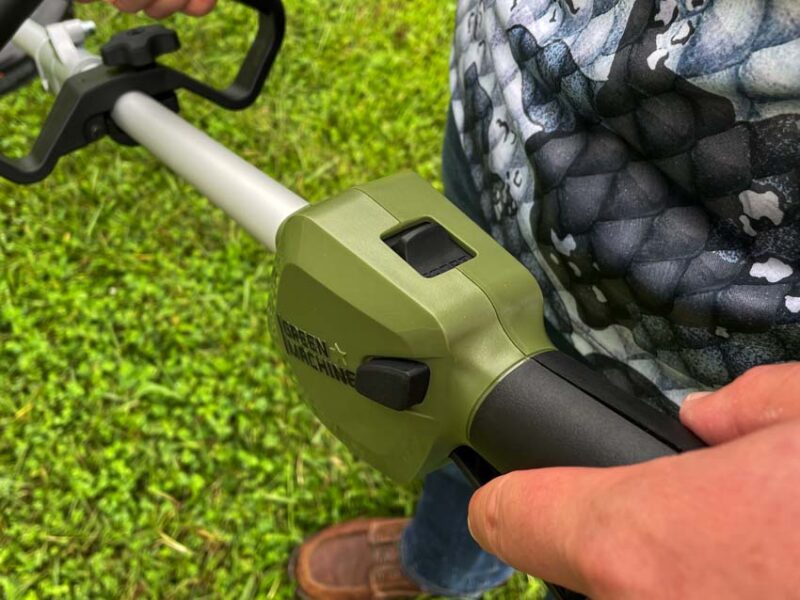 As with most string trimmers, you can flip the cutter to adjust the diameter of your string—in this case, 14 and 16 inches (the default).
Runtime
Green Machine estimates 30 minutes of runtime using its 2.5Ah battery. Convert that to trigger time, and you can handle up to 1/2-acre lawns. The Green Machine aluminum shaft string trimmer works with any of their 62V batteries. That means you can simply swap out when you need more runtime or opt for one of the company's larger packs.
Vibration
We did feel quite a bit of vibration with this model. Even so, it felt much less than any gas trimmer we have on hand. If that comes up high on your list, check out the Green Machine carbon fiber string trimmer which has much less vibration than the aluminum shaft model.
Green Machine String Trimmer Price
You can find the 16-inch aluminum Green Machine string trimmer online at Home Depot. It retails for around $157. The kit includes a 2.5Ah battery and battery charger. Green Machine includes a 5-year limited tool warranty and a 3-year limited battery warranty.
The Bottom Line
The Green Machine 62V aluminum shaft string trimmer has both the performance and runtime to impress most home users. The value makes for an incredible deal, and we love the ease of string loading and the consistency of the bump-feed head. For less than $160 for the kit, this trimmer falls under most other models with similar performance. If you want an excuse to switch from gas to battery, this might be your ticket.
Click here to see the full Green Machine lineup.
Green Machine String Trimmer Specifications
Model: Green Machine GMST6200-A
Power Source: Green Machine 62V battery
No-Load Speed: 2,500 – 6,300 RPM
Weight: 7.0 lbs (bare), 9.9 lbs (with 2.5Ah battery)
Cutting Swath: 14 or 16 in.
Motor Type: Brushless
Recommended Line Size: 0.095 in.
Length: 70 in.
Warranty: 5-year limited (tool), 3-year limited (battery)
Price: $157 (kit)