The HART 2500 PSI Electric Pressure Washer Delivers Convenience and Power
In the last decade alone, engineers have made leaps and bounds in the quality and dependability of corded and battery-driven equipment; enough so that economists expect the global marketshare for electric power tools to nearly double by 2031. Naturally, this encompasses all manner of electric outdoor equipment, including maintenance solutions like the HART 2500 PSI Pressure Washer (Model HW142511VNM).
Thanks to improvements in power, efficiency, and dependability, electric pressure washers have steadily risen in popularity among homeowners. Nonetheless, with each new model they release, manufacturers will always have to bear the onus of balancing two unchanging consumer demands in their design considerations: Delivering the convenience and cleanliness of electricity without sacrificing power.
While HART touts the HW142511VNM as their most powerful electric model yet, we wanted to see for ourselves how it measures up in features and hands-on performance. After putting it to the test, here's what we think.
HART 2500 PSI Electric Pressure Washer Performance
Max Pressure: 2500 PSI
Flow Rate: 1.1 GPM
Pump Type: Axial Cam
Motor: Brushless Induction
On-Board Soap Tank Capacity: 1 gal.
It wasn't long before we noticed a few similarities and one very telling difference. In terms of look and design, not a whole lot has changed. But again, that's in terms of look and design.
On the performance side of things, the new model has a lot more power, and that's noteworthy.
Specifically, HART has increased the max pressure by an extra 500 PSI, and the axial cam pump has a max flow rate of 1.1 gallons per minute. This output achieves a healthy pressure-to-water-flow ratio and is right on par with what we'd expect from a residential electric pressure washer.
It has enough power to adequately clean PVC fences and sundry outdoor stains, but it's still gentle enough to treat more delicate surfaces.
Editor's Note: For best results, make sure your pressure washer has adequate PSI and GPM if you plan on pairing it with a surface cleaner for larger areas.
HART 2500 PSI Electric Pressure Washer Design Notes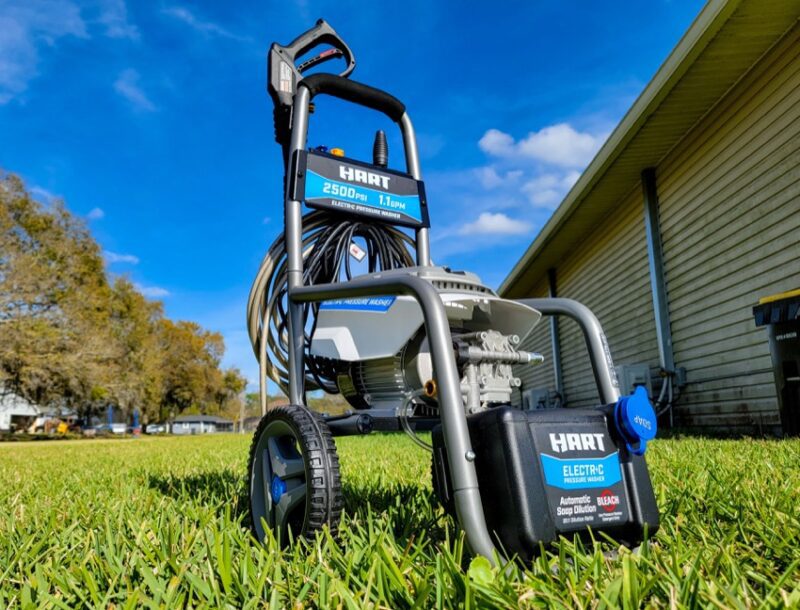 Model: HW142511VNM
Power Source: 120V AC
Hose Length: 25 ft.
Cord Length: 35 ft.
Wheel Diameter: 10 in.
Weight: 53 lbs.
Like many residential-grade pressure washers, HART designed this model for easy setup and transport. It rides on two solid 10-inch rear wheels supported by a steel-tube frame–helpful features when negotiating uneven ground. Additionally, the padded grab-bar offers a little extra comfort when moving between spots.
The wand, power cord, and hose are stored on the back of the unit, which means you won't have to bother with a knotty mess of loose ends. Moreover, the washer ships with a small variety of nozzles–15°, soap, and turbo–so, right out of the box, you're equipped with a series of simple but helpful attachment options. If you'd like to carry a spare attachment, there's room for that, too.
Additional Features
Velcro hose wrap lanyard
On-board nozzle storage
HART 2500 PSI Electric Pressure Washer Price
This 2500 PSI Electric Pressure Washer retails for $314 wherever HART tools are sold. It comes standard with a 25-foot hose, a metal spray wand, and assorted nozzles. And, as always, HART backs their product with a 3-year limited warranty. Don't forget to register your new pressure washer for seamless customer support.
The Bottom Line
All things considered, we're pleased with the performance of the HART 2500 PSI Electric Pressure Washer. It's got plenty of useful features, and the power capability is ideal for light to medium-duty applications.
If you're looking for an electric pressure washer that balances both form and function at a price set for consumers who take pride in maintaining their homes, you'll definitely want to keep this one in mind.
Be sure to check out OPE's best handheld pressure washers article to learn more about our top picks by category!