If you've checked in with us recently, you might know that we recently got the chance to test out the Best String Trimmers. We ran all of the products through a series of tests to see which ones presented the best power, fuel economy, ergonomics, feature sets, and value. The Husqvarna 525LST made our short list and really distinguished itself from the competition.
Husqvarna has been churning out quality OPE for quite some time, so this string trimmer's final position in our shootout didn't come as any great shock. It generated a lot of torque for some really quick cut times, and it strung together some really great features as well.
Husqvarna 525LST Ergonomics
While weight doesn't paint the total picture of any particular tool's ergonomics, with string trimmers, a lighter weight goes a long way. Lugging around a 15 lb string trimmer probably isn't a big deal on the first lawn of the day, but you'll feel it by the eighth. And, it just so happens that Husqvarna, in this case, makes one lightweight string trimmer. The 525LST, with fuel in the tank, weighs in at 10.36 lbs without string. This was the lightest string trimmer we tested. It ought to tempt the Pro to some degree or another, based on that fact alone.
Noise also factors into a string trimmer's comfortability. After all, no one wants tinnitus because of their string trimmer (although everyone should wear hearing protection anyway). We measured the Husqvarna 525LST sound levels at the ear, and then again from 50 ft away. At the ear, this trimmer registers 98 dB(A), and 74 dB(A) at 50 ft. These measurements fell into the better end of the middle of the pack.
As far as actual, traditional ergonomics go, we found the Husqvarna 525LST to be pretty comfortable from a tactile perspective. It has rubberized handles and it's not so short that too many of you will need to stoop over to use it. The throttle trigger does feel a little flimsy, which brings up some durability concerns. But from an ergonomic standpoint, it's really well-balanced and easy to use.
Fuel Efficiency
One of the tradeoffs for a lighter overall weight comes from sacrificing fuel capacity. The Husqvarna 525LST holds 21.98 oz of fuel—above average for most trimmers we've tested. On a full tank, it gives you nearly an hour of trigger time.
To break it down, in our 8 oz runtime test, the Husqvarna ran for 20:36. This earned it an 8th-place finish in our shootout. With a full tank, it finished in 5th place with a runtime of 44:25. It's safe to say that the Husqvarna 525LST doesn't necessarily crush it in the fuel efficiency department, but as we'll see later, there's another trade-off coming.
To keep everything fair in our shootout, we used TruFuel Premix and 4-Cycle Fuel in all of our string trimmers.
Feature Set
A string trimmer that just gets the job done is fine, but a string trimmer that makes getting that job done more easily is even better. That's why we like tools with solid feature sets. The Husqvarna 525LST doesn't disappoint in this department. It has a serviceable head, an auto-on switch, and an automatic choke. The air filter can be accessed pretty easily as well. The trimmer head features bump feeding, and while there are trimmers out there with better line fill systems, this one wasn't awful. You still have to take it apart to load up more line, but the process of doing this isn't a total nightmare.
Husqvarna 525LST String Trimmer Features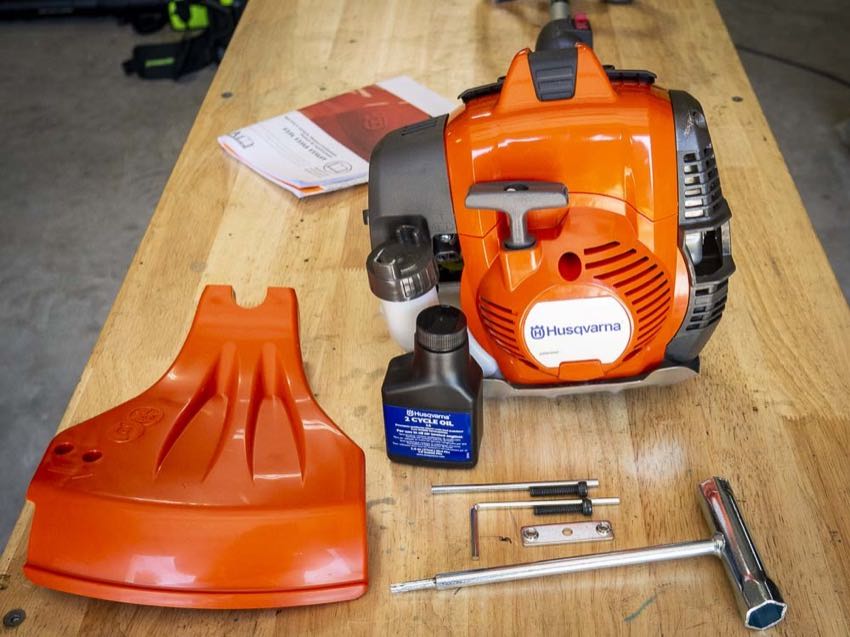 Features a special, high-torque bevel gear so the trimmer can work parallel to the ground for a high-capacity swath and superior cutting performance
Easy access standalone starter
Robust construction and easy to maintain
All designed to give you trouble-free use
Powerful, efficient trimmer
Heavy-duty clutch and driveshaft
Comfort handles for easy control
The engine and starter have been designed so the machine starts quickly with minimum effort
Easily adjustable soft-grip handle for optimum comfort
Powerful X-Torq engine technology
Dedicated space for Husqvarna connectivity device, which enables easy connection to digital services such as Husqvarna FleetServices
Integrated service port allows for connectivity to Husqvarna Service Hub.
Performance
Remember that tradeoff we mentioned in the fuel efficiency category? Here's where the Husqvarna 525LST makes up for its "meh" fuel economy because it shines in the power and performance category.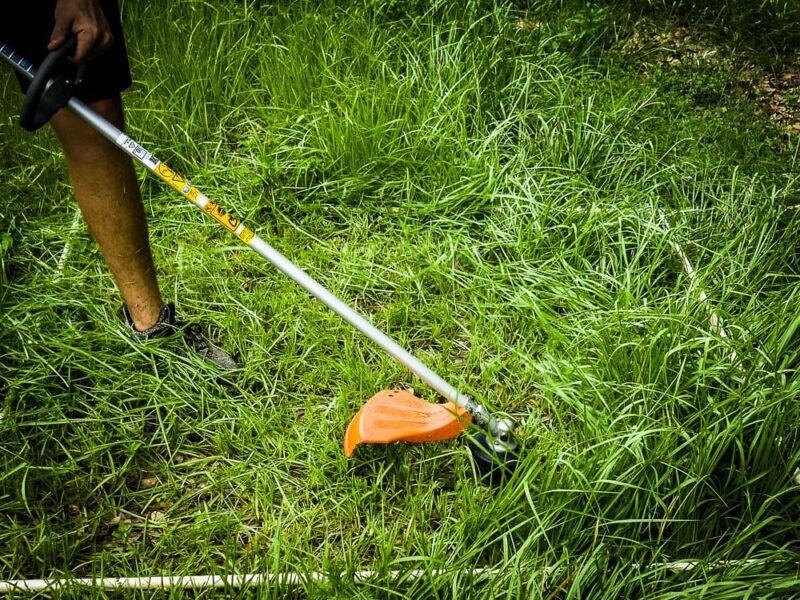 We tested our string trimmers in a 5′ x 5′ square of both regular grasses, and then again in thick, overgrown Bahia grass. In the lighter stuff, the 525LST finished in joint 4th-place with an average clearing time of 8.7 seconds. But, in the really thick grass, Husqvarna's trimmer comes alive. It averaged a clearing time of 10.9 seconds, finishing in 1st-place.
This makes some sense, as the Husqvarna 525LST features the company's x-Torq engine technology and a high-torque 2:1 gear ratio on the trimmer head. If you find that your applications would benefit from more torque, the 525LST should fit the bill.
For all string trimmers in our shootout, we used .095 Echo Black Diamond Trimmer Line.
Value
The Husqvarna 525LST retails for $339, which falls into the middle of the pricing spectrum. But, in a world where you generally get what you pay for, with this string trimmer, you're paying for some great features and a whole lot of power. It also comes with a 2-year limited warranty for a little extra value in the "peace of mind" department.
The Bottom Line
For Husqvarna loyalists, the 525LST is kind of a no-brainer. We know plenty of lawn Pros who stick to the brand exclusively because their product line tends to run well and is easy enough to service. We suspect that this model will fall right into line here.
But, what's impressive about the Husqvarna 525LST is the torque. Basically, this string trimmer can get through anything you could reasonably expect from a Pro-level string trimmer, and it can do it really quickly. For those guys who've flirted with the idea of buying into the Husqvarna line, this string trimmer makes a pretty compelling argument to go ahead and try them out.
Husqvarna 525LST String Trimmer Specs
Model Number: 525LST
Engine Cycles: 2
Engine Displacement: 25.4 cc
Fuel Tank Capacity: 21.98 oz
Weight: 10.36 lbs
Warranty: Limited 2-year
MSRP: $339
For more information about the Husqvarna 525LST High-Torque String Trimmer, check out the product page on the Husqvarna website.