Lithium-ion powered Outdoor Power Equipment (OPE) is taking off at a ridiculous pace. We had the first major push in the 40V lines become mainstream last year just in time for EGO to blow us away with their 56V lineup. This year, we see even more coming out with Worx adding a 58V platform, and Greenworks throwing out the first 80V tools. We found that some of the tools, like Kobalt's 40V chainsaw, were great for the homeowner. EGO's 56V chainsaw gave us hope that we could get real gas performance out of a lithium-ion battery. Greenworks' 80V chainsaw offered us the power to go with an 18″ bar. With all of this out there, is it even worth talking about the Husqvarna T535i XP 36V chainsaw?
My friends, an experience with this battery platform is one of those moments that make us question everything we know.
Back in the early 2000's, Macintosh computer processors were about half the speed as those being put in PC's. That was on paper. Mac's were (and still are) outperforming PC's with ease despite what appeared to be an inferior processor. We saw the same thing when we did our best cordless circular saw article when Hilti's 36V Circular Saw with a 3.9 amp hour battery blew away the saws from Makita and Milwaukee in both cutting speed and run time despite lower rated speed. What we learned in that some companies seem to get more out of their batteries than others. That's exactly what we see in the Husqvarna 36V Chainsaw. So before we move on, I want you to forget for a moment what you know about the correlation between voltage and performance, because Husqvarna is going to change your perspective.
Husqvarna 36V Battery Platform
The first mental obstacle we need to get past is the idea of a 36V battery platform. Some might think that Husqvarna just decided to try and do more with less and it just happened to work out. This is not the case at all. I think this platform is exactly what product managers needed to get the performance out of the Husqvarna T535i XP 36V Chainsaw that they required. Two cases in point – Husqvarna's Electric Corded Chainsaw and their Limbing Gas Chainsaw.
The Husqvarna T535i XP turns that 36V battery into power that puts out over 65 feet per second of chain speed. The corded Husqvarna 316EL ? Just 45 feet per second. The Husqvarna T435 seems to be the model that the Husqvarna 36V Chainsaw is designed to replace. The T435 spins at just under 63 feet per second. It's pretty clear that designers were able to get all the power they needed in a true gas replacement model.
You've got options when it comes to batteries on the Husqvarna T535i XP 36V Chainsaw, although the tool comes without battery or charger. They offer a 2.1 amp hour and 4.2 amp hour battery like most other OPE companies out there. That's good enough for you as a homeowner.
Using the Husqvarna T535i XP with a Backpack Battery
Where Husqvarna sets themselves apart and becomes a true professional landscaper's friend is in their lithium-ion backpacks.
There are two models available: the 14.4 amp hour BLi520X ($1199.95) and the 26.1 amp hour BLi940X ($1399.95). The model numbers 520 and 940 come from the available energy in watt hours. Considering the $199 4.2 amp hour battery has 151.1 watt hours, you're getting a lot more available energy in those backpacks.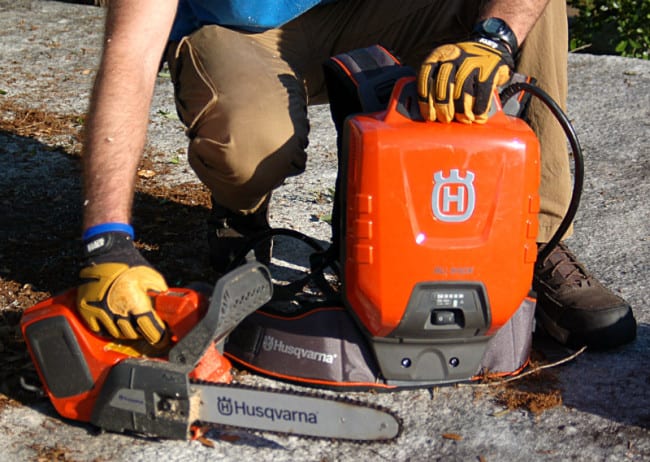 What I really appreciated about the Husqvarna BLi940X battery pack (aside from the amount of run time) was the fit. It's designed very much like a hiking backpack. Once properly adjusted, you'll carry the weight on your hips, not your shoulders. This makes the extra 17.4 pounds that carrying around much easier to bear. Snaps across your mid section and chest will ensure a correct fit along with three adjustable heights for the battery to install in the harness. There are also several points to secure the battery cable to the shoulder or hip straps should you need to keep it out of your way.
The same charger is used on all 4 battery options. I've only tested the 26.1 amp hour battery pack so far, and you're looking at 235 minutes to fully charge it.
Warranty and Support
My only concern with that large of an investment in a battery is that is something goes wrong and it's out of warranty, you're looking at a hefty replacement cost. I would think that the folks at Husqvarna are already ahead of us in that department though. The way this pack is built lends itself to the possibility of repair or simple battery cell replacement should something go wrong internally. I don't have confirmation that is in the service plan, but it seems that it could be done.
The bottom line with the battery packs is that Husqvarna has designed a battery solution that gives prosumer homeowners what they need to get the job done. They've also give professional landscapers the run time that they need to put in a full day's work. This means that Husqvarna has the first real system that pro landscapers can truly ditch the gas can for.
Husqvarna T535i XP 36V Chainsaw Features
Let's talk more about the Husqvarna 36V Chainsaw now that we've shown you that this really is a pro minded battery platform. The Husqvarna T535i XP is a 10 – 14″ chainsaw that's well suited to limbing and cutting down small diameter trees. It's lightweight enough to use easily when it comes to trimming duties that require climbing. There's a rope attachment on the back that's handy for pulling the saw up to where you are. I actually used belt eyelet right next to it with a carabiner to attach the saw to my belt loop as a climbed to where I was taking care of some trimming.
The BLDC brushless motor combines with the battery to give the Husqvarna T535i XP 36V Chainsaw true gas performance. We already see performance specs that rival the T435, which is designed for the same tasks. Husqvarna tells us that they've designed the saw to get the same run time as well. I'd assume that they're referring to the 4.2 amp hour battery with this claim. They say that one full charge will get you the same run time as a tank of gas would. Gas power and gas run time? I told you this battery platform was more than it seemed.
When you're in less stressful cutting situations, the Husqvarna T535i XP chainsaw includes the savE feature. This dials back the power some to maximize the run time. Soft or small diameter woods that don't need full power to cut can take advantage of this. You'll find the savE feature on the keypad. Power the Husqvarna T535i XP up and then push the green "e" to set it in savE mode.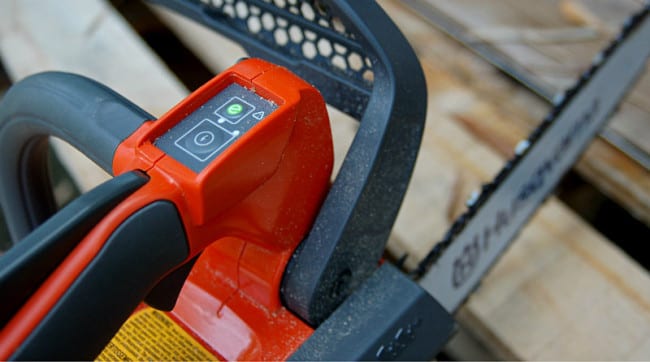 Husqvarna T535i XP Chain Brake
The chain brake is inertia or user activated. When climbing or walking with the saw, it's a good idea to keep the brake engaged. Simply pulling back on the mechanism at the front of the saw will reset the brake and have you ready to work. A blinking indicator on the keypad will let you know if the brake in engaged (or if there are other maintenance issues to check).
Chain Tension Adjustment
There are a few features that are both simple and genius that I loved about the Husqvarna T535i XP Chainsaw. First, the chain tension adjustment is a simple flathead screw on the outside of the housing. By ensuring that you climb with the chainsaw tool, you'll have everything you need to make adjustments on the fly without taking the saw apart. This is a good thing as you'll need to tighten any new chain that you install after just a short period of use as it stretches out.
In the event that you do need to access the bar or replace a chain on the fly, the nut that secures the housing in place is a retained design. It's going to stay in place when it's loosened completely, so there's no more climbing down and hoping that you can find the nut.
The oil cap is a flip up design. When you need to refill the oil (approximately every 3 battery charges according to the instructions), you just flip the lid up to unscrew the cap. The cap is kept from being lost with an interior string assembly like you find on many oil and gas tank caps.
Husqvarna T535i XP Chainsaw Specs
Model: Husqvarna T535i XP
Power Source: 36V Battery Pack (not included)
Lubrication: Automatic Oil Pump (6.7 ounce capacity)
Noise Level: 93 db(A) at operator's ear
Chain Pitch: 3/8″
Bar Length: 10 – 14″ (12″ included)
Max Chain Speed: 65.62 feet per second
Weight: 5.29 pounds (without battery and cutting equipment)
Price: $469.95
Husqvarna 36V Chainsaw Performance
I needed to tackle a trimming back an oak tree that had grown too close to some power lines for my parents. We wanted to trim the tree the way wanted rather than waiting for the power company to simply come and hack away at it. As I secured myself to the tree, I realized that the diameter of the limbs we wanted to trim back were larger than I had anticipated at 8″ and 11″. Having used other 40V chainsaws before, I wasn't terribly convinced that the Husqvarna T535i XP 36V Chainsaw could handle the task.
As I began to cut into the larger of the two branches, I realized that this saw had more realized cutting power than the others I had used. It was clear immediately that it was in another class completely. The high speed chain cut through the hard wood much more quickly than I had anticipated. Waiting only to ensure safety for both myself, my spotter, and the cars on the nearby road, The branch came down with surprising efficiency.
The experience was the same on the smaller diameter branch. Here though, it twisted down in an unanticipated way, catching my boot and the ladder without breaking cleanly away. Thank goodness for safety equipment. After ensuring that all the equipment was stable and re-establishing safety considerations, I made the rest of the cut with ease.
Limbing with the Husqvarna T535i XP Chainsaw
Once on the ground, I cut off all the limbs branching off and began the task of cutting the major branches into sizes that could be carried to the side of the road for pick up. I certainly put the saw through a lot of work, but I'd hesitate to say that I actually stressed it. The work was certainly a stressful cutting situation, but the Husqvarna T535i XP 36V Chainsaw didn't seem to mind at all.
It was during this time that I really began to appreciate the metal bucking spikes that meant business. These aren't just some throw-it-on-there-because-you-have-to-have-them spikes. They're just like the ones you'd find on a gas model.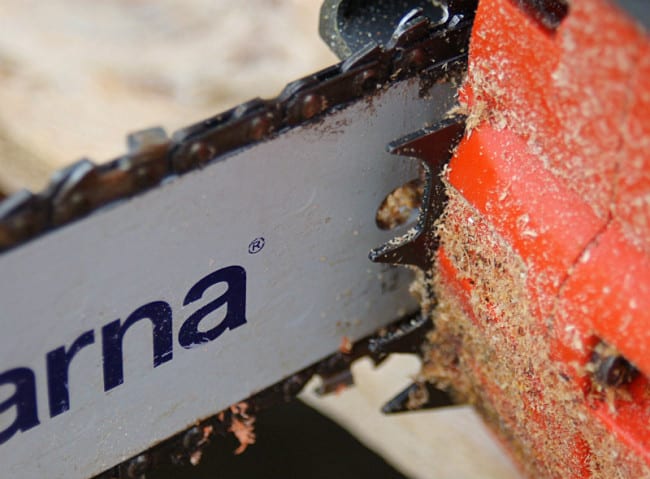 Ergonomically, there was really only one thing that I didn't care for. I was constantly wishing that I had a greater distance between my hands. The trigger hand and support handle come together to form a 90 degree angle meaning that your hands are really close to each other during cutting. I feel like that kept me from getting the leverage that I normally prefer cutting into the wood.
From start to finish, it was about a 2-1/2 hour job. The amazing thing was that I drained the BLi940X Battery Pack all the way down… to 74%. I could have worked a 10 hour day with the Husqvarna T535i XP and not recharged the backpack. That's run time that a landscaping professional can raise his eyebrows at.
Conclusions and Final Thoughts
There's going to be one obstacle that will get in the way of some people pulling the trigger on the this system: cost. It's a larger up front investment than going with Husqvarna's gas powered options. What you'll have to weight is that fact there's no gas and oil to buy and mix. There's no winterizing to do and no carbs to rebuild. You need to consider all that but remember that you're not compromising on the legendary Husqvarna quality and performance that you're used to. It still comes standard.
I learned a lot about battery systems with the Husqvarna T535i XP. It's not just about the voltage and amp hours. Husqvarna simply gets better performance out of their system than I've experienced with anyone else. If there's one thing that surprised me more than anything else, it was the cutting speed that I got out of the Husqvarna 36V Chainsaw. I almost hate including "36V" in the name because it cuts like a saw with a bigger number on the package.
Husqvarna got it right with the chainsaw and this system. There's run time that is available for the pro landscaper to work a full day. The light weight and performance of this saw will leave limbing and small tree cutting jobs with nothing wanting. If I had any lingering doubts as to whether the Husqvarna Battery Series was truly a professional line of tools, this experience has quelled it with enthusiastic finality.
We've found Husqvarna's 36V Battery Series to exceed our expectations. Be sure to check out the entire lineup!