Deere's V-Twin Mower Gives Weekend Yard Warriors a Ride
Its distinctive green is as recognizable as its name. John Deere lawn tractors give consumers plenty of options–from their S100 to their X700 series. We decided to focus on the John Deere S120 to see what it has to offer.
John Deere S120 Performance & Design
Features
Model: John Deere BG21272
30-second oil change system
Twin Pedals
LCD Fuel gauge
Let's kick things off with what makes this lawn tractor tick. The John Deere S120 comes with a 22HP V-Twin engine under the hood. Now, you might ask, what's the significance of a V-Twin?
To avoid slowing you down with too much detail, the V-Twin cylinder design gives you improved torque, smoother (and overall better) sound quality, and less vibration.
What's more, the John Deere S120 features a 30-second oil change system, which, as the name implies, shouldn't take you long to do.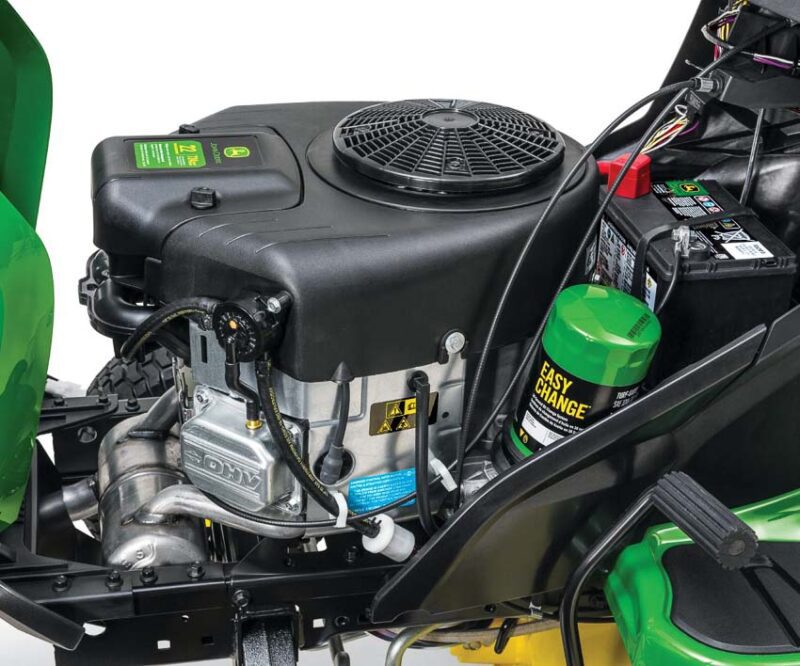 Weight: 444 lbs.
V-Twin engine
2.4-gallon tank
42-inch deck
13-gauge steel
15-inch front wheels
20-inch rear wheels
On the performance side of things, this tractor has a few facets to explore.
As we discussed in our tour of the X350, you shouldn't expect the control and turn radius of a ZT with a lawn tractor, including this one. However, the John Deere S120 does have a twin-touch pedal system, wherein you have side-by-side forward and reverse drive pedals.
This makes three-point turns and other maneuvers fluid and fast, enabling you to handle tight spots and challenging curves with less effort. You also won't be cork-screwing your rear tires into the law with every rotation.
When it comes to cutting, this model has two blades with a 42-inch deck made of 13-gauge steel. Furthermore, Deere estimates that this mower can tackle up to 1 acre.
For a small-sized lawn tractor, the John Deere S120 can also facilitate a surprising number of attachments, such as baggers, carts, aerators, spreaders, and snow blowers.
And lastly, this model has a 2.4-gallon tank and an LCD fuel gauge on the control panel.
Be sure to check out our Best Riding Mowers compilation!
John Deere S120 Mower Price
This lawn tractor retails for $2699 and comes with a 2-year bumper-to-bumper warranty.