The EGO 21 in snow blower is one of only a handful of cordless battery-powered snow blowers. When reading the rave reviews of other EGO products, I had to see how if EGO's snow blower lived up to the hype!
When you live in Michigan, snow comes with the territory due to breezes from the west, over the open water of Lake Michigan. While growing up there, my brother and sisters and I shoveled an oversized concrete driveway that was so big we called it "The Runway." Thirty years later, I now have a concrete "Runway" of my own.
The Case for an EGO Cordless Snow Blower
When you have two inches of snow, or less, the two stage, 8hp gas powered snow blower is overkill. As such, I find myself using two interlaid shovels, so I can avoid the similarly of starting, turning, and listening to the deafening noise of the two-stage. When using the shovels, I clear the driveway in fifteen minutes. Sometimes the snow is heavy, making it difficult to lift. When this happens, I either dead lift or, being a tall person, prop the shovels on my knees and lift the snow over the bank. That type of work strains the body and lands you on your chiropractor's Christmas card list. After reading reviews of other EGO products like the EGO self propelled lawn mower, the 56V EGO 21 in snow blower seemed to be a perfect fit—not too big or too small.
EGO 21 in Snow Blower Build Quality
It has been a crazy winter here in Michigan this year. The day I received the snow blower, I didn't have any snow on the driveway but had a significant amount of snow on my lawn. Of course, I did the logical thing…I tried it in my yard! My initial reaction to the snow blower was, "This is light." And it was. Assembly consisted of installing two hex head bolts with an Allen wrench for the chute. The EGO 21 in snow blower powered through eight inches of shovel piled, ice crusted, heavy snow and threw it over twenty feet. So when the next snow arrived, I was ready!
Snow started to fall around eight in the evening. By eleven o'clock, the snow was four inches deep, wet, and heavy. Even though it was late, I had to try it. I initially pushed the snow away from the doors with a shovel. I activated EGO the snow blower's LED lights, and with a push of a button and a pull of the power engagement safety handle, the snow blower came to life. It sounded not unlike a high-efficiency hand dryer.
I was impressed with the scraper's clean edge. While it didn't work well on my earlier test in the grass, it handled the driveway efficiently. It threw snow well over eighteen feet on high power. Since the EGO 21-inch snow blower is so lightweight, it moved similarly to pushing a shovel in light snow. That's a very different experience than when using some single stage or two stage snow throwers.
More Great Features
Several features are unique to the EGO 21 in snow blower, but I really enjoyed the quick adjustment chute. This feature is a directional control lever that you push forward and pull back to swing the chute left to right.
The directional adjustment is complemented by an easy squeeze grip height adjustment. Both features may seem insignificant, but if you've ever owned a single or two-stage with endless cranks adjustments you'll find the EGO SNT2103 chute controls quite refreshing.
Unlike our friends in Florida, Michigan has seasons. That means winter/summer storage space is a premium, especially when you have two kids. The fold-down design of the EGO snow blower definitely nets a huge thumbs up. The mower easily sets up and breaks down for storage. To give you an idea, the EGO 21-inch snow blower takes up less than half the space as my two-stage snow blower. It even takes about half the space of a single stage!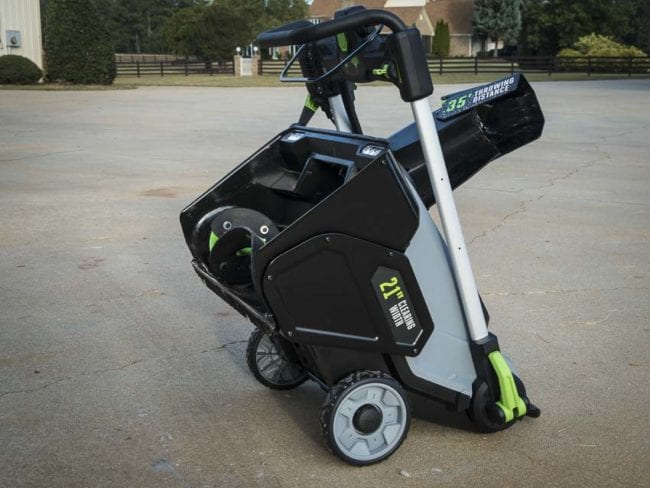 Operation
To start the EGO 56V snow blower, you just go through a few easy steps. First, open the side rails and lock them in place. Next, insert a couple of batteries (at minimum, EGO recommends a pair of 4.0Ah packs, but you can also mix and match). Close the battery cover. Next, you just press the safety button and then squeeze the bail switch to the handle. You can release the safety button once the snow blower is started.
While the snow blower isn't self-propelled, the variable speed auger drives into the snow and makes pushing the EGO quite easy.
Testing & Use
When looking to test continuous use to better understand the power limitations, you need a large area. That said, if we ever met, you would know that I like outdoor activity. To help out some friends, I took the snow blower to the lake to make a pond hockey rink. In the past, we've cleared the ice with shovels as the snow is wet, heavy, and somewhat slushy.
This presented itself as a great test for the EGO 21 in snow blower. The heavy snow was about six inches deep, and the EGO 56V snow blower knocked it out! Under continuous operation and full throttle, the dual EGO 5.0Ah batteries allowed for fifteen minutes of run-time with time to spare. That was while using the built-in LED lights.
While fifteen minutes is enough time to make a hockey rink, you should get up to sixty minutes or more with a pair of 5.0 Ah batteries. Upgrade to the $799 kit, and it comes with two 7.5Ah packs and more run-time. While EGO recommends use of the snow blower with two 4.0Ah or larger EGO 56V Arc-Lithium batteries, I also tested the snow blower with just one. Let's just say that having an optional dual battery charger would be nice. Of course, planning to charge/change your batteries is really no different than remembering to refuel like you would with traditional gas powered snow blowers.
Key Features
Push button start
Built-in LED headlights
Immediate response chute control
Compact and easy storage
Low to no maintenance
Variable speed auger control
Specifications
Model: SNT2103
Battery: 2x EGO POWER+ 56-volt packs (4.0Ah or higher recommended)
Hi-efficiency brushless motor
21-inch clearing width
Up to 35 feet snow throwing distance
Push-button start
Variable-speed control
LED headlights
Quick-fold handle for compact storage
Weather-resistant (IPX4)
Steel construction
Warranty: 5-years
Final Thoughts
While we did see twenty-eight foot of throw, we never had the right snow to see the thirty-five-foot claim. I think, given my use of it, the EGO 21 in snow blower would do it with the right kind of snow.
Considering all the benefits, the EGO 21 would be ideal for both home and office. If managing inventory of gas, oil, and storage in winter and/or offseason is a pain, the EGO 21" snow blower is ideal. As I mentioned earlier this EGO snow blower is quiet. When snow falls overnight, I generally wake up and roll out of bed and see if the driveway needs clearing around 5 am. If you're like me and clear the driveway prior to leaving for work, the EGO 56V snow blower will keep you in your neighbor's good graces.