DeWalt Adds A Pole Saw to the Extensive List of 20V Max Tools
DeWalt has just announced that they'll be releasing a new pole saw on their 20V Max battery platform. The DCPS620 will offer a 10′ – 15′ reach and an 8″ bar, making it a solid option for pruning, trimming, and clearing brush. Plus, with its brushless motor and battery power, the cordless DeWalt 20V Max Pole Saw drops some of the weight that you'd get with a gas option.
10-Second Summary
Model Number: DCPS620
Brushless Motor
10-15′ reach
8″ bar and chain, upgradable to 10″
Metal bucking strip
Auto chain oiling
96 cuts per charge on a 4.0Ah battery
8.44 lbs without the battery
Left-sided blade alignment
MSRP: $199 for the kit, $149 as a bare tool
DeWalt Cordless Pole Saw Features
The DCPS620 features a metal bucking strip for gripping wood, as well as a tree hook for grabbing and removing cut branches. It's been optimized for low kickback and fast cutting on branches up to 16″ wide. It also includes automatic chain oiling and features a rubberized grip for comfort.
It comes with an 8″ bar, though it can be swapped out for a 10″ bar and chain that aligns with the proper gauge and pitch for this pole saw. DeWalt claims that, with the kitted 4.0Ah battery, this pole saw can achieve 96 cuts per charge on 4×4 pressure-treated pine.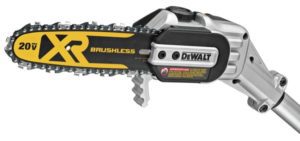 This compact DCPS620 weighs in at 8.44 lbs without the battery. They've aligned the blade on the left side of the unit for a cleaner line-of-sight and better leverage. It also has a side exhaust.
Who Is It For?
As part of a 20V platform, the DCPS620 probably won't blow anyone away with its power, but it does offer a pretty convenient and hassle-free option for work around the house. We can also see it benefitting contractors or remodelers that could stand to clear out some brush for a more comfortable work environment. It could also present a handy option to have around when it comes to storm damage cleanup.
The Pro landscaper will likely still opt for something with more power, be it gas or more voltage. But, this pole saw could definitely find some traction with folks who don't need a pole saw day-in, day-out. And particularly with folks who already use DeWalt's 20V Max battery platform.
Pricing
The DCPS620 will be available either as a kit or sold as a bare tool. As a kit, packaged with one 4.0Ah battery and charger, the DeWalt 20V Max Pole Saw will run you $199. As a bare tool, it retails for $149. In either case, it comes with DeWalt's 3-year limited warranty, as well as a 1-year free service contract, and a 30-day money-back guarantee. Look for the DCPS620 to hit stores sometime later this summer.