When it comes to property cleanup, it's hard to do without a good chipper shredder. The Echo Bearcat SC3420 chipper shredder makes mulch of any limbs up to 3-inches in diameter. Additionally, the shredding side will take care of anything 3/4-inch and smaller.
Bearcat SC3420 Chipper Shredder Features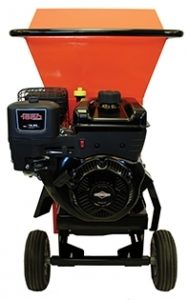 Powered by the Briggs & Stratton 420cc OHV engine, the SC3420 turns your tree and yard debris into a landscaping asset full of nutrients. The Briggs motor spins the 27 lb. rotor up to 3,600 rpm, hence spinning the chipping blades and shredding knives. Two reversible chipping blades take care of the heavy work, while twelve reversible shredding knives obliterate the smaller stuff.  Both, the chipping blades and the shredding knives are heat treated for strength and durability.  Furthermore, the Bearcat SC3420 shredding knives use a serrated edge and staggered pattern for more efficient processing and better performance.
The Bearcat SC3420 chipper shredder has Changeable discharge screens that allow the operator to control the size of the end product. These changeable screens are also available on all ECHO Bearcat chipper shredders. Lastly, a large handle spanning the full width of the Bearcat SC3420 chipper and two pneumatic tires allow simple mobility around any property.
The ECHO Bearcat SC3420 Chipper Shredder sells for a little less than $2,000. ECHO Bearcat also has a full line of chipper shredders that will fit your needs. Click the link for more information on the Bearcat SC3420 Chipper or other ECHO Bearcat products.
ECHO Bearcat SC3420 Chipper Shredder Specifications
Chipper/Shredder

Max Chipping (In.): 3
Max Shredding Size (In.): 3/4
Screen Capable: Yes
Feed System: Gravity/Self Feed
Chipper Chute Opening (In.): 3 x 3
Shredder Hopper Opening: 12 x 25
Chipper Blades: 2 Reversible Chipping Blades & 12 Reversible Shredding Knives
Rotor Weight (lbs.): 27

Engine

Fuel Type: Gas
Displacement: 420cc
Drive Belt: Dual belt drive with manual belt engagement
Start Type: Recoil
Make: Briggs & Stratton
Fuel Capacity: 0.8 gal.