The Self-Propelled Worx WG761 is Rich in Features and Power
If you haven't already heard, Worx has entered the realm of high-voltage lawn mowers, and they've made it official with the release of a 21-inch self-propelled model, the Worx Nitro 80V lawn mower. Notably, this model utilizes the new Power Share battery system, which offers cross-compatibility spanning their 20V, 40V, and 80V Nitro landscape.
And thus, we arrive at the million-dollar question: Does this cordless mower have the features and power needed to effectively replace the gas tank? As always, OPE has the answer.
Worx Nitro 80V Lawn Mower Performance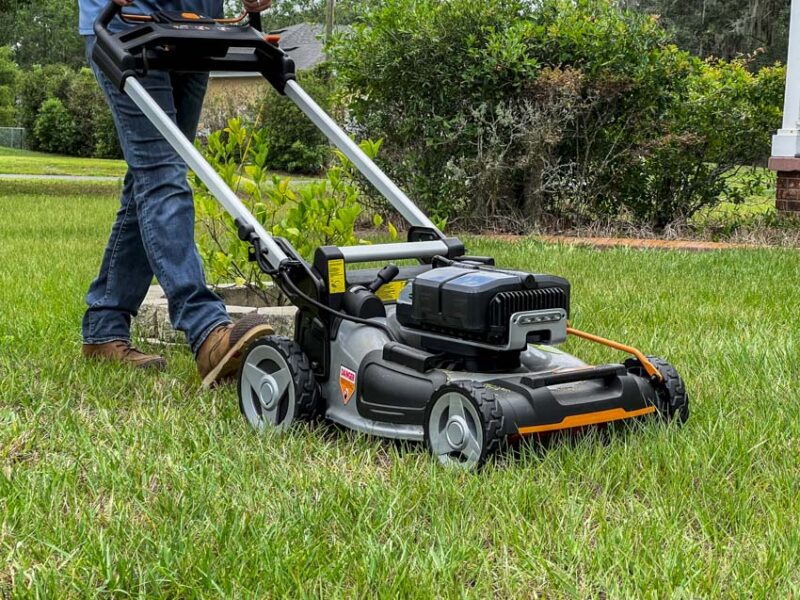 Maximum Recommended Lawn Size: 1/2 acre
Drive Style: Rear Wheel Drive
Deck Size: 21 in.
Cutting Width: 20 in.
Runtime: 47 minutes, 27 seconds
Bagging Capacity: 2 bushels
First, let's look at how you fire up the Worx Nitro 80V lawn mower. In place of the annoying, even strenuous, pull-start associated with gas engines, you have easy, two-step electric ignition.
In terms of actual mowing performance, this tool takes advantage of the Worx Intellicut system, a feature that senses grass thickness and adjusts torque accordingly. The primary benefit here is longer battery life and, in turn, extended runtime.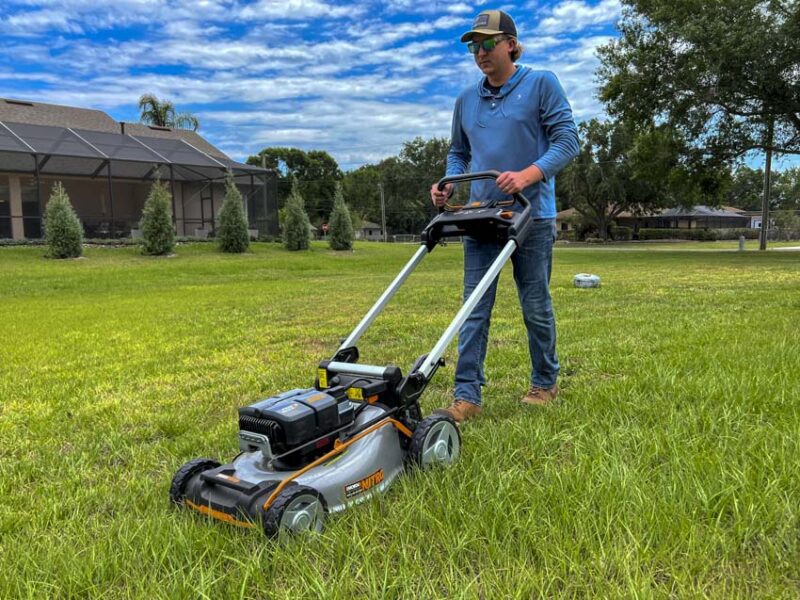 Furthermore, the variable speed control enables you to fine-tune the forward drive to match your walking pace.
For our tests, we put the Worx Nitro 80V lawn mower up against an assortment of grasses, such as St. Augustine, Floratam, Bahia Grass, and a relentless yard nuisance known as weeds.
During a standard 1.5-inch maintenance cut, a fully charged battery gave us roughly 48 minutes of runtime. This is ample for yards up to half an acre.
When it comes to disposal, the WG761 can either bag or mulch the clippings. To switch between the two modes, simply use the quick-change lever. What's more, removing a mulch plug will be a thing of the past.
Lastly, a collapsable main handle makes for compact vertical storage.
Worx Nitro 80V Lawn Mower Design
Model: Worx WG761
Brushless Motor
Power Source: Worx 4x20V battery pack
Deck Material: Steel
Deck Height Adjustment: Single point
Cutting Height: 1.5 to 4 in.
Driven by a brushless motor, this model is the first Worx product to generate its rated voltage using four 20V (5.0Ah) batteries combined in a single 4A 4-port charger/power supply. And it packs quite a punch, making it significantly more powerful than lightweight counterparts like the Worx 40V 17-inch mower.
Editor's Note: Intended to run on a combined 80V, this mower requires all four batteries to operate.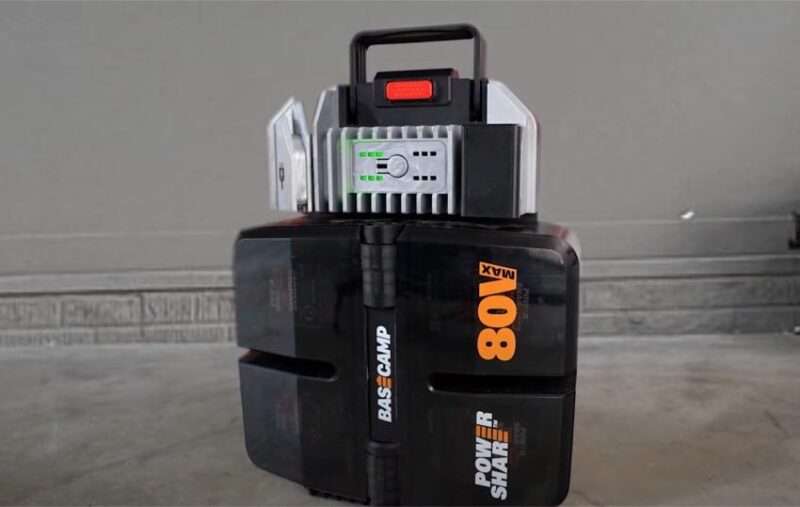 Worx WG761 Price
The Worx Nitro 80V lawn mower kit retails for $782.35 and comes with four 20V 5.0Ah batteries and a Power Share charger. Worx backs this mower with a 5-year limited warranty .
The Bottom Line
So, based on all of this, we'll answer our earlier question. Yes, the Worx Nitro 80V lawn mower has the features and power needed to replace the gas tank. If you're looking for a solid solution this mowing season (and why wouldn't you be), keep this model in mind.