Bobcat R-Series Loaders Offer Reliability, Durability, and Performance
The Bobcat company has launched four 60 frame size vertical lift path loaders to the R-Series lineup. The T64 and T66 compact track loaders and S64 and S66 skid-steer loaders focus on quality in a compact frame, with upgraded performance coming from greater lift capacities and higher lift heights than the Bobcat M-Series.
10-Second Summary
Bobcat releases 4 new 60 frame size loaders
Bobcat R-Series offers:
Increased lift capabilities
Improved cooling systems
Better visibility
One-piece, sealed and pressurized cab
Inline engine and direct-drive system
5-link torsion suspension
Cast-steel mounting system

What Improvements has Bobcat Made to the R-Series?
One of the hallmark characteristics of the R-Series additions is its increased lift capabilities. Bobcat has redesigned the lift arms with cast-steel segments, with increased strength in key areas. The upgraded lift arms have slimmed down for better operator visibility, ensuring that the R-Series loaders can handle more challenging jobs with greater ease.
The Bobcat R-Series, in tandem with its improved performance, has also had its cooling system upgraded. As these compact loaders run longer and lift more, the cooling system has been improved with a larger radiator, larger fan, and a tailgate that allows for better airflow.
Operators will now have a clearer view to the sides of the loader, allowing for better maneuverability. The arm linkage has also been repositioned at the back of the machine, and Bobcat has included front and rear LEDs. The R-Series comes rear-camera ready.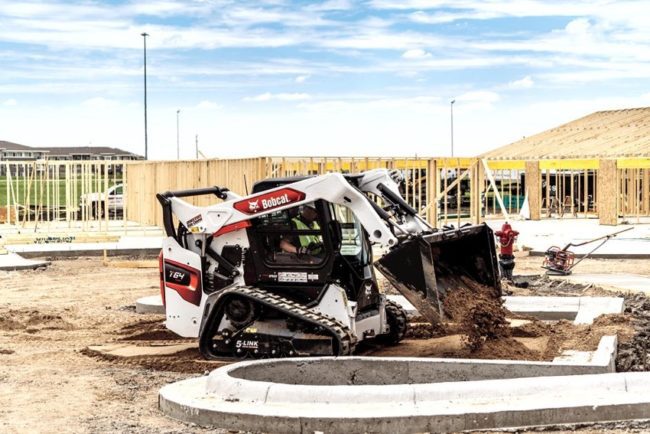 All Bobcat R-Series loaders feature a redesigned 2.4 liter Tire 4 Bobcat engine that, together with a direct-drive system, offers high performance. These engines handle more pressure and produce greater torque.
Optionally, the Bobcat R-Series loaders can feature the brand's 5-Link torsion suspension that reduces stress and vibration for increased comfort.
Other Features
One-piece, sealed and pressurized cab
Cast steel attachment mounting system
Industry-leading standard and optional displays (standard 5-inch display or optional 7-inch display with Bluetooth)
Eye-level push-button controls
Protected battery with remote jumpstart
A larger fuel filter enabling better system protection and longer filter life
Adjustment-free engine belts for quick, easy serviceability
Standard keyless start and theft protection
For more information about Bobcat compact loaders, click here .
Bobcat R-Series Models
Bobcat T66 Compact Track Loader
Horsepower: 74-hp Bobcat turbo-charged diesel engine
Rated operating capacity: 2,450 lb.
Operating weight: 8,927 lb.
Lift height to hinge pin: 120 in.
Auxiliary hydraulic flow: 17.6 gpm
High-flow option: 29.9 gpm
Bobcat S66 Skid-Steer Loader
Horsepower: 74-hp Bobcat turbo-charged diesel engine
Rated operating capacity: 2,400 lb.
Operating weight: 7,154 lb.
Lift height to hinge pin: 120 in.
Auxiliary hydraulic flow: 17.6 gpm
High-flow option: 26.9 gpm
Standard 2-Speed
Bobcat T64 Compact Track Loader
Horsepower: 68-hp Bobcat turbo-charged diesel engine
Rated operating capacity: 2,300 lb.
Operating weight: 8,727 lb.
Lift height to hinge pin: 120 in.
Auxiliary hydraulic flow: 17.6 gpm
High-flow option: 26.9 gpm
Bobcat S64 Skid-Steer Loader
Horsepower: 68-hp Bobcat turbo-charged diesel engine
Rated operating capacity: 2,300 lb.
Operating weight: 6,974 lb.
Lift height to hinge pin: 120 in.
Auxiliary hydraulic flow: 17.6 gpm
High-flow option: 26.9 gpm