New Doosan Excavators and Loaders Heading to the Jobsite This Year
Doosan Infracore North America will launch a brand new mini excavator (DX50Z-7), a redesigned crawler excavator (DX140LCR-7), and an updated wheel loader (DL250-7). Expect Doosan to release the new equipment to dealerships sometime in 2022.
Doosan DX50Z-7 Mini Excavator
Featuring a 48.8 hp motor, the Doosan mini excavator fills out the brand's 5-metric ton size class offerings. It has a Zero-Tail Swing design, making it an ideal solution for working in confined spaces on construction jobsites or landscaping projects.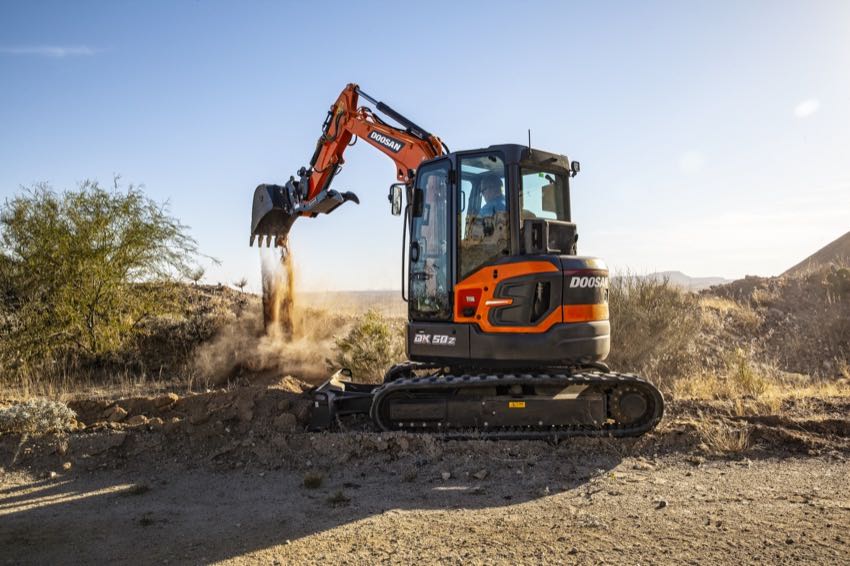 The mini excavator features a standard enclosed cab with heat and air conditioning and an optional heated adjustable seat. You can also upgrade to a steel track option for use in jobsite conditions that might damage rubber tracks. Standard attachments include a bucket, quick coupler, and a thumb.
Key Specs
Model: Doosan DX50Z-7
Horsepower: 48.8 hp
Operating Weight: 12,121 lb.
Maximum digging depth: 11 ft. 5 in.
Max digging reach (ground): 19 ft.
Max loading height: 12 ft. 6 in.
Doosan DX140LCR-7 Excavator
The newly designed Doosan crawler excavator features upgraded technologies and enhanced controls. This 14-metric-ton, reduced-tail-swing excavator features increased fuel efficiency and more comfort features than Doosan's last iteration.
The DX140LCR-7 offers an all-round view of the jobsite with an optional 360º camera. New to the model, Doosan also includes an electric transfer pump, centralized filters, and a fuel filler pump hose. For comfort, the excavator features a Smart key and remote door locks, improved airflow for better heating and cooling, and easier-operating pedals. Smart Power Controls optimize the fuel efficiency and provide the proper engine rpm and torque for the application as well.
Key Specs
Model: DX140LCR-7
Horsepower: 115 hp
Operating weight: 35,424 lb.
Maximum digging depth: 19 ft. 8 in.
Max digging reach (ground): 28 ft.
Max loading height: 23 ft. 3 in.
Doosan DL250-7 Wheel Loader
The Doosan DL250-7 Wheel Loader features smart technologies to maximize power and efficiency while scooping, carrying, and loading.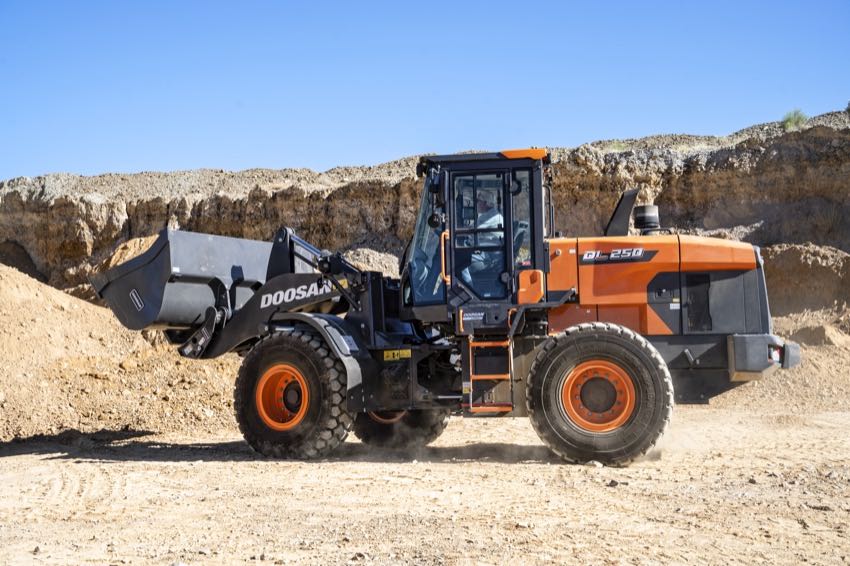 This loader provides better lift height with more generous bucket capacity. The standard Z-bar lift arm delivers excellent breakout force for digging in tough materials. A high-lift option provides maximum dumping height. The DL250-7 offers rapid bucket movement and proper angle positioning for precision performance. You can also add an optional larger counterweight for even more lifting flexibility.
Key Specs
Model: Doosan DL250-7
Horsepower: 172 hp
Operating weight: 30,528 lb.
Bucket capacity, heaped: 3.3 cu. yd.
Static tipping load, full turn: 21,134 lb.
Dump height, 45º: 9 ft. 2 in.
Dump reach, 45º 3 ft. 6 in.
For more information about the Doosan 2022 excavators and wheel loaders, click here .