EGO Snow Shovel Attachment Makes Quick Work Of Light Winter Clearing
Using manual snow-clearing methods can be time- and energy-consuming, especially when you need to clear areas like driveways and walkways. If you're tired of rubber brooms or manual push shovels, EGO has the perfect attachment for you. We had the opportunity to test out the EGO Multi-Head snow shovel attachment through one of our Northern friends, Kevin Pitts , to see what it had to offer for this year's snow-clearing season.
Why Consider the EGO Multi-Head Snow Shovel Attachment?
Powered snow shovels fill a niche between the big and small clearing jobs. This sweet spot is where this tool shines— on patios, decks, driveways, and walkways with light to moderate snow coverage. You probably wouldn't need it for lightly-dusted stairs, and it wouldn't perform its best on a long, heavily-coated driveway. EGO markets it as a solution to those middle-ground jobs.
Its 14-inch profile gives way to a 12-inch clearing swath, which is the perfect width for single-tile walkways. If you own a larger snowblower, you could have the job done by the time you get it out of the shed with the EGO snow shovel attachment.
EGO Multi-Head Snow Shovel Attachment Performance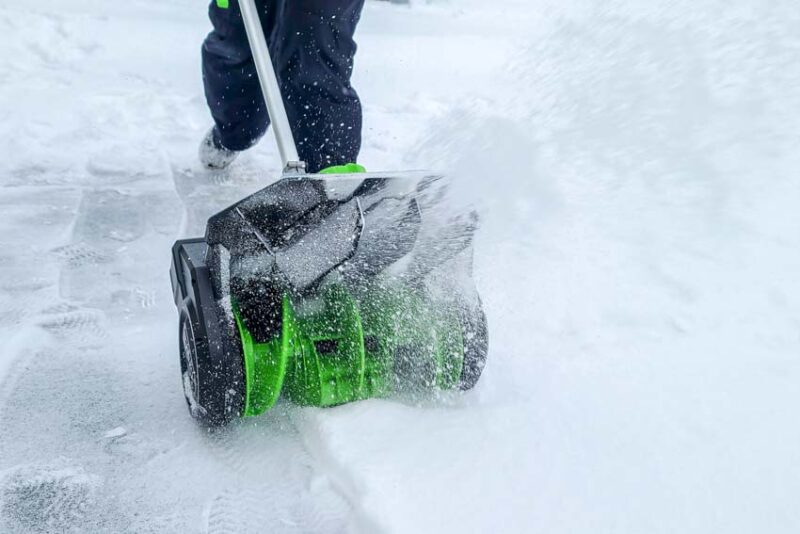 EGO has a reputation for high-quality builds and handy features when you pit them against the competition. This reputation is reflected in this snow shovel.
It uses a brushless motor to throw snow up to 25 feet when you're working in snow several inches deep. Plus, it features an anti-stall system that prevents the machine from hitting a jarring halt. If you hit a thick patch, the motor slows down and grinds through the thicker snow before revving back up. Even when we tried to intentionally stall it, we were only able to when moving quickly through thick layers of icy snow. If you do experience a motor stall, release the trigger and pull it again to start it back up.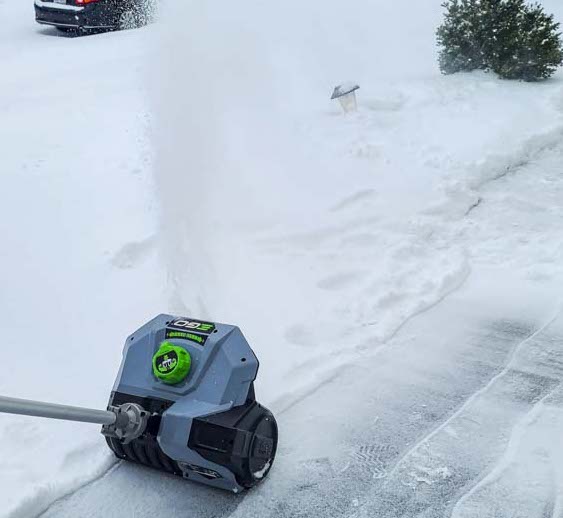 It's important to know what to expect regarding performance before going in. It does great clearing 2 to 3 inches of dry, powdery snow from a flat surface like a driveway or patio. However, clearing 5 to 6 inches of heavy snow and ice can present a challenge. It's still doable with this attachment, but it is more difficult than if you were to use a single-stage or two-stage snowblower.
When compared to a snowblower like the Snow Joe iON 40V single-paddle blower, EGO's snow shovel attachment actually keeps up in terms of power. By nature, a single-stage unit supports the weight of just the unit, rather than the user. You'll be able to see the difference in energy used, which is something you'll experience with any attachment system snow shovel.
Pro Tip: For clearing heavy snow, the snow shovel is easier to push when bracing the battery against your body and pushing forward with your legs rather than relying on your arms and back to do the work.
Runtime
Usually, with portable snow-clearing solutions, you'll see compromises in terms of how much area you can clear on a charge. EGO tells us that this shovel attachment clears up to 4 inches of snow from a 4-car driveway on a full charge using a 4.0Ah battery.
We can corroborate this, and then some. We used it in 5 inches of snow and ice and it was able to clear our entire 4-car driveway with battery to spare, and no distinct loss of power. It also cleared our sidewalks, patio, and deck before running out of juice, which we would consider a win.
EGO Multi-Head Snow Shovel Attachment Design Notes
Changing Directions
You can alter the throw angle up to 45° right or left by using the control knob at the top. This rotates the guide fins in front of the machine's auger. The knob has locking detents in several positions, so you have flexibility in where you would like your snow to be thrown.
The throw adjustment options present an advantage over other brands like the Ryobi 40V power shovel and Hart 40V Power Snow Shovel, which have no guiding fins. The EGO snow shovel attachment throws snow farther than either of these models, too, and includes the same specs as Ryobi's brushless version.
Weight
Since this snow shovel has so many physical features like the plastic auger and guiding fins, it does way more than the competition. The entire system (the Powerhead, a 4.0Ah battery, and the shovel attachment) clocks in at 22.8 pounds. For reference, Ryobi and Hart's models weigh in at 17 pounds and 18.4 pounds, respectively. A few pounds may not seem like much, all things considered, but most of that weight comes from the snow shovel itself, which is 12.8 pounds.
This shovel's weight does help keep the auger in the snow and get down to the pavement, but without wheels, it can be easy for the auger to get caught on cement breaks or sidewalk transitions and come to a rough stop. However, having to pick up the unit every time this happened can lead to some serious back strain, which can be quite a workout by the time you're done. EGO offers a shoulder strap, which we highly recommend if you're planning on using this attachment as your primary snow-clearing tool.
EGO Multi-Head Snow Shovel Attachment Price
The snow shovel attachment retails for $189. If you need the whole Multi-Head system along with it, you can find it as a kit with the powerhead, 4.0Ah battery, and charger for $399. The powerhead and the attachment both carry a 5-year warranty.
Note: EGO attachments are not compatible with other attachment systems.
The Bottom Line
All things considered, the EGO Multi-Head snow shovel attachment made quick work of several chores that would have taken significantly more time using manual methods. EGO holds up its reputation for putting out quality products and fits into that sweet spot between where your smaller clearing tools aren't enough and a full-size blower may be too much.
With the added weight to take into consideration, it does outperform similar tools from competing brands.
If you find yourself needing a middle-ground solution, we recommend giving EGO's snow shovel attachment a try.
Specifications
Platform: EGO POWER+ Multi-head system
Battery: EGO 56V
Motor: Brushless
Clearing Width: 12 in.
Max Throw: 25 ft.
Clearing Depth (Auger size): 6 in.
Weight: 12.8 lbs.
Rotation Speed: 2000 High/1650 Low RPM