John Deere 4M HD Tractor Delivers Maneuverability, Versatility, and Visibility
John Deere announced the launch of the new 4M Heavy-Duty Tractor. Aimed at commercial customers and large property owners, the 4M delivers all the performance customers demand from a utility tractor in a compact, easy-to-use package.
10-Second Summary
Models: 4052M and 4066M Heavy Duty
John Deere 4M Heavy Duty tractors available in two output ratings: 52 hp and 66 hp
Both feature three range eHydro transmission with Twin Touch pedals
Category I/II hitch with telescoping draft links
Fore and aft work lights
Compact 73″ wheel base
Full machine 2-year/2,000 hour warranty, 6-year/2,000-hour powertrain warranty
John Deere on the 4M Mission
The 4M Heavy-Duty tractor was designed with versatility and ease of use in mind. With this unit we had three main objectives – increase visibility, provide industry-leading maneuverability and reduce downtime related to changing attachments. With this tractor, we've achieved all of these objectives and we look forward to getting our customers in the seats.

—DeMark Cole, product marketing manager, John Deere
Tell Us About It
The new John Deere 4M tractors come in two output ratings. The 4052M HD generates 52 horsepower while the 4066M HD manages 66 horsepower. Both models feature John Deere's three range eHydro transmission with Twin Touch pedals. The eHydo transmission includes John Deere's eThrottle, MotionMatch, LoadMatch, and Speedmatch systems, along with cruise control, to increase production and reduce fatigue on the operator.
Both John Deere 4M HD models feature a category I/II hitch with telescoping draft links. This allows you to use your tractor over a broad range of implements with various hitch specifications. John Deere designed implement hookups to be simple, which should help you focus your efforts on production rather than wrestling with implement attachment. Factory-installed hydraulics also help you connect and use multiple hydraulic controlled implements at the same time.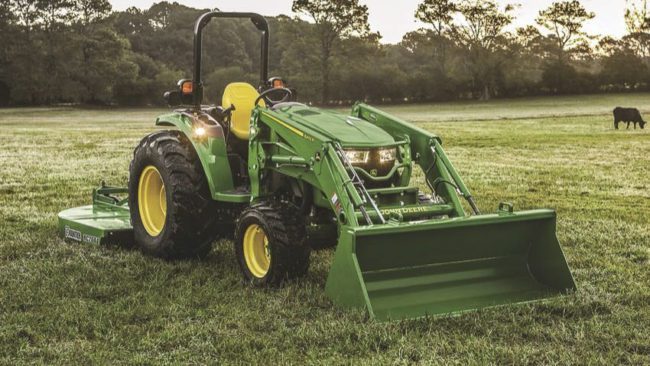 The John Deere designed the 4M tractors to operate best in small spaces and low light conditions like barns, stalls, and poultry houses. Both models feature for and aft work lights, significantly improving visibility in dim or dark conditions. They also feature a compact 73″ wheelbase for much tighter turning in smaller spaces.
Both of the new John Deere 4M Heavy-Duty Tractors come with the brand's standard 2-year full machine warranty. John Deere promises to fix any defects in materials and workmanship for two years after delivery, or 2,000 hours. The powertrain comes with a 6-year, 2,000-hour warranty as well.
For more information about the new John Deere 4M Heavy Duty Tractors, compare specs, or just to window shop, check out the website by
clicking here
.