John Deere has achieved iconic status in many parts of the OPE universe. This includes a variety of heavy and residential equipment, ranging from combines to farm and residential tractors. After all, they've been around for over a century, which is plenty of time to build an extensive inventory. That said, Deere continues to expand not only in battery-powered gear (partnering with Ego) but also in Pro lawn equipment. That's why their announcement regarding their 2024 lineup of John Deere QuikTrak mowers is big news.
So, without further ado, let's take a look at this new and improved fleet.
John Deere QuikTrak Mowers Overview
The debut of these upgraded commercial stand-on mowers should be a welcome revelation for Pro lawn care specialists.
For one, the latest models in the Q800 Series offer compact designs, according to Deere. Furthermore, they tell us that the primary goals here are enhancing visibility, maneuverability, and ease of operation.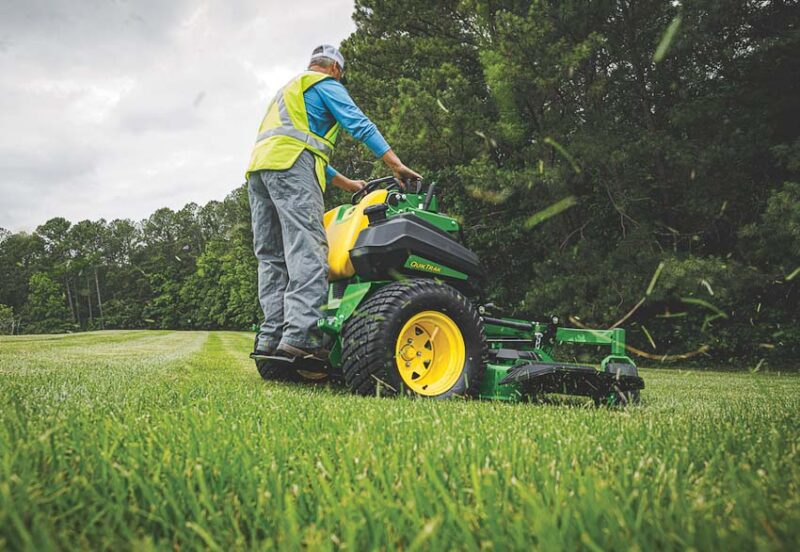 New for 2024, you've got the M and R Series mowers, as well as the E Series models.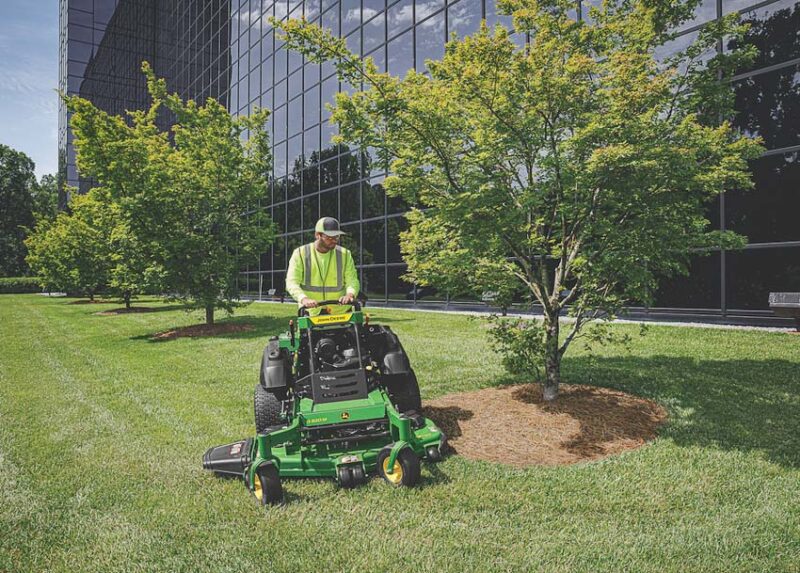 "Our new QuikTrak mowers are … equipped with features to help transform the way contractors work. With more speed, power, and fuel capacity, our 2024 models deliver an ideal solution for customers looking to improve both productivity and profitability …"

Chase Tew, John Deere production systems & business unit manager
John Deere E Series Updates
Within the E Series, you have the Q810E and Q820E, which boast new features, namely in serviceability.
For instance, the E Series models have a single-power takeoff belt design and aluminum commercial mowing spindles that make changing mower blades easier. Moreover, they come equipped with high-lift blades and a new belt cover design for simpler clean-out. Both features should help minimize downtime.
Last but not least, the Q820E QuikTrak mower now has a 23.5-horsepower engine.
John Deere M and R Series Updates
The new Q800 M and R Series include the Q820M, Q850M, Q850R, and Q865R EFI models. These mowers have their own set of improvements centered around speed and power.
For example, they give you HP options: a 27-horsepower carburetor and a 34.5-horsepower EFI.
In addition, John Deere also gave its M and R Series QuikTrak mowers 7-Iron PRO decks in 48-, 54- and 60-inch configurations. On top of that, they threw in anti-scalp wheels on the front and back edges to help with uneven terrain.
Finally, these mowers have two 6-gallon saddle tanks that give you an impressive 114% more fuel than past models.
John Deere QuikTrak Mowers Pricing/Availability
At this time, Deere has not announced prices.
To locate a dealer, visit John Deere online .