John Deere Launches Heavy-Duty Compact Utility Tractors
John Deere recently announced the launch of their 3D Series compact utility tractors. Designed with the operator in mind, these new tractors offer a powerful and affordable solution that, in addition to the rest, is actually easy to use on a variety of jobs. It comes equipped with a gear-drive transmission and available in three horsepower offerings, each able to tackle everything from pulling and hauling to cutting and tilling.
10-Second Summary
3D Series available in three horsepower levels: 25 hp, 35 hp, 43 hp
Gear-driven transmission; eight gears in forward and reverse
Gear shift located on fender, as opposed to between the knees, to enhance control and avoid awkward shifting
Long drivetrain and wide base
Easy to reach, rear-mounted gas tank hold up to 10 gallons of fuel
Compatible with John Deere Quik-Knect System
3-point hitch lifts almost 1600 lbs
Two-pump hydraulic system allows for steering and lifting at the same time
Can be equipped with halogen or LED lights
Backed by full-machine 2-Year/2,000-Hour warranty; powertrain covered by 6-Year/2000-Hour warranty
John Deere on the New Lineup
"Our customers need rugged, tough machines that can tackle a variety of jobs, just like they do. Whether they own large acreage and want a simple, reliable machine for a variety of jobs, or grow crops, like fruits and nuts, and need a durable support tractor, the versatile 3D Series provides a great solution. Customers are demanding a gear-drive transmission in the compact utility tractor market, and our 3D tractors provide just that – a simple, dependable, affordable gear-drive machine."

-DeMark Cole, product marketing manager, John Deere
What Does the John Deere 3D Series Offer?
The John Deere Compact Utility Tractors come in 3 horsepower varieties: a 25HP, 35HP, and 43HP model. They weigh in starting at 2,778 lbs and with a hauing capacity of 4,000 lbs.
They feature a gear-driven transmission, with two ranges and four speeds each, totaling eight in forward and reverse. John Deere has also relocated the shifter so that you don't have to shift between your knees anymore. Rather, now the shifter has been mounted to the fender for better comfort and control.
The John Deere 3D Series has also beefed up the durability and stability of these tractors. They now include a rugged drivetrain and heavy-duty components, like a large spiral bevel gear, to provide increased torque and power to the ground. Meanwhile, a longer wheelbase and wider stance increases the stability of these tractors. The hydrostatic steering system allows for stable and consistent maneuverability with minimal effort.
Speaking of things that improve maneuverability, the 3D Series features a two-pump hydraulic system allows users to easily steer and lift the optional loader at the same time; one pump tackles the steering while the second manages other hydraulic functions.
Additionally, John Deere has relocated the gas tanks on the 3D Series. Rather than spilling diesel all over the front of your tractor cause the tank is under the hood, the gas tank is now located at the rear of the tractor. This not only makes refueling easier but it increases the overall engine performance.
Compatible With Attachments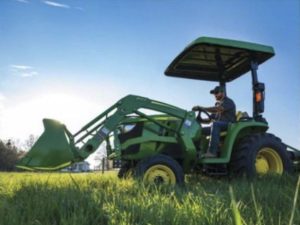 The John Deere Compact Utility Tractors work with the brand's Quik-Knect System. What is that, you ask? Utilizing one connector for the tractor PTO shaft and another for the implement, this system prevents twisting or forcing to line up the splines when attaching rear implements. With this system, you can simply slide the tractor and implement connectors together until they go "click".
In addition to this, the John Deere 3D Series comes with a three-point hitch that can lift nearly 1,600 lbs. You can align and attach rear implements easily with an optional telescope draft.
Finally, you can also choose to outfit the John Deere Compact Utility Tractors with either halogen or LED work lights. This, obviously, increases your visibility as it gets darker so that you can still work in the early mornings or evenings.
Warranty Information
The John Deere 3D Series Compact Utility Tractors come with a full machine standard two-year/2,000-hour warranty. After that, you've still got a 6-year/2000-hour warranty on the powertrain. All of this protects against any defects in either materials or workmanship.
John Deere Compact Utility Tractor Features
Reliable gear-driven transmission provides optimum tractor performance
Clean and simple operator station is comfortable and convenient
Optional two-spool rear selective control valve (SCV) for superior implement performance
Optional iMatch Quick-Hitch feature allows for easy implement hookup
Excellent serviceability reduces operational costs and improves productivity
For more information about these compact utility tractors, check out Deere.com .