Kubota Introduces Tech-Forward 5-Ton U48-5 Tight Tail Excavator
In response to customer demand for more "brains and brawn" at an affordable price, Kubota has announced the U48 Compact Tight Tail Swing Line Excavator. This model rounds out the series with a powerful 5-ton, technology-forward excavator that includes features that deliver top performance, comfort, and tech options. With all of its customizable options, you can tailor the U48-5 to every job.
Kubota on the U48-5 Excavator
The U48-5 is a brand-new machine that gives Kubota and our customers unique flexibility in the compact excavator model line up across conventional and reduced tail swing offerings in the 2-to-6-ton weight classes. The 4-5-ton class is our sweet spot, anchored by the KX040, and by expanding the U Series, we now have a unique offering that includes all the power of a conventional tail swing in a tight tail for another perfectly matched machine for any job and application.

Patrick Baker, Kubota construction equipment product manager
Brains and Brawn
The Kubota U48-5 Excavator showcases 40.4 gross horsepower and 11,057 pounds of operating weight. It has has a max digging depth of 10 feet 8 inches, and it has a bucket breakout force of 9,304 pounds.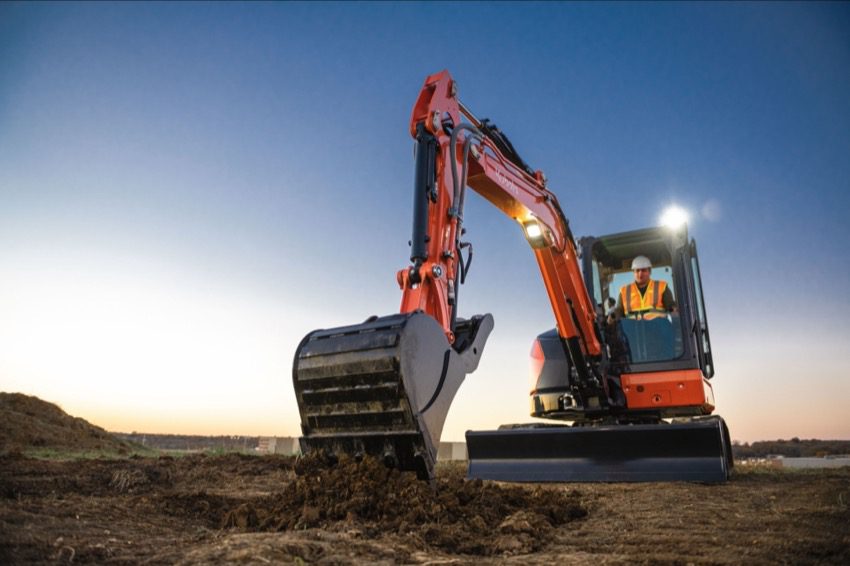 But the power only makes up one part of the U48-5 equation; functionality and comfort also sweeten the deal. The Kubota U48-5 Excavator puts control at your fingertips. One of the big improvements to the cab includes an easy-to-use jog dial to navigate through settings displayed on a 7-inch LCD screen. From here, you have an intuitive way to monitor and control various functions, like Aux flow adjustments or any potential maintenance concerns.
It can also feature an optional keyless start that allows you and your crew can use a 4-digit pin to start up the excavator. This solution to the ever-present issue of lost keys lets you store up to 10 unique passwords and provides some anti-theft measures.
Comfort Features
The Kubota U48-5 Excavator also sees some improvements to general operator comfort and control that start with improved visibility. An expanded front glass and a slimmer frame for the front window open up your view to what lies ahead of you, but the U48-5 also features a skylight and left and right windows as well.
Kubota has designed the cab with more head and foot room, which can be extended even further with the optional adjustable air-ride suspension seat.
Finally, Kubota designed the U48-5 Excavator cab to reduce noise, protecting your ears from the harsh sounds of the jobsite. They've thickened up the floor plate and partitioned off the engine from the cab to keep the noise down. The end result is an operating level that registers 74 decibels.
The Kubota U48-5 Tight Tail Excavator is now available at Kubota dealerships. For more information about the Kubota U48-5 Tight Tail Excavator, or to find your closest Kubota dealership, click here .
Kubota Tight Tail Excavator Specs
Model: Kubota U48-5
Engine: Kubota V2607
Horsepower: 40.4 gross hp
Displacement: 111.4 cc
Length: 17 feet, 7 inches
Height: 8 feet, 4 inches
Width: 6 feet, 5 inches
Min. Ground Clearance: 12 feet
Crawler Length: 8 feet, 2 inches
Pump Capacity: 31.4 GPM
Auxiliary Hydraulics Flow Rate: 17.2 / 9.8 gpm
Bucket Breakout Force: 9,304 lbs.
Arm Breakout Force: 5,304 lbs.
Traveling Speed: 3 mph (high); 1.7 mph (low)
Blade Width: 6 ft. 5 in.
Blade Height: 1 ft. 4 in.
Hydraulic Oil Reservoir: 10.6
Fuel Reservoir: 17.4
Price: See Dealership for price