When we picture a beautifully manicured yard, we often focus on lush, emerald grass. But your gardens play a huge part in your home's appearance, and they're not always blossoming flowers. How about a beautiful line of boxwoods? Indeed, neatly shaped greenery adds to the stateliness of your property, giving it an established look and, thus, boosting its curb appeal and value. And that's where equipment like the Ryobi 24 Inch Hedge Trimmer (P26011BTL) comes into play.
Here's the skinny on this 18V tool.
Ryobi 24 Inch Hedge Trimmer Features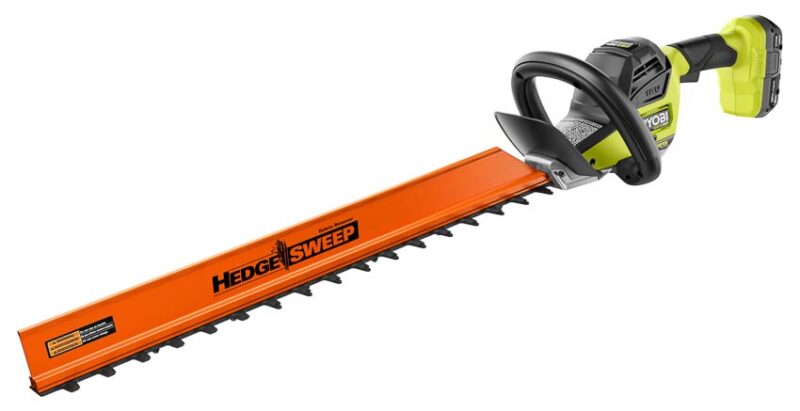 Driving the P26011BTL is an 18V (2.0Ah) brushless motor with a magnesium gearbox boosting its power.
And based on the numbers, Ryobi made sure that it could handle a variety of tasks. For one, this hedge trimmer touts a 24-inch dual-action blade with anti-jam technology. That's a respectable two feet of reach.
Specs
Model: Ryobi P26011BTL
Battery: ONE+ 18V (2.0Ah)
Motor: Brushless
Blade: 24 inches, double-sided
Dual-action cutting
SPM: 3,200
2-speed switch and trigger
Weight: 7.07 lbs
And adding to that a 1-inch cutting capacity makes this a hand-held chomper. The Ryobi 24 inch hedge trimmer should be able to handle everything from shaping to minor limbing.
Moreover, this tool is a member of Ryobi's whisper series, the role of which is to give you performance and power without the noise.
Ryobi 18V Hedge Trimmer Design
Perhaps most important with any handheld gear is the matter of ergonomics. Therefore, we'd be remiss not to touch on this hedge trimmer's rounded wrap-around front handle. Moreover, the rear handle has a soft overmolding to enhance comfort and grip.
Let's be real here. Trimming jobs can be long, so it's beneficial to ditch both the chafing and the fatigue.
Now, one of the standout features of this 24 inch hedge trimmer is Ryobi's inclusion of its HEDGESWEEP technology. Meant to clear clippings and debris as you trim, the idea behind this design element is to improve cut precision, visibility, and ultimately, efficiency.
Ryobi P26011BTL Price
This hedge trimmer sells bare for $174. Ryobi backs its product with a 3-year limited warranty.