Toro 60V Snow Blower Joins Flex-Force Power System Line
Take those winter snow drifts to task with the Toro 60V Power Max Two-Stage Snow Blower lineup. Available in two models, the e24 and e26, these snow blower models replicate the build that Toro uses for the gas-powered models. However, these winter-time tools, just like the rest of the Flex-Force lineup, rely on flexible battery-power that Toro claims will make quick work of clearing serious snow, ice, and heavy drifts on one charge.
What Is Toro Saying About the 60V Power Max Snow Blower
A two-stage battery-powered snow blower that could deliver just as much power as a gas model, was once a pipe dream — then we developed the 60V Power Max two-stage snow blower. This unit is identical to Toro's gas two-stage model in every way, except it packs a powerful punch with our Flex-Force Power System, the most powerful battery in its class.

Tom Werner, senior marketing manager at Toro
What's the Big Deal?
Toro tells us that the 60V Power Max Two-Stage Snow Blower lineup is the only one designed with three battery ports (though it only includes two 7.5Ah batteries). They estimate that, with two batteries on board, the e26 model can clear 30 parking spaces on one charge, while the e24 can tackle 24. Adding the third battery extends your runtime to 45 or parking spaces in up to 10″ of snow. The e24, with a third battery, can add another 4 to 15 spaces.
Toro also takes a lot of pride in the build quality of the 60V Power Max Snow Blowers. They've built these battery-powered machines with the same steel construction as their gas-powered models. Neither of these models require shear pins, and they both feature a hardened gear and auger for long-lasting durability.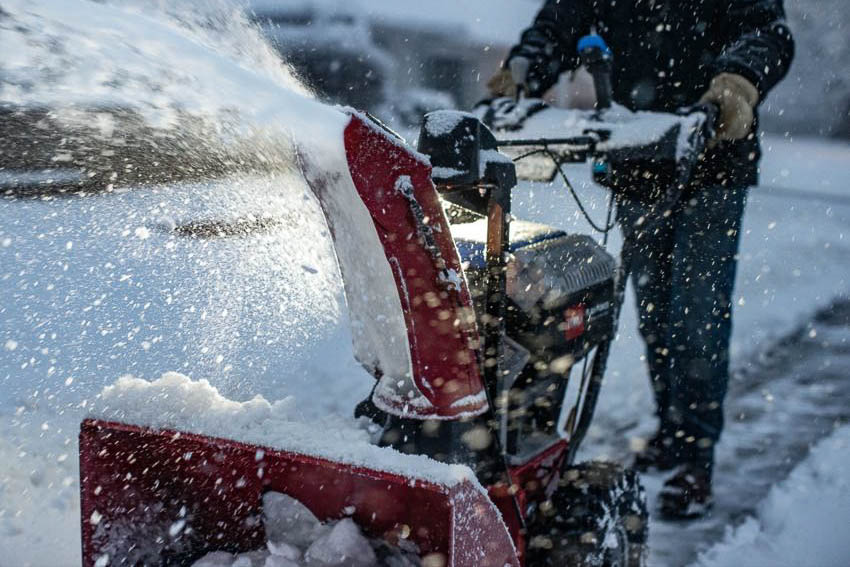 Both models feature Toro's Anti-Clogging System that routes heavy snow away from the chute and back into the auger. And, with the Quick Stick Chute, the Toro 60V Two-Stage Snow Blowers let you aim snow one foot to forty feet away with a single, smooth motion.
Other Features
LED headlights
Hand warmers
Pricing & Availability
The Toro 60V Power Max Two-Stage Snow Blower lineup was debuted at this past GIE+ Expo in Louisville, KY. They tell us that both the e24 and e26 models should make their way to Toro dealers, Home Depot, Ace Hardware, and Tractor Supply very soon. Each comes with two 7.5Ah batteries, two chargers, and a 3-year warranty. The 24″ e24 model retails for $1,599, while you can pick up the 26″ e26 model for $1,799.
For more information about Toro, including where you can find your closest dealer, click here .
Toro 60V Power Max Two-Stage Snow Blower Specs
Model Number: Toro 39924 (e24), 39926 (e26)
Engine: Brushless DC
Auger System: Power Max Anti-Clogging System
Clearing Width: 24 in. or 26 in. with 20 in. intake height
Impeller: 11 in.
Throw Distance: Up to 45 ft.
Starter: Electric push button start
Tires: 15 x 4 in.
Warranty: 3 years
Price: $1599 or $1799