It's been a year to remember (or possibly forget), but that doesn't mean we can't redeem it with some outstanding gifts this holiday season. We pulled together some of our favorite tools and gear this year to give you some options for the best tool gifts for Christmas 2021!
Gear and Tool Gifts for Dad and Mom
Multi-tools are always a hot gift item and some of more useful than others. With an aluminum handle, Gerber's Prybrid is tough enough for any job and includes a utility knife, pry bar, nail puller, wire stripper, small and large flathead screwdrivers, cord cut notch, and bottle opener.
---
Tincup Rye Whiskey
If you're shopping for a whiskey drinker this year, give 'em a bottle of Tin Cup Rye. It starts with 95% mid-western rye and 5% barley, is aged for three years, and then cut to 90 proof using Rocky Mountain water. It's a solid pick neat and really comes alive on the rocks. Best of all, it's pretty easy on your wallet at less than $30.
Weber 3-Piece Precision Grill Set
Gerber's 3-piece Precision Grill Set covers everything from burgers to ribs with a spatula, tongs, and baster. Best of all, they're a lot sturdier than the cheap gift sets you see and will last a lot longer.
With a 4-gallon tank at your disposal, Hart's 20V portable rinser makes a great gift for beachgoers, mountain bikers, campers, and just about anyone who enjoys the outdoors. Its 8-in-1 nozzle gives you options, it has 20 feet of hose length, and it can run on either a Hart 20V battery or connect to your vehicle's 12V outlet.
Palmetto Craft Capers Solid Pine Adirondack Chair
There's nothing quite like an Adirondack chair for your porch or outdoor living space. Palmetto Craft's are Amish-made from 100% pine. The wood is pressure-treated and ready for the paint, stain, or water seal of your choice to get the exact look you're going for.
---
If your idea of fun involves spending time on the water or that's where you work, take a look at Dragon Alliance's Tidal X. They use Lumalens polarized lenses that offer outstanding UV protection and clarity. Dragon Alliance pairs them with a floating frame to ensure if they go overboard, you can get them back. There's even a clip-on choker included in the package.
---
Traeger Pro 780 with WiFire
I've said it to many people… a Traeger will change your life! Not only does it control the temperature to give you outstanding results, but Wifire lets you keep an eye on it from anywhere using your phone. From low and slow at 180° to searing at 500°, if you can cook it in the oven, you can cook it on a Traeger. The Pro 780 is a great way to get started or you can step up your game with the Ironwood 885 .
Christmas Tool Gifts for Woodworkers and Carpenters
Rockler Bench Cookie Connect
Rocker's Bench Cookies are a must-have to get your workpiece off of your workbench and the Bench Cookies Connect takes it to the next level. Use it as a larger round Cookie, break it up into separate pieces, or connect them to fit the shape of the support you need.
---
Spyder Multi-Material Jig Saw Blade Set
Spyder hasn't been content to live on traditional designs and tends to push back against inside-the-box thinking. Their 12-piece jig saw set includes a couple of blade designs that you won't find in others and sets them ahead of the competition. For those straight, fast cuts, we love the Skeleton blade's cooling vents. We also give a big thumbs up for curved cutting with Spyder's dual-sided blades that help you make your turns more effectively.
---
Cordless trim routers have been around for a while and we've been wondering who would drop the first 2HP replacement. Metabo HPT wins that race in time for our Christmas tool gifts list—and it's not just about the fact that it's cordless. Thanks to its 36V MultiVolt power source, it's also compatible with their AC adapter, so you can run it corded when you need unlimited runtime and cordless when it's more convenient.
---
Bosch ProFactor Cordless 12-Inch "Surgeon" Miter Saw
We are huge fans of Bosch's axial glide miter saw design. Thanks to their updated ProFactor performance built on advanced battery technology, we now have a 12-inch cordless option. It's still the smooth, precise action we love and now has the convenience of a cordless power source and the power we expect from a 12-inch miter saw. This might be one of the most dad-pleasing Christmas tool gifts we can think of!
---
Christmas Tool Gifts for Men and Women Contractors
When in doubt, turn to consumables as gifts. Not only does that work for food and drink, but it's also true for Christmas tool gifts. Makita's XPS impact bits are designed to last up to 90 times longer than standard bits with precision tips that fit fasteners right. Grab the 60-piece set to give the contractor on your list a wide variety of common bit types and sizes.
---
Truewerk Werksystem: T2 WerkPant + Flac Shacket
Truewerk has been setting the contractor workwear world on fire since they first started and they're not slowing down. Outfit the contractor on your gift list with a Werksystem set that includes the highly moveable and comfortable T2 WerkPant and Flac Shacket. It's perfect for those days that start out chilly and never really warm up. If it's a colder start, you can layer another jacket over the Flac Shacket and shed it once the sun comes out.
---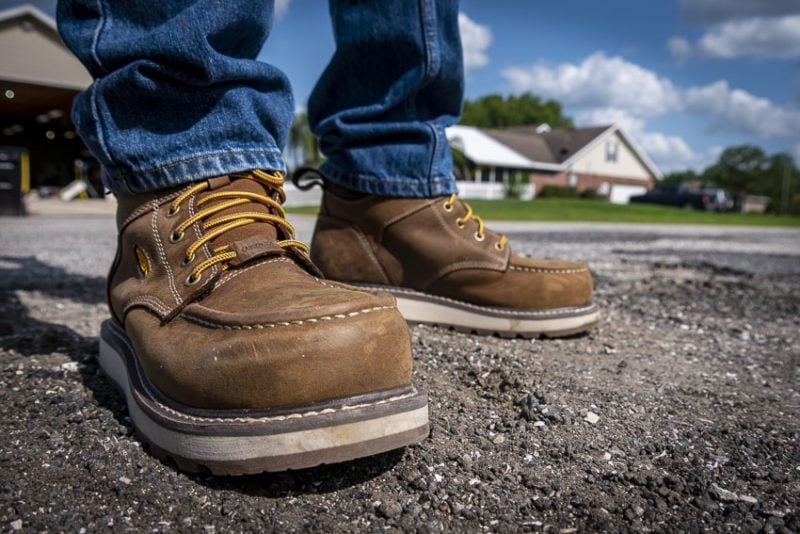 There's a reason we named KEEN's Cincinnati as our best work boots in 2021. Its combination of a wedge sole with an aggressive tread and a crazy-comfortable midsole make it an outstanding choice in a wide variety of environments. As an added bonus, they look pretty dang good, too! These might make for an unusual Christmas tool gift—but your loved one will love them!
---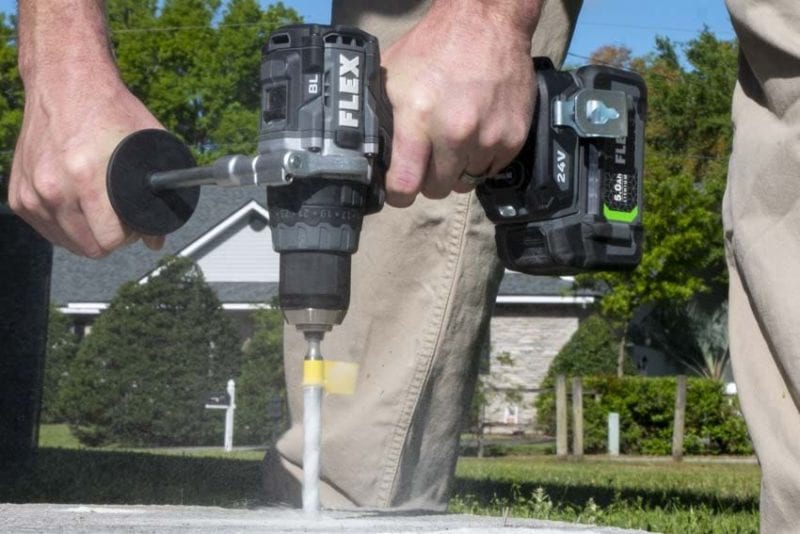 Flex jumped onto the professional power tool scene this year with a bang and their premium hammer drill is a great example of what they have to offer. A solid performer in its standard mode, pressing the turbo button takes it to a whole new level—one that earned it our choice as the best cordless drill of 2021 .
---
Makita Hammer Drill and Impact Driver Combo Kit XT288T
High-performance and a refined design are what to expect from Makita's flagship XT288T hammer drill and impact driver combo kit this year. it includes the new XPH14 hammer drill with even higher performance and a more compact design than the XPH07 we've been running for years. It then gets paired with the impressively compact and smart Makita XDT16 impact driver. The kit includes two 5.0Ah batteries and a Rapid Optimum Charger to wrap up a combo kit perfect for serious professionals.
---
Christmas Tool Gifts for Plumbers
Plumbers have to cut everything from wood and PVC to thin and thick metals in some of the worst conditions. Bi-metal has its place, but getting the plumber on your list a selection of Lenox carbide reciprocating saw blades can make those cuts faster and more stable. With blade life up to 50 times greater than bi-metal, you can also save a ton of money over the course of a job.
---
Milwaukee's a Cheater when it comes to plumbing and we mean that with a huge amount of affection. Combining multiple pipe wrench sizes into one tool, the Milwaukee Aluminum Cheater Pipe Wrench has a telescoping handle that fits into tight spaces when you need it and offers more leverage when space allows. The original is excellent and now it's available in a lightweight aluminum design.
---
Tool Gifts for Electricians
Klein 15-in-1 Ratcheting Screwdriver (32305)
The Klein 15-in-1 ratcheting screwdriver is one we turn to often. It has a comfort grip handle that's easy to grip with or without gloves. The double-sided bits hide inside the handle, keeping them out of the way yet easy to reach. Best of all, it's a ratcheting screwdriver that doesn't make you reset your bit with each turn. This particular model has the most common bits an electrician needs:
#0, #1, #2, and #3 Phillips
3/16 and 1/4-inch slotted
T10, T15, T20, and T25 Torx
#1 and #2 square
#1 and #2 Combo
---
If you've been waiting to get your hands on a one-handed reciprocating saw for cutting EMT and PVC conduit, check out Skil's PWRCore 20 model. It's easy on your wallet at just $129 for the kit with brushless performance that you'd expect to pay more for. It's a win-win for the electrician on your list.
---
Pulling wire is a job that can be fatiguing, especially on long pulls. Sure, there are powered options for commercial branch connections, but what about smaller jobs? Milwaukee has you covered with the M18 Fuel Angler. Powered by an M18 battery, its brushless motor takes care of the hard work quickly and safely, leaving you more refreshed at the end of a productive day.
---
Tool Gifts for Mechanics and Car Enthusiasts
Crescent Bolt Biter extraction sets are a must-have for anyone working on vehicles that have been on the road for a while. They bite in both forward and reverse with higher success than most extractors. The latest versions sit on a 1/4-inch hex shank, allowing you to use your impact driver to reach tighter spaces than most impact wrenches can fit.
---
If you're still using a manual hand-operated grease gun, it's time to upgrade! Ridgid's 18V cordless grease gun makes your maintenance life easier with the ability to use grease tubes or bulk grease. As an added bonus, this one has two speeds and a piston counter to help you dial in how much grease you want to apply.
---
Looking for a compact cordless impact wrench without sacrificing a ton of power? DeWalt's 20V Max Atomic compact impact wrench is your tool. Just under 5 inches from tip to tail, this brushless impact wrench is able to crush 450 ft-lbs of nut-busting torque! To control that power, there are two standard and two assist modes. It's the most impressive compact model we've tested to date.
---
Gearwrench 20-Piece Torque Screwdriver Set
Over torquing causes a ton of headaches so eliminate the guesswork with Gearwrench's 20-piece screwdriver set. It dials in from 10 to 50 in-lbs in single-digit increments with 6% accuracy. Whether it's a small bolt fastening into aluminum on an engine component or carbon fiber on a performance bicycle, you can avoid damage by getting it set right the first time.
---
Tools Gifts for Lawn and Garden
EGO Power+ Powerload String Trimmer with Telescopic Aluminum Shaft
EGO reduces one of the biggest headaches every string trimmer owner has to deal with—line changes. With their PowerLoad head, just run the length of your replacement line to the center, push the PowerLoad button, and let technology load the line from there. The newest version now has a telescoping aluminum shaft so you can adjust the length to fit where it's most comfortable for you.
---
High performance and quiet performance rarely go together, but that's not the case with Ryobi's 730 CFM Whisper Series blower. In our tests, we measured 21.7 Newtons of blowing force on the top end with just 76 decibels at our operator's ear. Why choose between low noise and high performance when you can have both?
---
Simpson Megashot 3200 PSI/2.5GPM Pressure Washer
Step up your pressure washing game with a Simpson Megashot. With 3200 PSI and 2.5 GPM, it has the performance to make quick work of your cleaning duties. As a premium residential model, this one has a Honda GC190 engine designed for years of reliable use and a solid value at less than $400.
---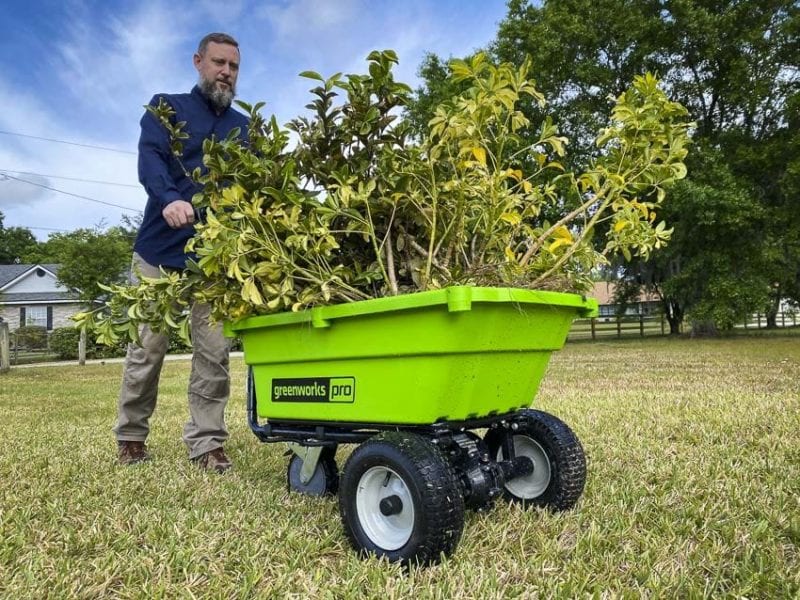 Still pushing and pulling your wheelbarrow around? Give your back a break and let Greenworks do the hard work! Their 60V battery-powered garden cart holds up to 220 pounds of whatever debris you need to move from one spot to the next. The container tilts to dump, so you don't have to worry about lifting the rear wheel up and balancing on just the front two.
It's been a year to remember (or possibly forget), but that doesn't mean we can't redeem it with some outstanding gifts this holiday season. We pulled together some of our favorite tools and gear this year to give you some options for the best tool gifts for Christmas 2021!