We take 10 gas-powered string trimmers and put them through our paces to determine who's king in the Best Weedeater Shootout. Some are 4-cycle and some 2-cycle, but they're all gas powered. No batteries or cords here. These are the best of the beasts who tame the lawns.
Who do you think will reign as the champ? Stick around – keep reading – and you'll find out.
Major Teaser: You'll be surprised!
Editor's Note: This review originally published on June 22, 2018.
Best Weedeater Shootout – Who's In?
Here's a quick look at which string trimmers are in the shootout. These are in alphabetical order.
ECHO – SRM-2620T
Honda – HHT35SLTA – 4-cycle
Husqvarna – 525LST
Makita – EM2650LH – 4-cycle
Ryobi – RY253SS
Ryobi – RY4CSS – 4-cycle
Shindaiwa – T262
Stihl – FS 91 R – 4-mix – 4-cycle running premix (oil and gas)
Tanaka – TCG27EBSP
Troy-Bilt – TB6044 XP – 4-cycle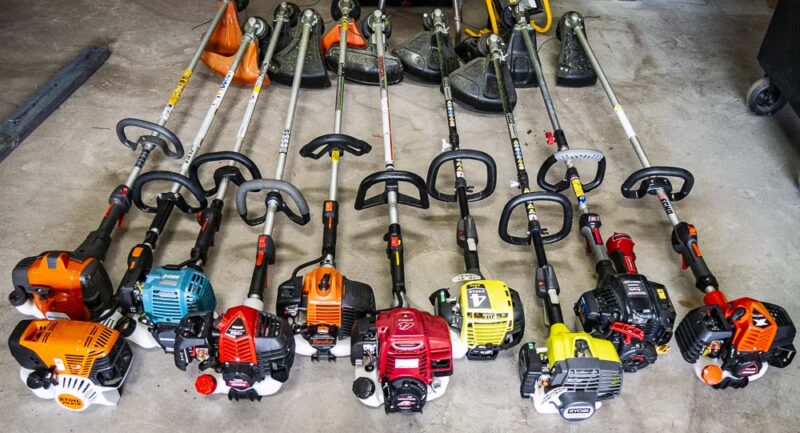 What We Do and How We Do It!
In order to determine a ranking for the best string trimmer shootout, we do our best to be objective. The less we have based on subjectivity (opinion), the better. Each string trimmer is looked at in detail, used by multiple users, multiple times. We've developed a points system, including multiple categories, with a possible total of 100.
We take a look at items like key features, sound-pressure level, and weight. Ergonomics play a big role in our calculation. Furthermore, we determine fuel efficiency, tank runtime, time-work testing, and of course, price and warranty. We also determine a "Value" which is more of a bang-for-your-buck calculation.
Without further ado, let's see how it all shakes down in the best weedeater shootout.
Related Shootout: Don't miss our Best Back-Pack Blower Shootout
Key Features
Cutting Swath
All string trimmers come standard with a guard to keep flying debris from hurting the operator. Well, it keeps some of the debris away. Your legs still get peppered with grass and weed shrapnel. The guard also houses the cutter/blade that keeps the line trimmed a certain length. We measure the distance, in inches, from the center of the trimmer head to the cutter on the guard. Multiply this by two, and you have the cutting swath (diameter).
Our smallest swath belongs to the Makita EM2650LH, at just 16-inches, while the largest is the Shindaiwa T262, at a whopping 20-inches. Will this affect cutting speed or getting work done?
Shaft Type
Do the trimmers have a one or two-piece shaft? Keeping this a single piece eliminates another area for wear and/or failure. All our "commercial-level" trimmers have a one-piece shaft, and the three "consumer-level" models had two-piece shafts.
The two-piece shaft allows for additional accessories to run on the same powerhead. The three 2-piece models were the Ryobi RY253SS, Ryobi RY4CSS, and the Troy-Bilt TB6044 XP.
Auto Choke
Cranking trimmers, edgers, and blowers can sometimes be a pain. Typically, when the unit is cold, you close the choke completely, pull the cord till it fires. Then, you open the choke, grab a handful of throttle and pull the cord again. Once the unit fires, you keep it throttled up until it's warm.
With the automatic choke, you still close the choke fully, then pull until it fires. The choke then opens, pull the cord again, without your fingers on the throttle. The trimmer will fire up at a high idle, without you touching it. Once you touch the throttle, idle will return to normal. This helps warm up the machine quickly, without several extra steps.
The Husqvarna 525LST, Makita EM2650LH, and the Stihl FS 91 R are the only trimmers to include this feature.
Serviceability
Do the trimmers include the ability to service the unit? As the trimmers are used every day, the heads eventually need to be greased, along with the shaft.
All the trimmers included a service port in the trimmer head, with the exception of the Troy-Bilt TB6044 XP.
Fuel Efficiency
Fuel efficiency is important, as it's a direct cost associated with the amount of work being done. All the units in the Best Weedeater Shootout are gas-powered.
Four of the string trimmers are 4-cycle** and require only gasoline – No Premix (oil). The Makita EM2650LH, Ryobi RY4CSS, Honda HHT35SLTA, and the Troy-Bilt TB6044 XP are all 4-cycle.
**The STIHL FS 91 R is also a 4-stroke, but it runs on 2-stroke fuel (premix)
How we tested: For the efficiency test, we used 8 oz. of TruFuel (either 2-stroke or 4-stroke fuel), and we ran the trimmer at Wide Open Throttle (WOT) until they ran out of fuel. Both Ryobi trimmers were the most efficient, running for more than 23 minutes on 8 oz. of fuel.
https://www.instagram.com/p/Bi4rHeBB7_C/?taken-by=opereviews
TruFuel 50:1 Mix and TruFuel 4-Cycle
To keep things equal, we used TruFuel 50:1 Mix for all our 2-cycle trimmers, and we used TruFuel 4-Cycle for all our 4-cycle trimmers.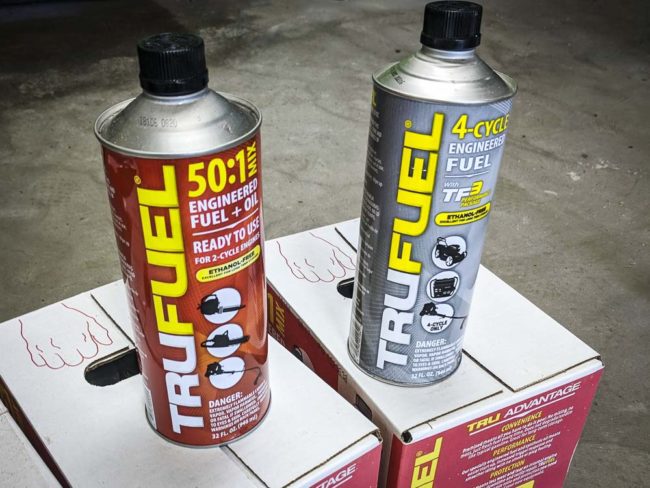 Echo Black Diamond .095 Trimmer Line
We also used Echo Black Diamond .095 trimmer line in all our trimmers. This is Echo's twisted black line that has excellent cutting qualities and works with all our trimmers in the Best Weedeater Shootout.
Tank Runtime
Tank Runtime is probably more of a concern than efficiency since it relates more to labor costs, which tend to be more expensive than the savings of gasoline efficiency.
How many times do I have to stop and walk back to the truck/trailer each day?
How we tested: we used the fuel efficiency number (burning 8 oz. TruFuel @WOT) then multiplied by the number of times 8 oz. goes into the capacity of the fuel tank.
e.g. If a tank is 16 oz. and the trimmer ran for 20 minutes on 8 oz. We take 20 minutes x 2 (because 8 goes into 16 two times), so tank runtime would be 40 minutes.
The Stihl FS 91 R was not the most efficient, however, it had the best Tank Runtime due to the capacity of the tank.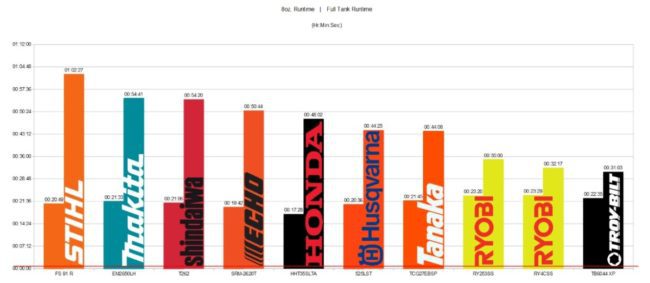 Ergonomics
Weight
Weight is important with string trimmers because you're literally holding all that weight in your two hands. The more weight and more time, the more fatigued you'll be at the end of the day.
We weighed each string trimmer with 8 oz. of fuel in the tank. Also, oil was added to the 4 four-stroke models we had, to give a true representation of the weight as it would be used.
The Husqvarna 525LST is our lightest trimmer, weighing in at only 12.3 lbs. On the flip side, the heaviest contender is the Troy-Bilt TB6044 XP.
Sound Testing – Db(A)
Using a string trimmer for 10 or 15 minutes may not seem to bother your hearing, however, the reality proves to be much different. We measured the sound pressure at 50-feet, per ANSI specs, and we also tested this at the operator's ear as well.
Hearing protection should be worn with all these models.
The Honda HHT35SLTA was our quietest trimmer, measuring just 74 Db(A) at 50-feet and 96 Db(A) at the operator's ear. The Stihl FS 91 R was our worst sound offender at 80 and 106 Db(A).
Performance
Power Trials – Thick and Thin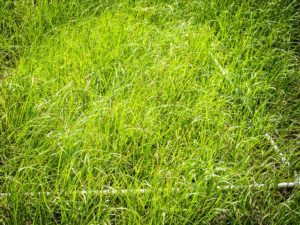 Why Power is important: most lawn crews use these string trimmers to keep the grass tamed near hardscaping or flower beds where the mower can't reach. In addition to this, the string trimmer may be used for cutting back growth in areas that haven't been touched in a while.
This may be more fit for the work of a brush-cutter, but the reality is the operator's going to just pull the trigger on the string trimmer in their hand and go at it.
How well do these trimmers cut the grass and how well do they cut thick foliage?
What To Trim?
We tried to make this a little more objective by providing a material that we could cut, measuring the amount of time it took to cut.
Cardboard is no match – even the "weakest" trimmer of the bunch can cut through several inches of solid cardboard immediately.
We then tried corrugated plastic – like political signs you see all over the place during elections. This was also no match, the trimmers cut right through them. Even with 5 and 10 pieces glued together…they just cut right through it. Almost immeasurable. Wood and wooden dowels were too inconsistent, and it would typically break the string before completing the task.
Cardboard tubes with ¼"-thick walls seemed to the be a great medium — for the first few seconds. However, once the trimmer would make it half-way through the cardboard tube, the string would break. Most of the time when the string broke, the line would be welded/melted together inside the head.
How About Grass and Weeds!
Finally, why not test with the medium that the string trimmers were made for?! We made a 5' x 5' square with PVC. We used the square to lay in the grass, measuring how long it took each trimmer to cut the marked area. Each test was performed several times.
After testing in the "normal" grass, we then moved to thicker and taller foliage. Testing was performed on Central Florida Bahia grass. Bahia is known for it's tough blades, wreaking havoc on lawn equipment.
Echo's SRM-2620T cut through the thin stuff the fastest, at just 7.8 seconds. The Husqvarna 525LST was the fastest in the thick stuff, taking only 10.9 seconds to cut through.
Edging
Why is Edging important? If there's a lot of edging to be done, lawn crews will typically grab a dedicated edger to complete the task. However, it's not uncommon to do quick edging or to just use the string trimmer in your hand to do the work.
How well does each model handle this and does their blade guard get in the way?
Echo's guard on the SRM-2620T deems to be the least intrusive on edging, but the Tanaka TCG27EBSP and Honda HHT35SLTA guards keep reading the line of sight more difficult.
Price and Value
Why it's important: When we tally all the results and compare that to the price of each trimmer, we understand value better. For some, it's getting the cheapest nailer that will do the job. For others, it's getting the best bang for your buck.
In this case, the cheapest is also the best value – Ryobi RY253SS with a $119 price tag. The worst value belongs to the Honda HHT35SLTA with a $379 price.
Warranty
Also going into the Value equation is the warranty from each manufacturer, and we look at each warranty on two levels – for the consumer and commercial user. All the string trimmers include a warranty for commercial and consumer, with the exception of one.
Troy-Bilt only warranties the TB6044 XP to the consumer for 3 years and nothing for the commercial user. Ryobi offers a 90-day warranty for commercial use and 3-years for consumers.
The Tanaka TCG27EBSP is warrantied for 2-years for commercial and 7-years for the consumer.
Final Results – Out of 100 Points
10th place, 63.0 points
Troy-Bilt TB6044 XP
Pros
Offers consumers some flexibility with the split shaft, able to add accessories and different heads.
4-stroke engine – no worry with premixing fuel
Sufficient power
Cons
Non-serviceable head
No commercial warranty
Grease starting to seep from the head in just a few hours of use.
Just a bit short, so it feels a little awkward, especially if you're tall.
Throttle trigger safety is a pain, if you don't press hard in a certain area, it doesn't unlock the throttle.
$239
9th place, 72.3 points
Tanaka TCG27EBSP
Pros
Sufficient power
Best warranty of the bunch. 2-years commercial and 7-years consumer warranty
Cons
Only a single stage foam air filter – very thin piece of foam
Guard is somewhat intrusive on the work area
$345
8th place, 78.3 points
Ryobi RY4CSS
Pros
Offers consumers some flexibility with the split shaft, able to add accessories and different heads.
4-stroke engine – no worry with premixing fuel
Sufficient power
Most Efficient (with the Ryobi brother)
Cons
Auxiliary handle doesn't tighten, due to a plastic retaining wing-nut
Just a bit short, so it feels a little awkward, especially if you're tall.
$179
7th place, 80.6 points
Ryobi RY253SS
Pros
Offers consumers some flexibility with the split shaft, able to add accessories and different heads.
Sufficient power
Cheapest string trimmer
Highest Value
Most Efficient (with the Ryobi brother)
Cons
Auxiliary handle doesn't tighten, due to a plastic retaining wing-nut
Just a bit short, so it feels a little awkward, especially if you're tall.
$119
6th place, 81.3 points
Honda HHT35SLTA
Pros
4-stroke engine – no worry with premixing fuel
Very good power
Largest engine – 35 cc
Can be converted to a brushcutter as well
Easiest starting – typical Honda engines
Cons
Heaviest trimmer – due to it being the largest engine
Guard is somewhat intrusive on the work area
Most expensive
$379
5th place, 84.3 points
Shindaiwa T262
Pros
Very good power and performance
Largest cutting swath – 20-inches – great for cutting grass around and over water (ditches, marsh, etc.)
Speed-Feed head makes it quick and easy to install new line
Cons
With the large swath, it does bog a little when diving into deep stuff. Recovers nicely.
Just didn't seem to be in front in any certain category.
$329
4th place, 87.9 points
Stihl  FS 91 R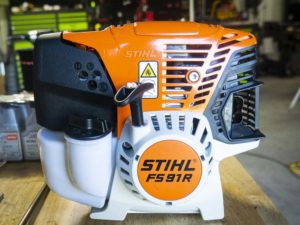 Pros
Excellent Power and performance
Best Runtime – 1-hour and 2-minutes at WOT on a tank.
Automatic choke – turn on full-choke, then it returns to partial-choke where it runs at high-idle until you pull the trigger, then it returns to normal idle.
Always On, until you push the Stop button. Only need to push it once, it shuts the engine Off, then it's ready for starting again.
Cons
4-stroke engine, but it still requires premix
One of the heaviest – 13.9 lbs with fuel
Loudest – 80 and 106 Db(A) (at 50ft and at the user's ear)
$299
3rd place, 89.0 points
Husqvarna 525LST
Pros
Excellent Power
Automatic choke – returns to high-idle until you hit the throttle
Auto-return power switch – always On, until hold the spring-loaded slide to Stop, then it returns to On.
Lightest string trimmer – just 12.3 lbs with fuel in the tank.
Fastest in the heavy foliage – 10.7 seconds
2:1 ratio high-torque head
Cons
Throttle trigger is a bit flimsy.
$339
2nd place, 90.7 points
ECHO SRM-2620T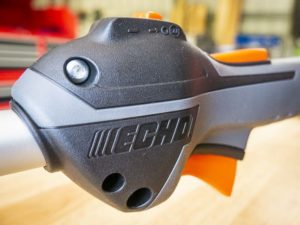 Pros
Excellent Power
Speed-Feed head makes it quick and easy to install new line
Fastest time for performance test
2:1 ratio high-torque head
Only 0.3 lbs heavier than the lightest trimmer
Cons
2nd most expensive
$359
1st place, 90.8 points
Makita  EM2650LH
Pros
4-stroke engine – no worry with premixing fuel
Excellent power
2nd in Tank Runtime
2nd Lightest – only 0.3 lbs heavier than the lightest trimmer
Easy to install line in the head, without taking apart
Excellent balance – very easy to maneuver
Cons
Smallest cutting swath – 16-inches
Doesn't allow quite as much line as the others
Not recommended to hang by the powerhead
Final Conclusion
Well, we let the numbers speak for themselves. Quite frankly, this fight was not all about power, per se. Reason being is that all the manufacturers are putting very good power to the ground. It's really amazing what these small displacement powerplants can output. With all of them able to get the job done, it came down to ergonomics, feature set, and value. A pound or more extra weight can really get to you after hours of work.
We really didn't add or subtract based on 2-cycle or 4-cycle. 2-cycle trimmers require oil to be mixed in the gas, however, 4-cycles need crankcase oil and oil changes – even valves adjusted after some time. We consider these a wash in terms of benefit. Now, in terms of preference, that's up to you.
We would have like to have seen RedMax and Efco in the fight as well, but they declined to enter the best weedeater shootout. Let us know how we did and if you would like to see any other trimmers in the mix.