We've watched the evolution of the Michelin Tweel tire technology for some time. One limitation had to do with the maximum load you could put on these wheels. To solve that, the 26X11N14 Michelin Tweel UTV tire adds 2.8 inches to the width. It also increases the load capacity by 608 lbs. That number tops their current 26X9N14 Tweel by 85%! The Michelin Tweel UTV Tire finally lets customers fully load their UTVs without exceeding the tire's load capacity.
"This new line of TWEELS expands our coverage even more for the construction, landscaping and rental fleet markets. The success of the TWEEL product line has been amazing, and we know this latest offering will continue to help our customers become even more productive and manage their operating costs with even more efficiency."

Tony Marconi, business director of Michelin Tweel Technologies
Michelin Tweel UTV Tire Available Options
You can find the Michelin Tweel UTV Tire in 5 different SKUs. They include a wide-based rear fitment model that comes in 5 different bolt patterns. This lets you fit the new Tweels to a wide variety of UTVs. The Michelin Tweel UTV bumps the load capacity from 715 lbs. per tire to 1323 lbs. per tire (vs the current 26X9N14). It also maintains the same 62 MPH speed rating.
The extra width works better with the trends in current UTVs in service today. It gives Tweel more compatible market coverage as well as a solution that can carry the same heavy loads needed to do the type of work professionals and ranchers use these UTVs for.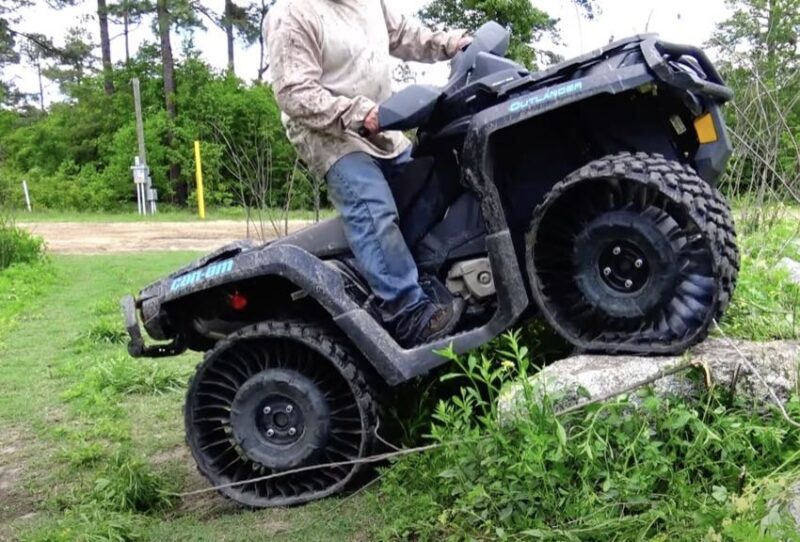 Replacing Pneumatic UTV Tires with Tweels
The Tweels are designed to perform just like pneumatic tires in every respect but one: they don't lose air when punctured. These new UTV 26X11N14 airless radial tires replace your entire tire-and-wheel assembly. This eliminates the need for complex mounting equipment. It also significantly lowers potential (costly) downtime due to flat tires. With the number of miles driven by professional landscapers, arborists, and ranchers each year, flat tires can present a major pain point.
Final Thoughts
OPE Reviews is looking forward to getting a close-up look at the new Michelin UTV Tweels at Equip Expo 2022 in Louisville, Kentucky.