Save Yourself From Cramping Hands With Milwaukee's M12 Brushless Pruning Shears
Repetitive manual tasks like pruning can be hard on the hands, so anything that takes some of the work out of it is always welcomed. Plants like our Florida native crepe myrtles can be a real nuisance to eliminate manually, so naturally, we look for ways to prune them more efficiently. That's where the Milwaukee 2534 M12 Brushless Pruning Shears come in. We'll dive in deeper so you'll know exactly what to expect when you get your hands on them.
Milwaukee M12 Brushless Pruning Shears: The Big Deal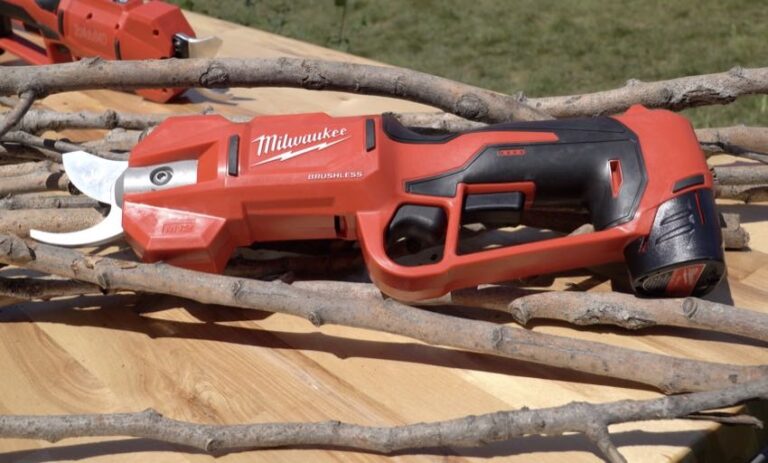 With the Milwaukee M12 pruning shears, you can expect faster and more controlled pruning than when using a manual pruner. It can even cut branches up to 1-1/4 inches thick, which will save you a good deal of hand fatigue compared to doing it the old-fashioned way.
You also have the option to select between two modes, for either larger or smaller branches. These modes correlate to the amount of power output the tool provides, while also reducing the amount of time it takes for the jaws to open. The smaller setting can increase your pruning speed by around 40% by letting you make smaller, more repetitive cuts.
You should expect to make up to 1000 cuts per charge in branches up to 1/2-inch thick using an M12 CP2.0 battery. Being battery-powered, your muscle effort could be reduced by as much as 75% compared to using manual pruning shears.
Milwaukee M12 Brushless Pruning Shears Performance Notes
We got plenty of hands-on time with these shears at this year's Pipeline event in Milwaukee, Wisconsin. One of the first things we noticed was the way the blade reacts to the trigger. We noted how easy it was to control the blade— pull the trigger to engage it, and release the trigger to open it back up. Seems pretty simple and straightforward, but it felt very natural and intuitive. This also means that if you don't want to complete a full cut, you simply release the trigger to retract the blade, giving you more control over your cut capacity.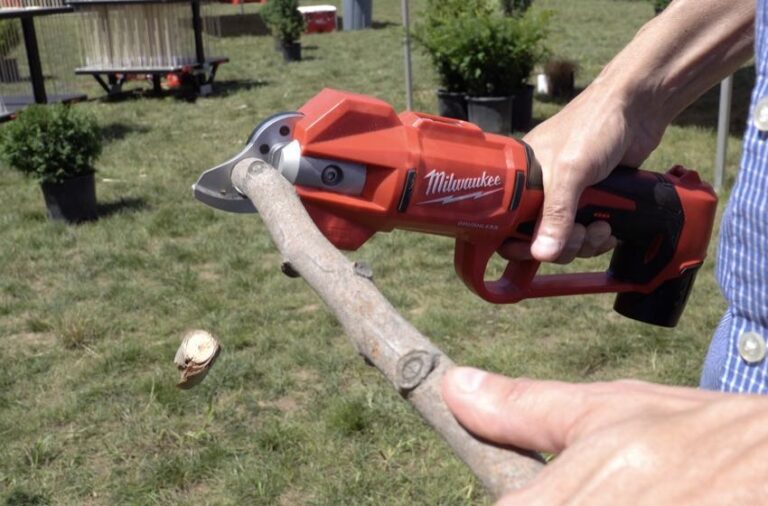 There's really no delay in the trigger-to-blade movement of the Milwaukee M12 Brushless Pruning Shears either; it mimics how it would feel to use a manual hand shear. Having used it for dozens of cuts to really get a feel for it, we really appreciated its ergonomics and controls. Even compared to the DeWalt 20V pruner , it's more compact which gives you more control and access when trimming trees and bushes.
It's also more lightweight, which helps reduce fatigue even further with the same power and nearly the same cutting capacity. It's clear that Milwaukee spent time and did their research on the best design for a tool to replace manual shears and give you a great user experience, which is what this tool does.
Additional Features
Lightweight, inline design
Replaceable blades
Built-in hand guard
Milwaukee M12 Brushless Pruning Shears Price
You'll start seeing this tool on shelves starting in spring 2023. It'll retail for around $249 as a kit, including a compact CP2.0 M12 battery and charger.
Specifications
Model: Milwaukee 2534-21
Cut capacity: 1-1/4 in
Platform: M12
Price: $249 (kit w/CP2.0 battery)