If you're tired of buying off-the-shelf work boots only to throw them away in a few months when they become unwearable, you're not alone. While many decent brands exist, many people are becoming tired of the throwaway consumable mentality. We had the chance to try out a pair of Nicks BuilderPro handmade boots to see the difference wearing a quality boot can make.
Nicks BuilderPro Handmade Boots: Not Your Ordinary Shopping Experience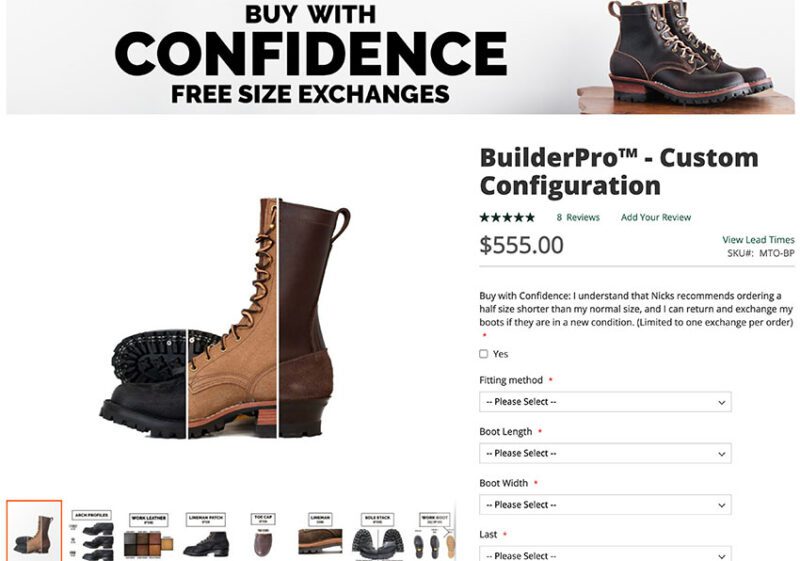 If you're one of those people who needs specific shoe sizing requirements like a narrow or wide fit, searching through shelves of boxes can be a nightmare. With Nicks boots, you can rest assured that you will get the right size for you since every pair is made by hand upon ordering. You also have quite a few customization options, too.
One thing worth considering is the time it takes to make each boot. Your order time will depend on aspects like material ability and the amount of labor required, to name a few things. You should be sure to give yourself enough time before your old boots kick the bucket for good, or plan on having a backup pair to wear while your Nicks pair is being made and shipped. Here's a breakdown of lead times at the time of writing:
Standard lead time: 16 – 24 weeks
Quick ship and best sellers: 8 – 12 weeks
Size exchanges and warranty boots: 3 – 5 weeks
In-stock boots: 3 – 5 business days
For those who need some extra customization, the BuilderPro Custom Configuration will help you get the exact pair you want. The selections you have to choose from include:
Fitting method
Boot length (size)
Width
Last
Height
Upper Leather (color)
Lower Leather (color)
Hardware Configuration
Inside Lineman Patch
Midsole Thickness
Toe Structure
Toe Style
Lineman Shank
Sole Stitching Thread
Heel Stack
Outsole
Edge Color
Heel Profile
Nicks BuilderPro Handmade Boots Design
Fit
If you're one of the people who needs boots somewhere in the middle of two sizes, like a size 12 1/2, Nicks has you covered. They carry sizes from 3.5 to 14.5 in 1/2 size increments. Additionally, there are almost a dozen width options, ranging from AA to FFFF.
When we reviewed them, we went with a 12 1/2 in medium width with a regular arch. We found the fit to be fantastic, but it's worth noting that Nicks recommends ordering a 1/2 size down from the size you would normally purchase. If you happen to get boots that don't quite fit, you can exchange them for the right size as long as they're in like-new condition.
First Impressions
There's nothing like the smell of natural leather, which is the first thing we noticed upon opening the Nicks box for the first time.
Putting the boots on for the first time, it was clear that they had better arch support than any other pair in recent memory, and they feel excellent on the feet.
Nicks includes a leather insole inside the boots. If you prefer a little extra cushioning, you can feel free to add another insole, whether it be a custom orthotic or one off the shelf.
Also included is a pair of leather laces, and they come long so that you can customize the length to whatever you want it to be. Once you determine the length you want, you simply clip off the excess which some scissors or a knife.
Break-In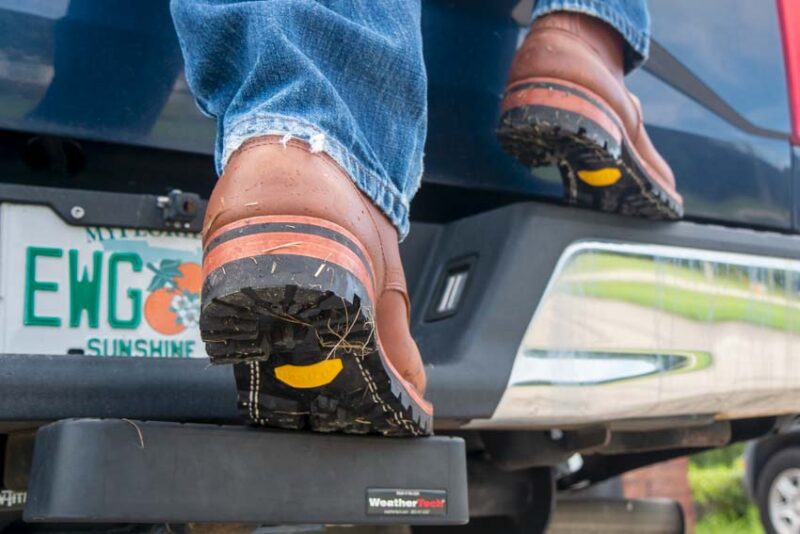 Since they're made with quality leather and materials, Nicks boots are naturally going to take more time to break in. Unlike most modern off-the-shelf boots, which generally don't require much of a break-in time, plan on spending at least a couple of weeks breaking in your new Nicks boots.
Once you start to stretch the leather, it'll loosen and develop the flex it needs to be comfortable around your foot. Once they catch up with you, it'll take the shape of your foot much better than a pair from off the shelf, you just have to get through the break-in period.
Wearing Nicks BuilderPro Boots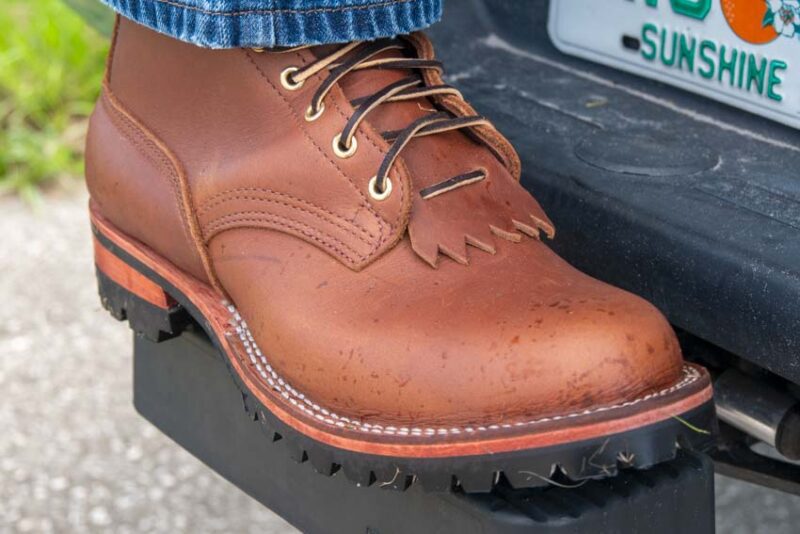 There are several things to consider if you're new to boots of this quality. For starters, the leather is a lot thicker than most; it's almost twice the industry standard for uppers at 7 – 8-ounce. The whole boot is made of oak-tanned leather (making it made and fully sourced in the USA).
While the heaviness may seem like a disadvantage, it actually helps make it more durable, Not to mention, the boot is completely rebuildable and resoleable.
If you find yourself working on soil or dirt, the BuilderPro is a great choice for you, thanks to its heel and aggressive Vibram V-100 lug sole. However, if you mostly walk on hard surfaces like concrete or steel on the job, a lower heel or wedge would be best suited for you.
Depending on your choice of style, these boots can achieve a professional look while still performing well as a workboot. The outsole helps it withstand an aggressive performance, while the smooth upper easily passes as a dress boot. In other words, you can easily transition from the office to the jobsite with your Nicks boots.
Nicks BuilderPro Handmade Boots Price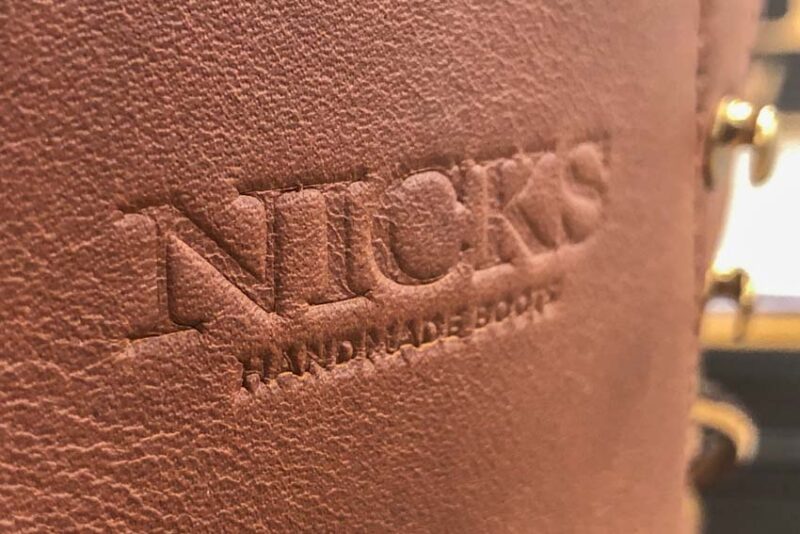 Since Nicks BuilderPro boots are so customizable, the price will depend heavily on your chosen features. The configuration we ended up with runs $555.00. Most of the pre-configured boots cost $545.
This price reflects Nicks as a USA-owned and operated company out of Spokane, Washington. When over 98% of the materials they use are American sourced, you can expect to pay a premium since the final product will be of a higher quality than some imported boots.
The Bottom Line
When you transition from off-the-shelf boots to something with the handmade quality of Nicks boots, there are several things to consider. These boots help solidify themselves in your life as more than an article of clothing. We recommend taking some time to peruse the Nicks boot collection and build your own pair to experience them for yourself.
Visit Nicks Handmade Boots website by clicking here .