For landscaping Pros, farmers, and those with large properties, outdoor work isn't just about trimmers, blowers, tractors, and mowers. How about the automobiles you rely on, such as pick-ups and SUVs? That's where the 1600 Peak Amp Ryobi 18V Jump Starter (P7101A) comes into play.
Ryobi 18V Jump Starter Performance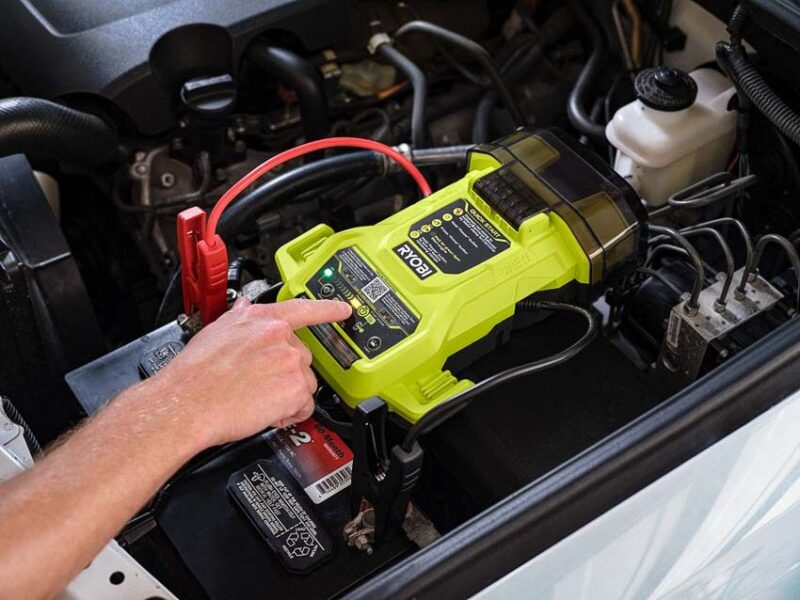 To jump start our tour (sorry, we couldn't resist), this solution is among the latest additions to the ONE+ line of cordless products. And according to Ryobi, this tool's 1600 peak amps are enough to revive both car and truck batteries.
Specifically, the 2.0Ah battery (sold with the kit), can give you up to 20 jumps on one charge cycle. What's more, this unit can operate in temperatures as low as -4° F with 800 cold cranking amps, making it a year-round tool.
P7101A Features/Specs
Ryobi P7101A
Battery: 18V 2.0Ah ONE+
1600 Peak Amps
Operates in temps down to -4°F, 800 cold cranking amps
Built-in LED light
With respect to power capability, the Ryobi 18V jump starter should be able to handle pretty much any size vehicle. Indeed, the manufacturer tells us that you can use it with engines as large as a 6.0L V8, and it's compatible with 12V lead acid batteries.
Furthermore, with help from the onboard quick-start guide, Ryobi says the whole jump starting process takes as little as 60 seconds.
Ryobi 1600 Peak Amp Jump Starter Design
In addition to notable performance features, Ryobi's design team made certain to incorporate safety and convenience into the tool's design.
In terms of safety, the jump starter features anti-spark technology and reverse polarity protection. This helps ensure that you can safely connect the cables to the battery.
Of course, they also took into consideration the high probability of low-light situations. And that's what the built-in LED lamp is for.
Ryobi 18V Jump Starter Price
Ryobi will sell the jump starter as a bare tool and as a kit. The P7101A alone retails for $179. The P7110A kit sells for $199 and includes the 1600 Peak Amp Jump Starter, an 18V ONE+ battery, and a charger.
Both packages will soon be available exclusively at Home Depot.
After you're done jump-starting your battery, make your car shine with the Ryobi PBF100 polisher.